By
for on August 26th, 2023
Everything to Remember Ahead of 'Unforgotten' Season 5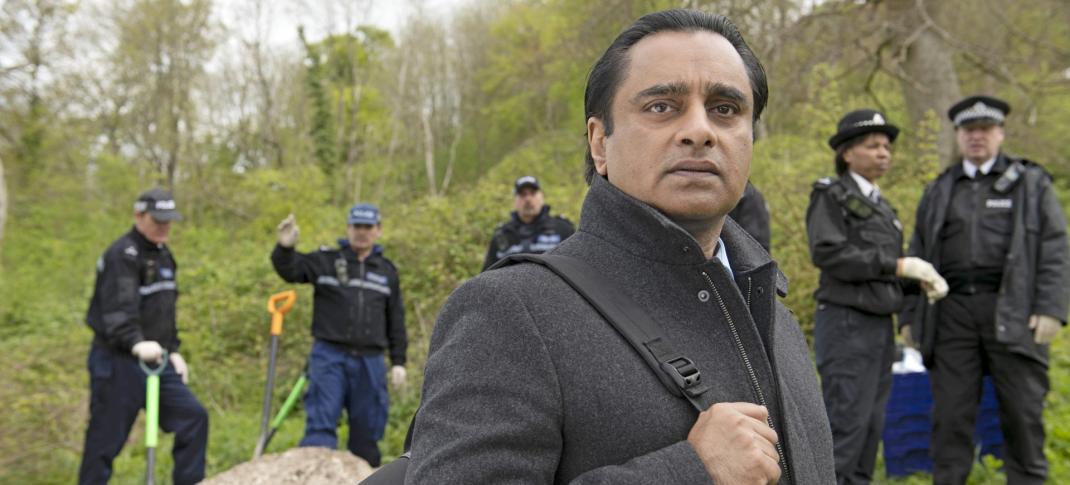 Unforgotten was initially commissioned by ITV in 2014 as a joint project from screenwriter Chris Lang (The Glass) and director Andy Wilson (Ripper Street). The first season aired in October 2015, and Season 2 in 2017, earning BAFTA nods for Tom Courtenay and Mark Bonnar and catching the attention of Masterpiece. It brought over Seasons 1 and 2 as a set, airing them as six feature-length episodes in the spring of 2018. Audiences were introduced to DCI Cassie Stuart (Nicola Walker), who had just taken over a new division dedicated to bringing justice to cold cases with her new bagman, DS Sunil "Sunny" Khan (comedian Sanjeev Bhaskar in a rare serious role),
Season 1 featured a skeleton in the foundations of the former Arlingham House, Jimmy Sullivan, who died in the early 1970s. His mother, Maureen, never knew what happened to the boy she had out of wedlock. Cassie identified four suspects: Father Rob Greaves (Bernard Hill), Lizzie Wilton (Ruth Sheen), Sir Phillip Cross (Trevor Eve), and Eric Slater (Courtenay). Greaves, the pastor, was sleeping with an underage girl. Lizzie, a skinhead's girlfriend, liked Jimmy but was pressured to beat him up. Cross, now a politician, was a gangster's heavy to whom Jimmy was in debt. Eric, a paraplegic since an 80s car crash, with a wife, Claire, suffering from dementia, was the former bookkeeper.
Cassie and Sunny grew close and became BFFs. However, their no-stone-unturned methods ruined lives. Father Rob revealed a daughter by his teen lover, whom he embezzled the church funds to care for, destroying his life and family. Lizzie, now married to a Black man, mentoring Black youths, was rejected by her found family and attempted suicide. Cross' political ambitions were derailed. (Ok, that was good.) But the killer was Claire. She suffered post-partum psychosis and targeted her closeted husband's lovers in her rage at his constant cheating. (The car crash was his suicide attempt). Eric, who abused Claire for years, wound up in jail, leaving her in the care of their abusive son.
That extremely distressing ending (and Cassie's pride at destroying the lives of these old people in the name of "justice") was thankfully followed directly by Season 2, a far more satisfying story. The body, one David Walker, was only 25 years old, drowned in 1990. His widow, Tessa (Lorraine Ashbourne), a detective herself, was one of the suspects, along with three others: teacher Sara Mahmoud (Badria Timimi), housewife Marion Kelsey (Rosie Cavaliero), and LBGTQ lawyer Colin Osborne (Bonnar), who was trying to adopt with his husband.
Walker, it turned out, was a bastard who peddled orphaned and poor children for sex, the discovery of which drove Tessa to become a cop and the revelation of which ended her career. Sara, Marion, and Colin were all victims of sexual abuse; Sara, a Walker victim, now a devout Muslim, was rejected by her community. Marion, abused by her father, joined the IRA in rebellion, shattering her marriage. Colin, abused by a family friend, had his anger issues resurface, derailing the adoption. But, as impossible as it seemed, Cassie learned all three of them did it, each killing the other's abuser, an almost perfect crime until Walker's body surfaced.
However, Colin stood for their defense, convincing Cassie that ruining their lives for the death of monsters was not justice. Ultimately, she let them walk free to go and try to rebuild their lives. Sara was taken back by her husband; Marion stood up to her mother and sister, who had denied the truth for so long, winning back her husband, while Colin finally got help for his anger. But Cassie, lying to Sunny that the trail had run cold, was shaken to the core that her ideas of justice were not as crystal clear as she once believed.
Season 3's body was found in a motorway median, a teen girl Hayley Reid, missing since New Year's 2001, 18 years ago. Her twin sister (Bronagh Waugh), never knew what happened to Hayley, who went to a party and never came home. The four suspects were introduced from the jump as lifelong BFFs, and had rented a house with their wives for a New Year's bash around the corner from the pub where she worked. BBC presenter James Hollis (Kevin McNally), lawyer Tim Finch (Alex Jennings), and failing businessman Pete Car (Neil Morrissey) still stayed in touch to help their friend, ex-tech innovator Chris Lowe (James Fleet), whose mental health issues left him homeless.
Hollis, whose relationship with his ex-wife and trans daughter had him on edge, lost his career, while Lowe's barely controlled issues were triggered hard due to having his career already derailed once by false accusations. But Cassie's carelessness in losing a file at a tea shop led to Carr falsely identified as the killer and murdered by an internet vigilante. Cassie found the real murderer was Finch, a psychopathic manipulator and abuser, and got him put away for life, but the case left her feeling like her life's work wasn't worth the pain it caused. Though Sunny started a relationship with Sal (Michelle Bonnard), Cassie turned down ex-DCI John Bentley (Alastair MacKenzie) when he asked her out.
Season 4 began with Cassie trying to retire, as Bentley finally got her to go out with him and start a relationship. She was also angry at her father, Martin's growing dementia, blaming his partner, Jenny, and straining the relationship with her son, Adam. But the system forced her to stay one more year. Her final case turned out to be an internal affair. Two suspects were Cassie's peers, DCC Liz Baildon (Susan Lynch) and DCI Ram Sidhu (Phaldut Sharma). The others, Dean Barton (Andy Nyman) and Fiona Grayson (Liz White), were ex-cops who left the force shortly after graduating. The four had been BFFs 30 years ago as rookies and covered up the death of a drug dealer. 
Barton was now a smuggler to fund his disabled son's charity, and Grayson was hiding that her drunk driving had killed a man not long after the original incident, which Baildon helped her cover-up. However, Cassie never got to see all four of their lives and careers come tumbling down, as her car was smashed into by an SUV on her way home from work late one night. Despite Sunny's suspicions, the driver wasn't someone the cops hired to cover up their deeds, but a random drunk driver. Cassie died of her injuries, leaving her family devastated.
The team Cassie slowly built over the seasons was also traumatized. Sunny was left to pick up the pieces with DC Jake Collier (Lewis Reeves), DS Murray Boulting (Jordan Long), DS Fran Langley (Carolina Main), DC Katz Wilis (Pippa Nixon), and Dr. Leanne Balcombe (Georgia Mackenzie). Reeves is exiting the series, but the rest will band together in Season 5 to meet their new boss, who is definitely not the same as the old boss, as DCI Jessica James (Sinead Keenan) takes over the division.
Unforgotten Season 5 arrives on most PBS stations on Sunday, September 3, 2023, at 9 p.m. ET, and all episodes begin streaming the same day on PBS Passport for members. Seasons 1-4 are streaming on PBS Passport.
Stream Now
Unforgotten
Police officers investigate the murder of a boy whose diary implicates four couples.
Image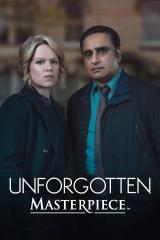 ---
By
for on August 26th, 2023
More to Love from Telly Visions