By
for on November 8th, 2020
'The Trouble with Maggie Cole' Recap: Season 1 Episode 4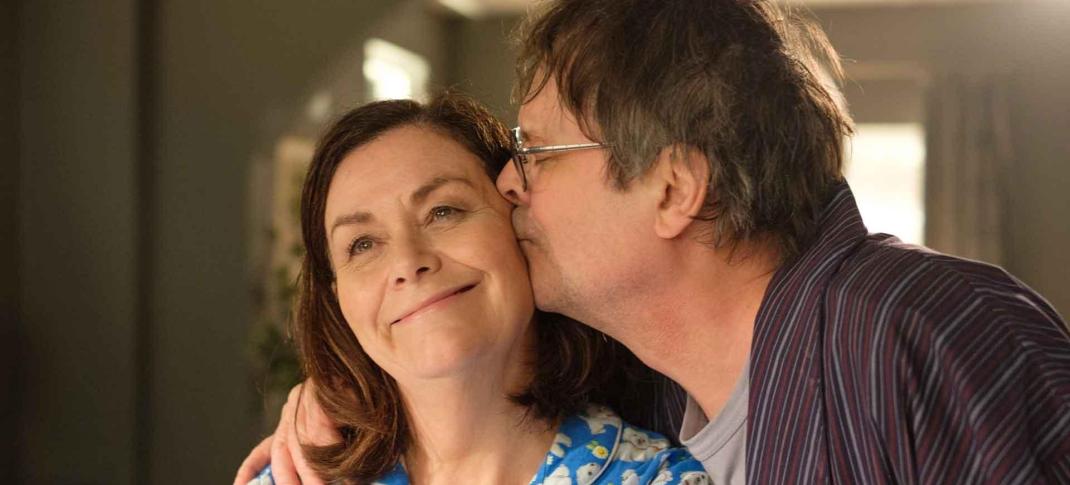 This week as Thurlbury got ready to plan an anniversary celebration, a secret was being methodically unearthed that would blindside Maggie in front of the whole town. But before we get into all that, let's look back at where we left off last week.
Amid all the Radiogate mess, the Cole family got some very happy news and a romance ignites between Marcus and Jill. Kelly and Neil made a decision to get past their "found money" dilemma which, unfortunately for someone else in town, was disastrous. For a deeper dive, check out the Episode 3 recap here. 
Apparently, a few weeks have passed since the ruinous interview was aired. Not all the fences have been mended, but Maggie is starting to see a light at the end of the tunnel.  As she blasts "Karma Chameleon", Mrs. Cole happily writes letters sharing their lovely grandbaby news. So blissful is Maggie, she's even decided to drop any thought of attending the Thurlbury anniversary planning meeting.
Peter is over the moon as well, but he carries an enormous worry about Jamie that he's hiding from Maggie.  At the office, he learns a journalist called for him, but guard dog Karen told them to never, never call again. Peter is obviously appreciative of her playing interference and Karen is only too happy to help the man she loves… I mean, works for.
In town, Maggie runs into her son and daughter-in-law and asks them to pop in Emil's shop to buy her some stamps. Becka gives her a pep talk, which is a bit out of character for her. (She insists it's the hormones.)  
Once inside, Maggie speaks with Emil and realizes he believes her smear of Roxanna's reputation has something to do with the fact they are Polish immigrants. She vehemently denies any such prejudice, but Emil (and Mrs. Evans) are having none of it. The shopkeeper says he's out of stamps and shuts Maggie down.
Meanwhile, the Jill and Marcus courtship continues with an invitation to his place for dinner that night. Jill has the planning meeting at the town hall and asks him to join her there first. Their conversation is interrupted when Marcus receives a call from a journalist trying to dig up dirt about Maggie Cole. He says he hardly knows her and asks what paper they're from only to be abruptly hung up on.
At the Myer home, Liam is annoyed about having to visit his Nan again. He and Alex spar verbally as usual, but the younger brother is nothing if not observant. He knows Alex has been lying to their mother on two counts - about talking to Roxanna and being clean from gambling for years.
Later Alex crosses paths with Neil at the boatyard just as the latter is picking up his final paycheck.  Neil asks after Roxanna mentioning that she's babysitting Josh for them when they go to Blackpool for their anniversary weekend. He admits it wasn't a million-pound jackpot as reported in the papers, but just under 100,000. Neil says folks in town think they odds are stacked against them now that the Roberts have won, but expert gambler Alex says it doesn't work that way.
Just then we get a flashback to Alex facing the gangsters empty-handed at the pub the night before. The pair give him 24 hours to get the cash together. Then as a reminder that time is running out, they send him a menacing video of his mum and grandmother at the nursing home. Alex has clearly messed with the wrong people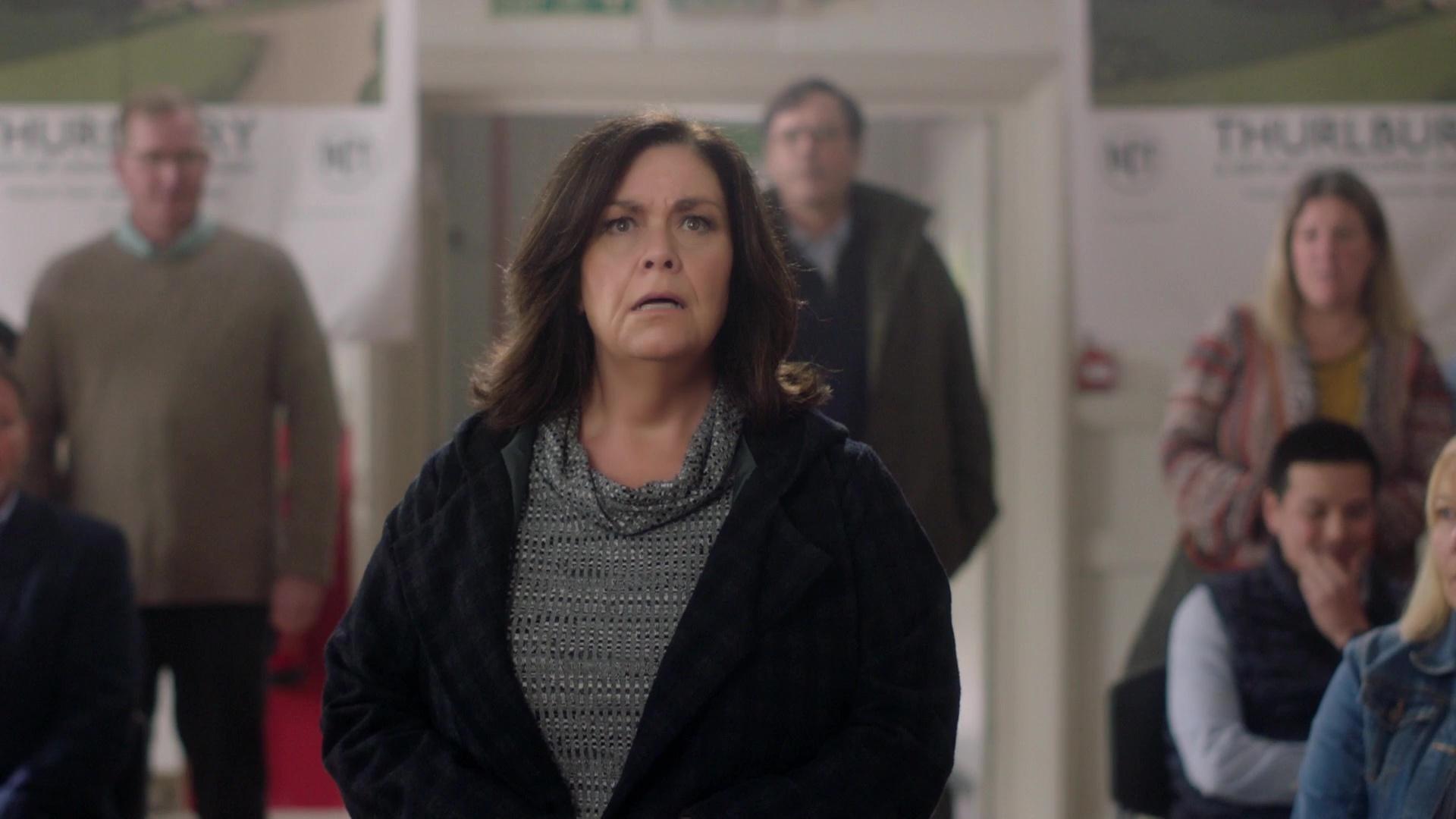 After speaking with her dad about his run-in with Maggie, Roxanna shows up at the keep.  Maggie admits the context argument she's been using on everyone is just an excuse. She was drunk and it was wrong to repeat rumors. Roxanna doesn't exactly let Maggie off the hook but says she's been living with these rumors since she was 14 though she's only ever had two boyfriends. They discuss Emil and his allegations of racism and Roxanna reveal that her dad is grumpy, cheap and a Tory to boot and takes advantage of the townsfolks' kind nature.
The women lament how this situation appears to have lost them both people that they care about.  Alex has cut himself off from Roxanna and Maggie misses her best friend Jill terribly.
The third "journalist" inquiry this episode comes to the pub with Sydney taking the call. She loudly tells them to piss off which catches the attention of "developers" Smith and Jones (aka Alex's scary loan shark heavies) who are staying in Brian's B&B another night. In other pub news, Liam gets a weekend job at the Conqueror thanks to Sydney putting in a lukewarm word for him with Brian.
Maggie has given Roxanna a ride home. Once at the shop, she asks Maggie to come inside. She feels her father is due some of the many valid customer complaints that everyone in town has been tiptoeing around for the past 12 years.  Emil is a bit taken aback, but he does sell Maggie her stamps.
With time running out, a desperate Alex is running through a car full of scratch tickets when he suddenly realizes where Neil got the money- and it wasn't from the lottery.  He calls Roxanna to ask if he can come over when she's babysitting Josh to explain why he's not been in touch. And it just so happens, he's parked outside the Roberts house.
With the positive interaction with Roxanna on her tally board, Maggie changes her mind about going to the planning meeting. Maggie and Peter persuade Jamie and Becka into attending too.  As Maggie makes up her face like a "dolly bird", she and Peter agree things seem to be looking up. (Everyone knows a statement like that will come back to bite you, right?)
People start arriving at the town hall. As agreed, Marcus is there to give Jill some friendly support. Sourpuss Mrs. Jarvis gives him a hard time for no apparent reason… and then the fireworks start as Maggie's given a taste of her own medicine.
Like me, you must be wondering who is the "reporter" and which Thurlburians have leaked this secret story about Jamie Cole? Also how reckless will Alex become in his race to find his money and save his family? Only two more episodes remain to tie up the gossip and lies that inundate this seemingly idyllic village.
Let's discuss your expectations for the rest of the series in the comments!
---
By
for on November 8th, 2020
More to Love from Telly Visions