By
for on June 15th, 2022
The Trailer for Netflix's 'Persuasion' Offers a Controversial Take on the Austen Classic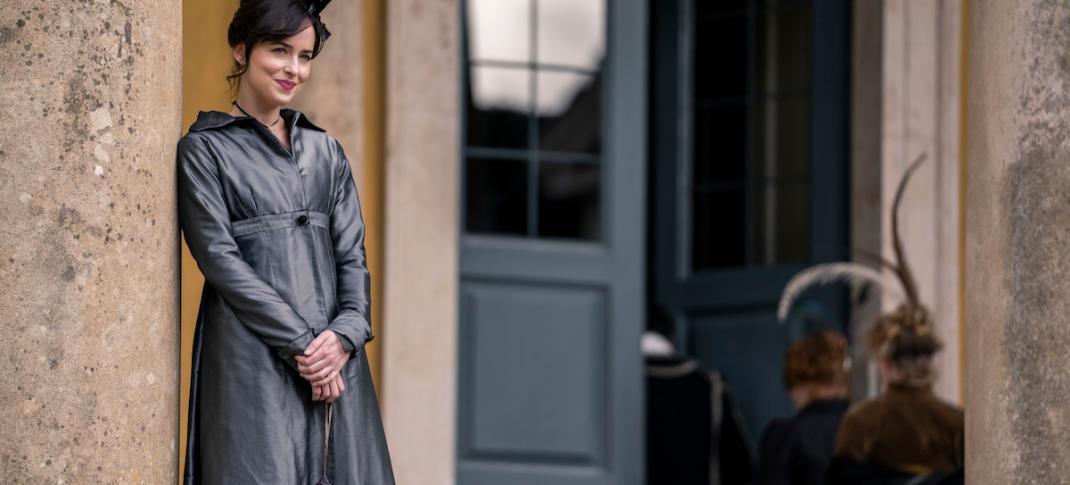 Persuasion is Jane Austen's last completed work, published six months after her death in 1817. The story is one of Austen's least frequently adapted works, likely due to its prickly, older heroine and more difficult subject matter. A story of missed opportunities, regrets, and second chances, it's certainly not as bright a tale as some of the author's other works. But that may not matter much when it comes to the upcoming Netflix version. The streaming giant dropped the first trailer for their new feature film adaptation starring Dakota Johnson (Fifty Shades of Grey) as Anne Elliott, and it bears little resemblance to the on-screen versions of this story we've seen. (Whether or not that will turn out to be a bad thing, we'll all have to wait and see.)
The film, which boasts Fleabag-style modern flourishes in which our heroine breaks the fourth wall, uses contemporary slang, and talks directly to the camera, is aimed squarely at those who loved the quirky feel of Autumn de Wilde's most recent adaptation of Emma. It feels of a piece with the colorful, diverse world of Netflix's Bridgerton. And, to be honest, this movie looks like a lot of fun. But it's also fair to question whether its choices undermine the spirit of Austen's original.
Anne is Austen's eldest and most mature heroine, a 27-year-old woman who begins the story as an old maid after rejecting the proposal of dirt-poor naval officer Frederick Wentworth (Cosmo Jarvis) seven years prior at the insistence of her snobby family. Still unmarried, Anne is a wallflower, patient and kind, but largely ignored by her family and seen as an unmarriageable afterthought. When Wentworth returns in the book, Anne becomes even more introspective, still wrestling with years of regret about losing their love all those years ago. 
To put it another way: It's hard to imagine this character slyly quipping snarky asides to the audience watching at home, I"m saying. Emma Woodhouse, she is not, and this trailer essentially feels as though Netflix is keen to replace the original story's sadder, more melancholy vibes. Instead, the clip leans more fully into the love triangle aspect of things, as Anne has to decide been her old love Wentworth and the dashing (and wealthy) Mr. Eliot, played by Henry Golding (Crazy Rich Asians). 
Watch the trailer for yourselves below. 
The official synopsis offers a fairly basic description of Austen's story.
Living with her snobby family on the brink of bankruptcy, Anne Elliot is an unconforming woman with modern sensibilities. When Frederick Wentworth—the dashing one she let get away—crashes back into her life, Anne must choose between putting the past behind her or listening to her heart when it comes to second chances.
Persuasion also stars Richard E. Grant (Loki), Nikki Amuka-Bird (The Personal History of David Copperfield), Mia McKenna-Bruce (Get Even), Ben Bailey-Smith (The Split), Yolanda Kettle (Howards End), Nia Towle (Rocketman) and Izuka Hoyle (The Outpost). The film is helmed by first-time feature director Claire Cracknell, primarily known for her stage work, including the 2019 Jake Gyllenhall Broadway production of Sea Wall/A Life. The screenplay is by Alice Victoria Winslow and Ron Bass.
Persuasion will premiere on Netflix on July 15.
---
By
for on June 15th, 2022
More to Love from Telly Visions