By
for on July 22nd, 2022
Netflix's New 'Persuasion' Fails to Persuade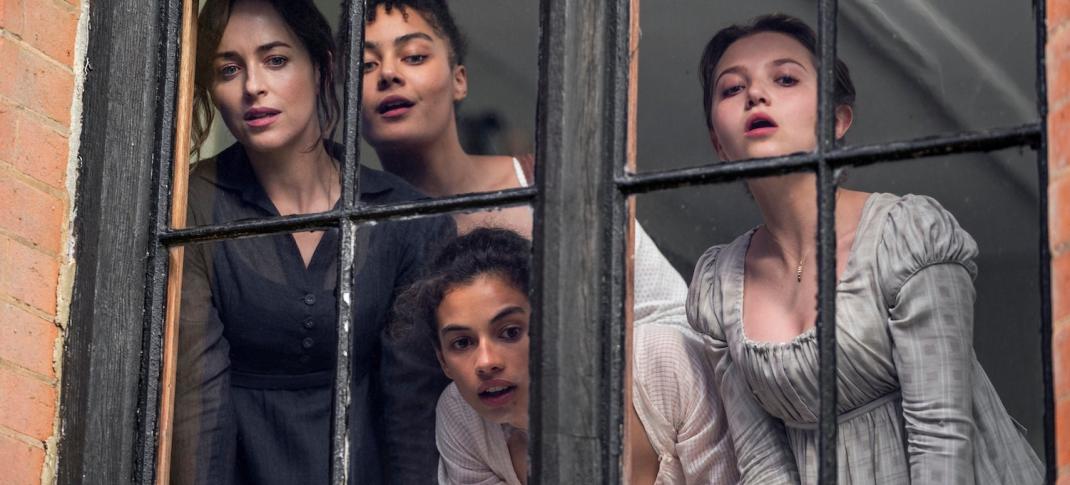 Netflix's Persuasion is directed by theater director Carrie Cracknell in her first movie venture and written by veteran Ron Bass (My Best Friend's Wedding) and Alice Victoria Winslow (Glaciers). They seem to have concocted it by speed-reading the Flashnotes version, whizzing a copy of Jane Austen's novel in a blender, and assembling the scraps blindfolded.
It's highly derivative, influenced by Armando Iannucci's high octane, tongue-in-cheek The Personal History of David Copperfield, but without its sense of adventure; Bridgerton's gleefully anachronistic approach, but without much of a sense of fun. Bring on the anachronisms! Unlike those shows, the pacing is, at times, glacial. Worse, there's a Fleabag-like adherence to the heroine sharing her thoughts directly with the camera and us, and far too often.
It's unnerving. We feel that we, the audience, are Anne Elliot's secret friends, along with her cute bunny rabbit. Dakota Johnson (50 Shades Franchise), hailed as an unlikely choice, doesn't bring any new insights to the character of Anne Elliott. How could she, with this script? Because Anne Eliot has been upgraded as an improvement on Austen's original, dragged into an unattractive 21st-century sensibility. The winks, grins, comments, and general demolition of the fourth wall become a stale embarrassment.
From her first whimpered line, "I almost got married once," Anne explains how she has spent the last eight years drinking alone, wallowing in misery, and eccentric. Yes, eight years of nothing after turning down the love of her life. She has a playlist from Wentworth (a sheaf of music!), press clippings, and a box of souvenirs, including, for no reason, a mournful cowbell. It's mildly funny. If she were your daughter, you might be tempted to throw her out of your basement and say, "Get a job."
Yet Anne is all too ready to tell others what to do. She preaches to her spendthrift father, Sir Walter Elliot (a delightful portrayal by Richard E. Grant), about "honesty, integrity, passion," qualities she does not seem to possess. She has the nerve to advise heartbroken Captain Benwick (Afolabi Alli) on endurance, which doesn't apply to her, and claims she will forge her own adventures at home.
Really? Adventures with a crate of wine? There's none of Anne Elliot's stoicism, her commitment to do what's right, and consequently none of her journey and transformation. Why are we invited to laugh at Anne when she's drunk, gauche, or clumsy? Did the writers or Netflix think that their potential audience of modern young women could not relate to life in, um, olden times?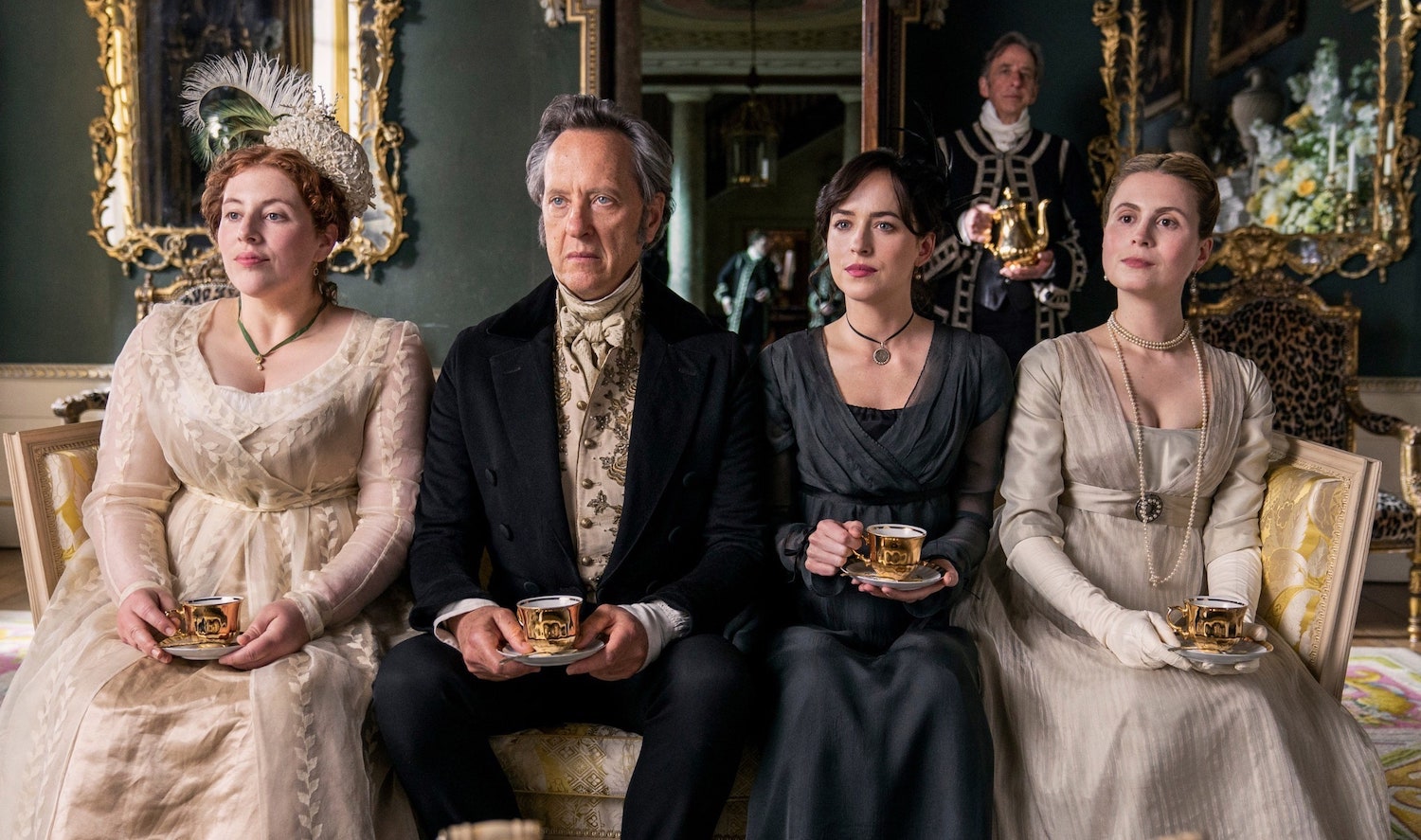 That raises another problem, too, that the movie has no context. I hesitate to compare this version to the 1995 Ciaran Hinds/Amanda Root version (full disclosure: I love it), but that movie had the smarts to give us time and place: 1814, in a brief lull during the Napoleonic War. This doesn't. There are Navy officers around, but no mention of war or being in danger. It's Regency-lite; obligatory shots of the Royal Crescent tell us we're in Bath, the are gowns generic, and the spoken anachronisms descend upon us like a swarm of angry hornets.
Captain Frederick Wentworth (Cosmo Jarvis), in his own hipster 21st-century way, is rather lame for a dashing career naval man. His friends make jokes about his ineptness. He reveals he's as much of a fantasist as Anne when he admits to solving problems by asking himself what Anne would do since she's so direct, calm, focused, and thoughtful. Really? This is part of a genuinely excruciating scene on a beach where Anne and Wentworth decide to be friends. It ends with Anne walking fully clothed into the sea for a swim.
Wentworth looks like a slob, but heroic stubble is equivalent to romantic potential; it's the female counterpart of side-parted, uncovered, tumbling locks, proving independence and subversion. Interestingly, the trickle-down of rethinking Persuasion does not extend to the rest of the cast. The plot follows the book, although with clumsy simplifications and omissions. But with Anne as the heroine, she's on-screen far too much, since she's whining, drinking red wine from the bottle, and spilling the gravy on her head.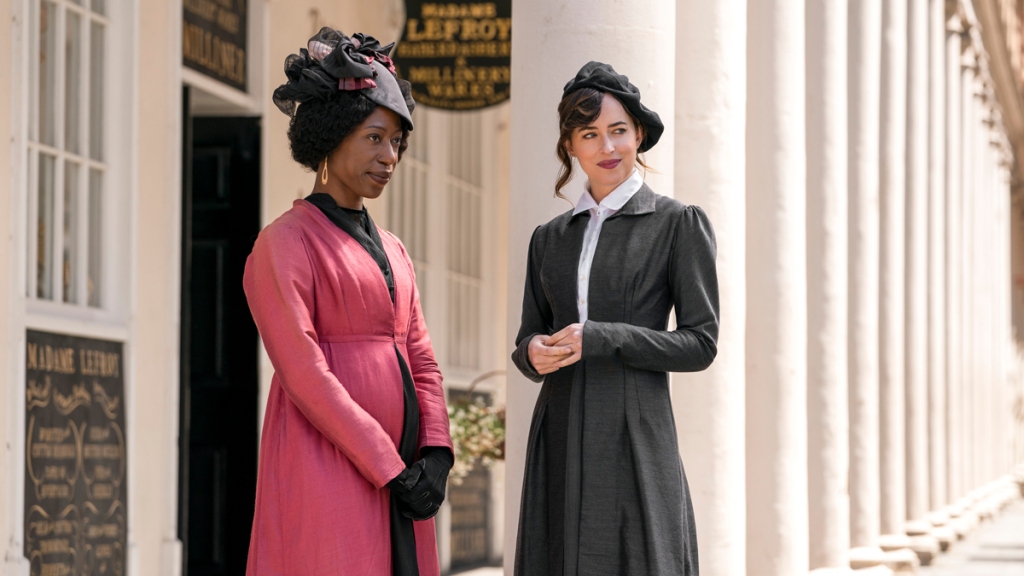 When the Elliots go to Bath, thanks to Sir Walter's extravagance, Anne is sent to help her sister Mary Musgrove (played with great comedic timing by Mia McKenna-Bruce) and runs into Wentworth. We meet the Musgrove sisters, Louisa (Nia Towle) and Henrietta (Izuka Hoyle), both full of charm and energy. Anne's brother-in-law, Charles Musgrove (Ben Bailey Smith), and his two sons, with whom Anne engages in bloodthirsty games, also like her. It's a relief, and Anne is not quite as tiresome when she has other people with whom to interact.
When it's evident that Louisa has a massive crush on Wentworth, she has the grace to check in with Anne to ensure she's not still hoping for Wentworth's attention. Anne says no; what else could she say, given his lack of interest in her? Very occasionally in this movie, something clicks, and Louisa's fall from the Cobb at Lyme is one of those moments. Anne takes charge and shouts orders, proving to be the competent woman of Wentworth's imagination.
Later, Wentworth admits to Anne that he will inevitably be bound to that family. Earlier, he told Louisa, while Anne lurked nearby, Anne had her version of the Elliot pride. While he's referring to her rejection, we realize her determination to not move on is a matter of pride. She clings to her identity as the sorrowful woman who cannot overcome her mistake. Austen's Anne had no choice but to take the role of the fading old maid; or did she? We know she turned down Charles Musgrove's proposal, and he married her sister.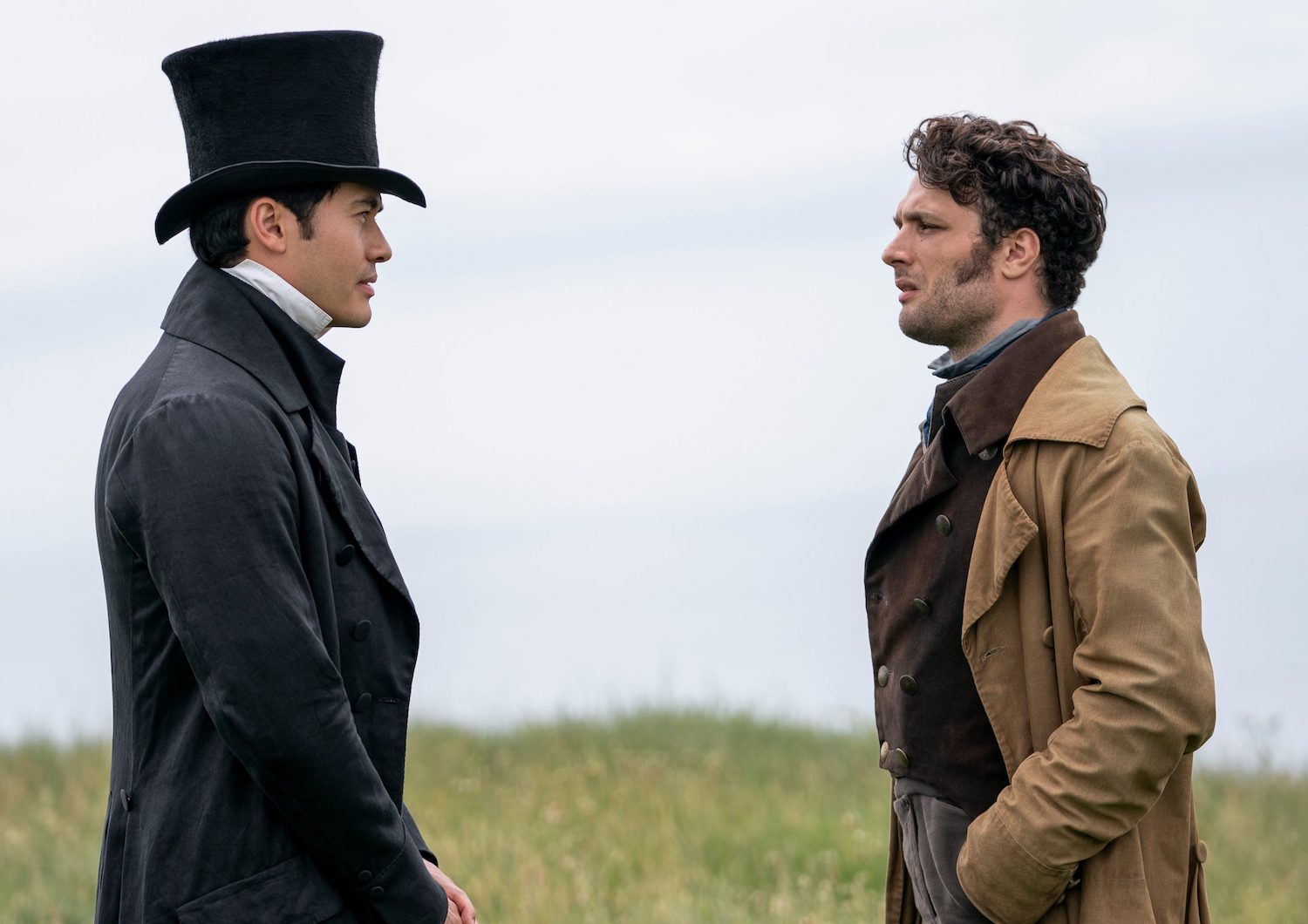 There are also standouts in the smaller roles. Nikki Amuka-Bird as Lady Russell gives a strong performance, but she's Anne's confidante rather than Austen's family friend not to be trusted. She is also extravagantly costumed. Afolabi Alli (the bereaved Captain Benwick) is a suitably tragic figure with whom Anne talks poetry, quoting lines from Byron that occur in the novel. Edward Bluemel, in the small role of Captain Harville, Wentworth's bestie, has personality and warmth and implies he knows Anne is Wentworth's lost love.
Small touches like these are too rare in this movie and occur only when the original material isn't messed around with too much. Wentworth's rival for Anne, the wicked sexy Mr. Elliot, her cousin and her father's heir, is played by Henry Golding, another actor having a lot of fun in his role. He and Wentworth strut around Anne, blasting the scenery with testosterone, but to be honest, they seem more interested in each other.
Instead of being portrayed as a real villain, Mr. Elliot spills the beans that he intends to prevent Sir Walter from marrying Mrs. Clay (Lydia Rose Bewley), a vulgar hanger-on and friend of eldest daughter Elizabeth Elliot (Yolanda Kettle). If Sir Walter has a son, Mr. Elliot will not inherit, and he tells Anne this, but she doesn't seem particularly bothered by it. And she should be! Sir Walter is already in dire financial straits, and the implication (but not in this movie) is that Mr. Elliot, also in need of cash, will borrow against his inheritance.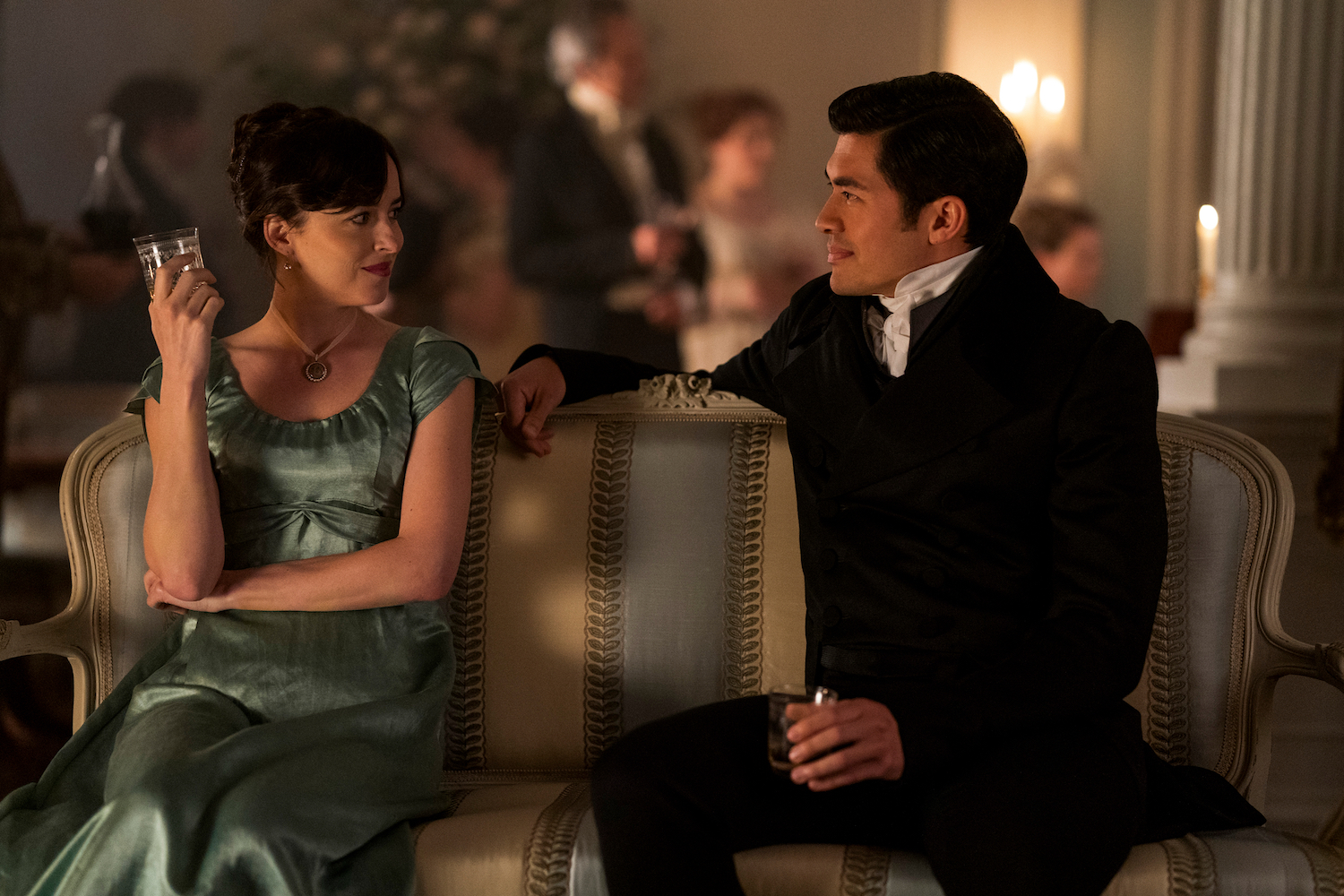 Hence his interest in a reconciliation with Sir Walter. Instead, Wentworth is dragging his heels in taking over a ship; a ploy invented to increase the diminished tension. Mr. Elliot further defuses this imaginary scenario by marrying Mrs. Clay himself. Why? It makes no sense. She has no money, and what will he do if Sir Walter pursues another woman? Austen, very sensibly and cynically, has Mr. Elliot seduce her instead because Sir Walter would never marry damaged goods. Mr. Elliot can, ahem,  employ this tactic as often as he needs to.
The famous letter scene ("I am half agony, half hope...") where Wentworth admits his resurrected feelings for Anne is abbreviated, but at least it's there and gives Anne the chance to run through town to accept him. They end up on the cliff again, where we first saw them, and Anne winks; she got her man! Really, it's a disappointment. This is the first Austen screen adaptation with diverse casting, and it should have been much better. Austen knew what she was doing; the creators of this film tried too hard for cheap laughs and failed.
Have you seen the new Persuasion? What do you think?
---
By
for on July 22nd, 2022
More to Love from Telly Visions