By
for on February 5th, 2014
'Top Gear' Series 21 Set to Premiere in America on February 10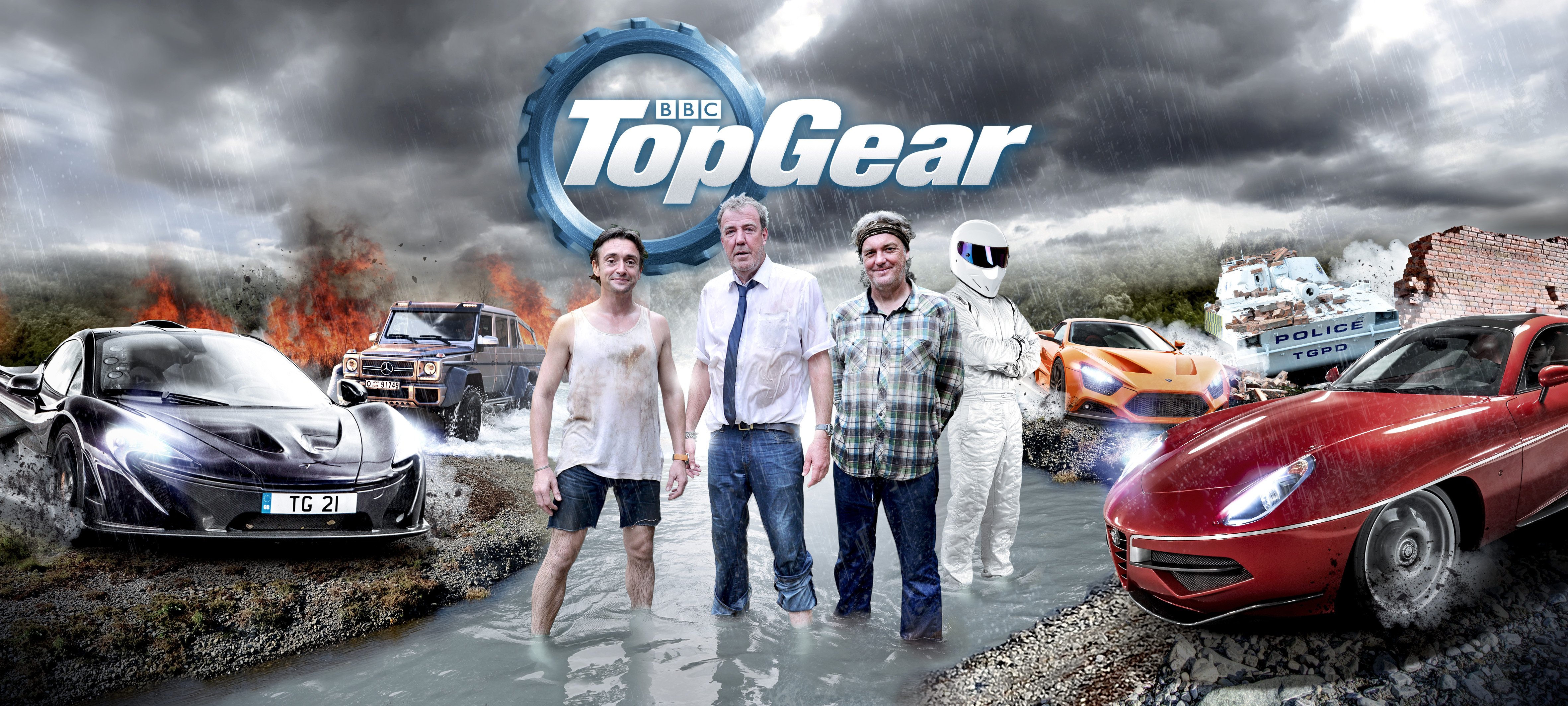 Believe or not, the twenty-first series of modern classic automotive show,
Top Gear
, is airing this month. (It started this week in the UK and will make its way Stateside beginning February 10 on BBC America. And, yes,
Top Gear 
is really that old.) 
According to the 2013 edition of the Guinness Book of World Records, series is "the most widely watched factual TV programme"; however; the Top Gear of today is a far cry from its regional motoring magazine beginnings. Did you know, for example, that the show originally began in 1977? And that it used to look quite a bit different from it current incarnation?
In fact, you might be surprised by just how much has changed: 
A few dozen presenters cycled through the Top Gear studios but a decade passed before resident curmudgeon Jeremy Clarkson actually joined the show in 1988. In 2001 the show appeared to have run its course and was set for cancellation until Clarkson and his producer, Andy Wilman, came up with a new format to save it. The revamped version of Top Gear included new segments such as Star in a Reasonably Priced Car, the Cool Wall and various challenges and competitions that often had to do with transforming cars into other modes of transportation. 
In Top Gear 2.0, permanent host Clarkson was joined by Richard Hammond and a year later by James May. The most famous and mysterious new addition to the cast, however, had to be The Stig:
You don't have to be a car enthusiast to enjoy this program. I expected it would be something like that show Motor Week that my dad used to watch on PBS, but considering what a British TV institution it was, I figured I'd better give it a fair go.  This is what I saw upon my very first viewing and I've been a fan ever since.
So while we wait for this new series of Top Gear to premiere, I've compiled a short list of some of my favorite moments from years gone by. Each clip highlights a slightly different, truly entertaining aspect of a show that you don't even have to drive a car to like.
5. Vietnam Motorbike special – The Top Gear trio has been known to travel to exotic locations from time to time – and I'm not talking about the Deep South. Breathtaking views, cultural immersion, and plenty of pranks and brotherly bickering are the hallmarks of any Top Gear road trip episode.
The Vietnam trip stood out to me for its colorful wardrobe, the hosts' hilarious attempts at taking a motorbike test and the amphibious transfer of a motorcycle on a giant swan raft. 
4.  Cross London Race – Another popular device Top Gear producers utilize is pitting one form of transport against another. In this case, a speedboat for Clarkson, a car for May, a bicycle for Hammond and public transit for The Stig to find out which form of conveyance will make it across London the quickest.
Since this is a show made with car buffs in mind, you know all the contestants are pulling for the automotive option to win, but let's be real. Can a car piloted by the directionally challenged May realistically win a race through the gridlocked London streets?
3. Caravan Train - British ingenuity is proudly on display whenever the Top Gear hosts are challenged to transform a car into an alternative form of transportation. One of the most entertaining was when our boys were required to turn cars into train engines and caravans into passenger carriages. 
While they may have gotten the mechanics of the situation well in hand, the comfort of the travelers seems to have taken a back seat.  Health and safety concerns abound as the improvised locomotives break acceptable sound levels and disaster breaks out in a galley full of unsecured equipment.
2. Limousine Challenge – Nothing makes our trio of gearheads' creative juices flow more freely than an invitation to redesign a car to serve another purpose.  In one of the most memorable Top Gear episodes I can recall, the guys must take an existing car (or cars) and convert it into a stretch limo.
From Hammond's MG Sports Limo to Clarkson's uber-stretch Fiat Panda, to my favorite, May's Alfa Romeo/Saab hybrid with two steering wheels, their four- wheeled metamorphoses are more impressive in theory than in practice. Just ask the celebrities who had to ride in these poorly engineered monstrosities. 
1. Smallest Car in World at the BBC – Surely the smallest car in the world segment should feature the diminutive Mr. Hammond at the wheel, but that wouldn't be as funny as witnessing all six foot five inches of Jeremy Clarkson folded inside instead.  This clip of a cheeky Clarkson traveling the hallways and conference rooms and taking the elevators of the BBC's Television Centre never fails to elicit a giggle from me every time I see it. 
Series 21 of Top Gear debuts on BBC America on Monday, February 10 at 8:30 pm. And if once a week isn't enough to satisfy your British need for speed, you can tune in for the near-endless loop of TG reruns that play almost as often as Gordon Ramsey's Kitchen Nightmares and Star Trek: The Next Generation.
Are you looking forward to another series of this unlikely worldwide hit or do you think it's time they close up shop? Do you have a favorite challenge or prank? Who's your favorite presenter? Feel free to discuss all things Top Gear in the comments below. 
---
By
for on February 5th, 2014
More to Love from Telly Visions