By
for on January 17th, 2023
The 'Tom Jones' Trailer Introduces Henry Fielding's Timeless Tale of Class and Romance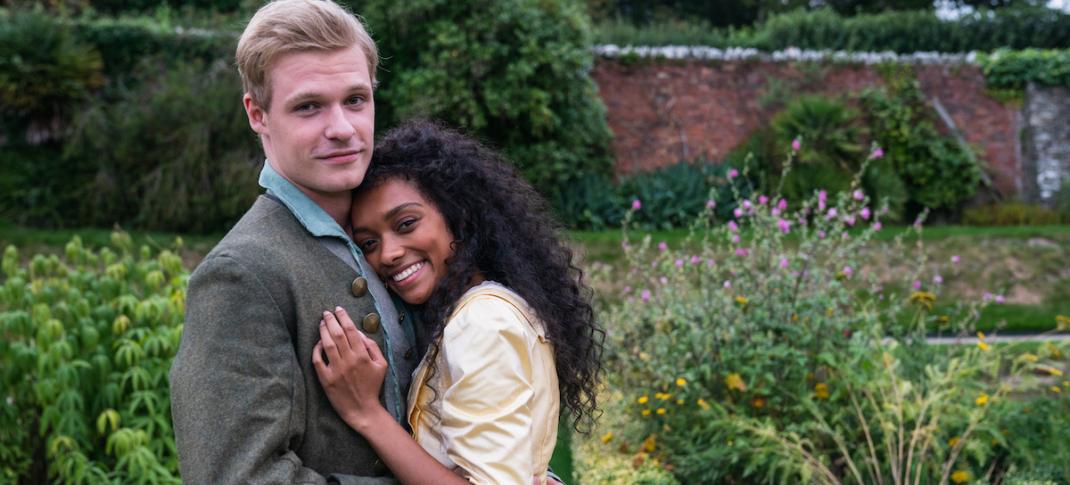 Our first proper look at the upcoming Masterpiece adaptation of Tom Jones is here. It's got everything that fans of Henry Fielding's classic novel could have hoped for: Swoony romance, gorgeous gowns, a familiar debate about class, and whether marriage should be based on love or some combination of money, social position, and general prestige.
While Fielding's novel (full title: The History of Tom Jones, A Foundling) is rightly categorized as groundbreaking in many ways—it's one of the first works of literature that can rightly be called a novel as we recognize it, it features many of the same stylistic tropes of comedic storytelling we still embrace today, such as a central romantic pairing and a happily ever after—it's also not a tale that's been adapted for the screen very often. A 1963 feature film starred Albert Finney as Tom and won four Academy Awards, including the Oscar for Best Picture. A BBC television version with Max Beesley aired in 1997, and the book formed the basis for several operas, stage plays, and even a jukebox musical (which, yes, featured the songs of the singer also named Tom Jones, because, of course, it did.) But this four-part limited series will be Masterpiece's first crack at the story. 
Solly McLeod (House of the Dragon) stars as the handsome, resourceful title character, with Sophie Wilde (You Don't Know Me) as the beautiful, bright, seemingly unattainable love of his life, Sophia Western. He is a foundling of uncertain parentage, while she is an heiress. In 18th-century England, their class differences make their journey to find each other complicated and treacherous. 
When banished in disgrace by his adoptive father, Tom leaves for London. Not far behind him, Sophia heads there to escape a forced marriage and seek the protection of her aunts. 
"It's been the most joyful experience to bring this sparkling romance to the screen," writer Gwyneth Huges (Vanity Fair) said in a statement. "It's a story in which the sun never stops shining and in which Love Conquers All, and that just makes such a refreshing change after the last couple of years! Henry Fielding created brilliant characters, fully of their time, but still speaking directly to us in the modern world as we strive towards our own versions of love and happiness. I've loved writing alongside him."
The series' impressive cast includes James Fleet (Bridgerton) as Squire Allworthy, Tom's warm-hearted adoptive father, and Alun Armstrong (Little Dorrit) as Allworthy's hard-drinking but loveable neighbor, Squire Western, who is Sophia's doting grandfather. Felicity Montagu (The Durrells in Corfu) plays Allworthy's reserved sister, Bridget, with James Wilbraham (In My Skin) as her odious son, William Blifil—an unrelenting antagonist to Tom. He and Tom eventually battle for Sophia's hand, a contest Blifil seems destined to win. Sophia has a trio of watchful aunts, played by Shirley Henderson (See How They Run) as the headstrong Aunt Western, Tamzin Merchant (Carnival Row) as the diffident Aunt Harriet, and Hannah Waddingham (Ted Lasso) as the seductive and vengeful Lady Bellaston. Former Doctor Who companion plays Sophia's worldly-wise servant, Honour, whose deft ability to suss out gossip ends up being beneficial to her employer. 
"This new adaptation of Tom Jones is a big-hearted rom-com that will absolutely delight our viewers," said Masterpiece Executive Producer Susanne Simpson. "It's fun–full of laughter and romance. I'm extremely proud to partner with producers Mammoth Screen, writer Gwyneth Hughes, and an outstanding cast on this joyful show."
Tom Jones will officially premiere on Sunday, April 30, at 9 pm ET. (As always, however, make sure you check your local listings.)
---
By
for on January 17th, 2023