By
for on December 28th, 2022
'Tom Jones' to Air on Masterpiece In Spring 2023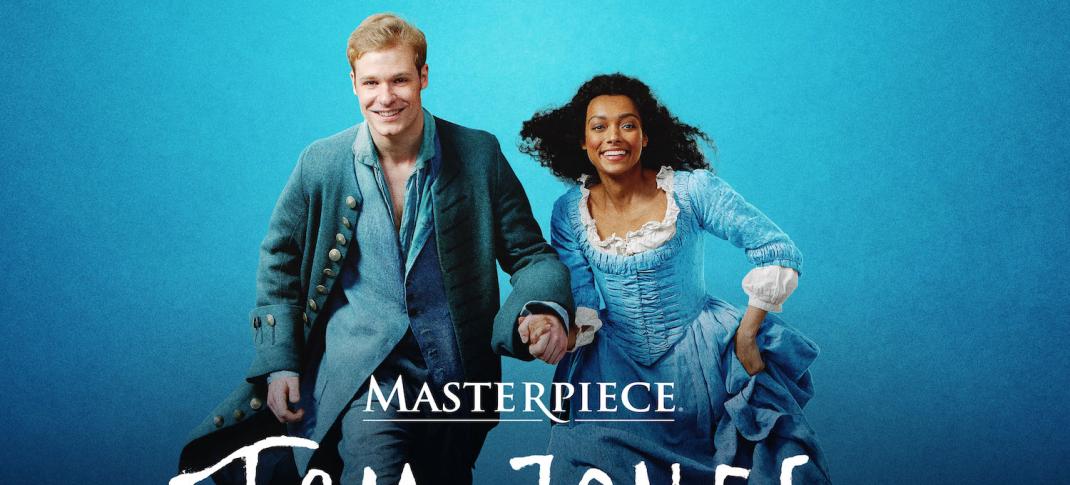 As we look toward 2023, PBS Masterpiece is busily slotting all the pieces in place for another year of excellent British TV. All Creatures Great and Small, Miss Scarlet and the Duke, and Vienna Blood all return for their respective third seasons starting in January, and March will see the final season of Sanditon, the twelfth (yes, really!) outing for Call the Midwife, and the premiere of new drama Marie Antoinette. But that's not all! We also have official confirmation that the highly anticipated new adaptation of Henry Fielding's  Tom Jones will be headed our way this spring. 
While Fielding's classic (full title:The History of Tom Jones, A Foundling) is groundbreaking in many ways—it's one of the first works of literature that can rightly be called a novel as we recognize it, it features many of the same stylistic tropes of comedic storytelling we still embrace today, such as a central romantic pairing and a happily ever after—it's also not a tale that's been adapted for the screen very often. A 1963 feature film starred Albert Finney as Tom and won four Academy Awards, including the Oscar for Best Picture. A BBC television adaptation with Max Beesley in the title role aired back in 1997, and the book has (oddly enough) been the basis for several operas, stage plays, and even a jukebox musical. But this Tom Jones will be Masterpiece's first crack at the story. 
Written by Gwyneth Hughes (Vanity Fair) and directed by Georgia Parris (Mari), this four-part drama aims to offer a more updated take on the classic tale, with deliberately diverse casting and a more colorful, modern feel. The series stars a pair of relatively unknown performers, with Solly McLeod (The Rising) and Sophie Wilde (You Don't Know Me) taking on the roles of the titular Tom and the love of his life, Sophia Western. 
"Tom Jones is the mother of all romcoms, and isn't that just what we all need after the last couple of years of misery? It's a story where the sun barely stops shining, where love conquers all, and at its warm heart stand a pair of young sweethearts everyone can root for," Hughes said in a statement. "Henry Fielding's 18th-century novel is sexy and fun; it's also a dramatic rollercoaster, addressing so many modern concerns around consent, sexual equality, and the pursuit of happiness. Tom and Sophia overcome enormous obstacles before finding their way home and to each other. This is a classic adaptation with a wise soul and a great big smile on its face." 
The series' all-star cast features many familiar faces, including Hannah Waddingham (Ted Lasso), Tamzin Merchant (Carnival Row), Pearl Mackie (The Long Call), Felicity Montagu (The Durrells in Corfu), Alun Armstrong (Downton Abbey), James Wilbraham (In My Skin), James Fleet (Bridgerton) and Daniel Rigby (Black Mirror). 
While we don't yet have a firm premiere date for Tom Jones beyond "Spring 2023", one has to assume it won't premiere until after that block of Call the Midwife, Sanditon, and Marie Antoinette airs. So, late spring, perhaps? Place your bets!
---
By
for on December 28th, 2022
More to Love from Telly Visions