By
for on November 4th, 2021
Masterpiece's First Image From 'Tom Jones' Introduces Its Central Couple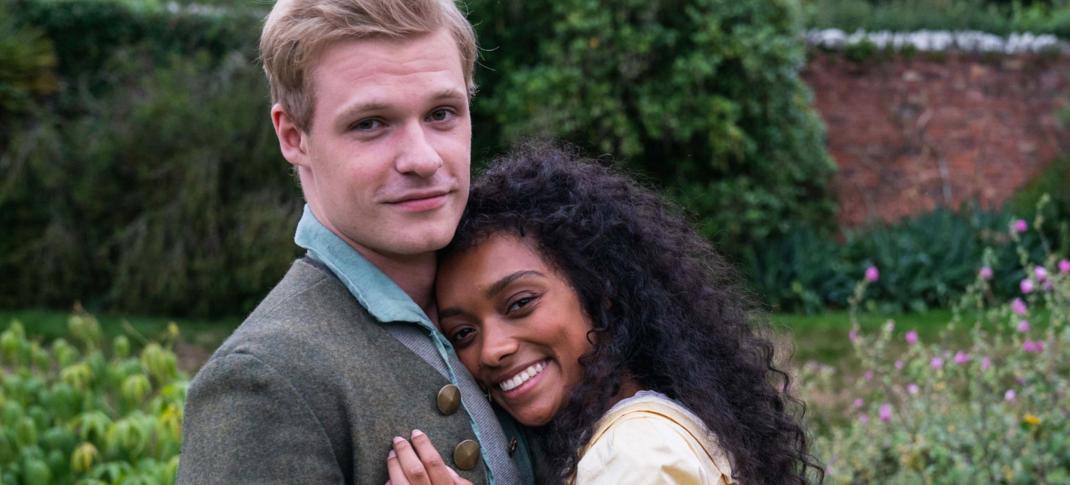 Filming for Tom Jones is officially underway in Ireland, and the first image from the series has already hit our shores. Based on Henry Fielding's The History of Tom Jones, A Foundling, one of the first modern novels ever printed, the coming of age story follows the titular Jones as he attempts to find love despite his lestatus. The story was already turned into a popular movie, entitled Tom Jones, which starred Albert Finney as the main character, and was famous for its risque and ribald scenes back in the 1960s. Masterpiece's updated take, by the look of it, intends to be a bit of a sweeter romp.
The new adaptation was initially announced in September of this year and is headlined by a pair of relative unknowns. Solly McLeod, best known for his turn in The Rising, will play leading man Tom. Sophie Wilde (You Don't Know Me) is the love of his life and the series' heroine, Sophia Western. A robust set of co-stars will support them, led by Pearl Mackie (Doctor Who) and Hannah Waddingham (Ted Lasso). Mackie plays Sophie's loyal maid Honour, while Waddingham will portray Sophia's not-to-be-trusted friend, Lady Bellaston, who does everything she can to come between the central couple.
Check out the first image, which Masterpiece tweeted out, featuring Tom and Sophia in a garden to die for.
Love at first look… We are thrilled to share the first photo from our upcoming miniseries, Tom Jones. @solly_mcleod stars as Tom Jones and Sophie Wilde as Sophia Western. pic.twitter.com/O9qjbFIOMX

— MASTERPIECE | PBS (@masterpiecepbs) November 3, 2021
The show's current logline reads:
A rollercoaster story of the title character's complicated journey to find real love, Tom Jones has delighted and scandalized readers since it was initially published in 1749.
The rest of the cast has also been set now that filming is underway. James Fleet (Bridgerton) will play Squire Allworthy, Tom's adoptive father, and Felicity Montagu (The Durrells in Corfu) is his aunt, Bridget Allworthy. James Wilbraham (In My Skin) is her son, Tom's cousin and frenemy, Blifil; Janine Duvitski (Doctor Thorne) is the Allworthy's housekeeper, Mrs. Wilkins. Daniel Rigby (Black Mirror) will play Partridge, the disgraced schoolteacher who Tom befriends.
On Sophia's side, Alun Armstrong (Downton Abbey) plays her grandfather, Squire Western, and Shirley Henderson (Happy Valley) is Aunt Western. The series is also changing a few characters up, with Tamzin Merchant (Carnival Row) playing Sophia's Aunt Harriet. (In the book, Harriet is Sophia's slightly-older cousin). Julian Rhind-Tutt (Harlots) will portray Harriet's terrible husband, Fitzpatrick. Other co-stars include Susannah Fielding (Life) as Mrs. Waters, Dean Lennox Kelly (Jamestown) as poacher-turned-gamekeeper Black George, and Lucy Fallon (Coronation Street) as his daughter Molly, who oh-so-famously charms Tom into sleeping with her.
Tom Jones does not yet have a release date, but fans shouldn't expect to see it hit American shores until mid-to-late 2022 at the earliest, if not 2023.
---
By
for on November 4th, 2021