By
for on June 28th, 2012
Time for a Sherlock Post: What Do We Know About Series 3 So Far?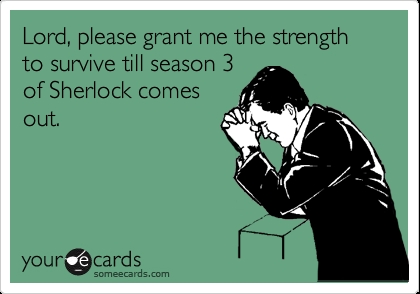 Don't know about the rest of you, but I'm already having serious Sherlock withdrawal. (Ha, just kidding - I totally know about the rest of you, and I am willing to bet that you are too!) So I figured, since I desperately need an excuse to talk about it we have to do something to entertain ourselves during the Great Hiatus, why not have a semi-regular feature that rounds up all the news of importance and mildly tangential interest to Holmesians in one place?
Over the last month or so the first tidbits about Sherlock Series 3 have begun to make their way into the news – and though there's not a ton to work with here in terms of official announcements, well, it's still water in the desert people. Let's cling to it.
Click through for the latest official word on Series 3 filming, what the first episode will be, whether we could be seeing Sherlock continue past the third series, and general series-related flailing. (I know it's nothing y'all hardcore types haven't seen already, but, indulge me, okay?)
Sherlock, Cumberbatch Honored by the US Critics Choice Awards
After the results of this year's British Academy of Film and Television Arts (BAFTA) TV awards, which felt disappointing despite Andrew Scott's win for Supporting Actor, since Sherlock didn't even get a nomination Best Mini-Series and Benedict Cumberbatch lost the Leading Actor gong  to Dominic West, it's nice to see the show get some recognition from the US Critics Choice TV Awards. Sherlock was named Best TV Movie or Mini-Series and Cumberbatch took home the prize for Best Actor in a TV Movie or Mini-Series. Hurrah!
Series 3 Set to Begin Filming January 2013.
Both Steven Moffat and Benedict Cumberbatch have confirmed that filming on Series 3 is set to get underway in January 2013. While this news has been sort-of announced/speculated upon since before Series 2 aired here in the states thanks to some comments from producer Beryl Vertue earlier this year, it's still nice to get something that's a bit more official from the folks directly involved.
Not that this makes it any easier to wait for it, of course.
Get Ready for The Adventure of the Empty House…Sort of.
This news will not surprise folks that are familiar with the Sir Arthur Conan Doyle canon, as The Adventure of the Empty House is the story in which Sherlock Holmes famously returns from the dead. But, according to writer and co-creator Mark Gatiss, this adaptation of the story may look a bit different.
"It'll be a version of it, because that's the one in which he returns," Gatiss told website Digital Spy. "How much or how little [we change], I don't know yet."
"As before, we cherry pick and we choose bits and pieces of other [stories] that we like. They're always less literal adaptations."
During this same interview at the recent BAFTA TV awards, Gatiss also revealed that he will be writing the Series 3 premiere, in whatever form it ends up taking. Gatiss has said before that he finds John Watson's reaction in the stories – which is to faint at the sight of the resurrected Holmes – "a little unlikely," so, honestly, who knows what we're in for when the big reveal finally happens.
Personally, Gatiss is my favorite of the Sherlock writing staff, so the thought of him doing Empty House particularly is terribly exciting.
Sherlock to Continue Onward After Third Series?
Nothing to get your hopes up about, officially; there's no word on a Sherlock Series 4 with the third season still yet to be made. But, a tidbit of hopeful information did surface recently – Benedict Cumberbatch did an interview with Michael Ausiello over at TVLine, in which he indicated that he'd be open to continuing to play the world's only consulting detective for some time to come. This whole interview is actually really fantastic and well with reading, but I'll excerpt the relevant bits for you here:
TVLINE | You're about to be exposed to a much larger audience in J.J. Abrams' Star Trek sequel. Should we be worried that big-time Hollywood success will take you away from Sherlock?
Oh, no. No, not at all. I'll always do Sherlock — it's something I'm not going to give up on. I love it too much. It's hard work, but it's so rewarding and such a lovely bunch of people who do it. We love our fans and we love what it's created. It's an incredible thing to be part of; it doesn't happen that often. Don't worry; it's not going to disappear.
TVLINE | When do you start shooting Season 3?
January. That's the plan.
TVLINE | And then beyond Season 3?
There's no reason for us to stop if it's still being adored and we still enjoy doing it. We only do three [episodes] at a time, so I think the normal fear of over-stretching the mark and just doing too many [doesn't apply]. It's good to leave people wanting more. I'd like to see [Sherlock] getting older. We're starting quite young. It's rare to see Holmes and Watson at the beginning of their relationship; we usually join them in their mid-to-late 40s or 50s. I've got a way to go. I mean, I'm only 35.
Excuse me while I happily imagine another six or seven series of Sherlock spread over the next decade. I know we'll probably never get that, realistically, but this does sound like we're in for at least a bit more Sherlock for the foreseeable future. Moffat's already promised a "frustrating" and "puzzling" climax to the third season, so it at least appears that the status quo's going to be maintained in that regard for now. And hopefully for a very long time.
(Seriously, how long is it going to be before we get to see Sherlock again?)
---
By
for on June 28th, 2012
More to Love from Telly Visions