By
for on February 8th, 2022
'Ted Lasso' Season 3 Faces Filming Delays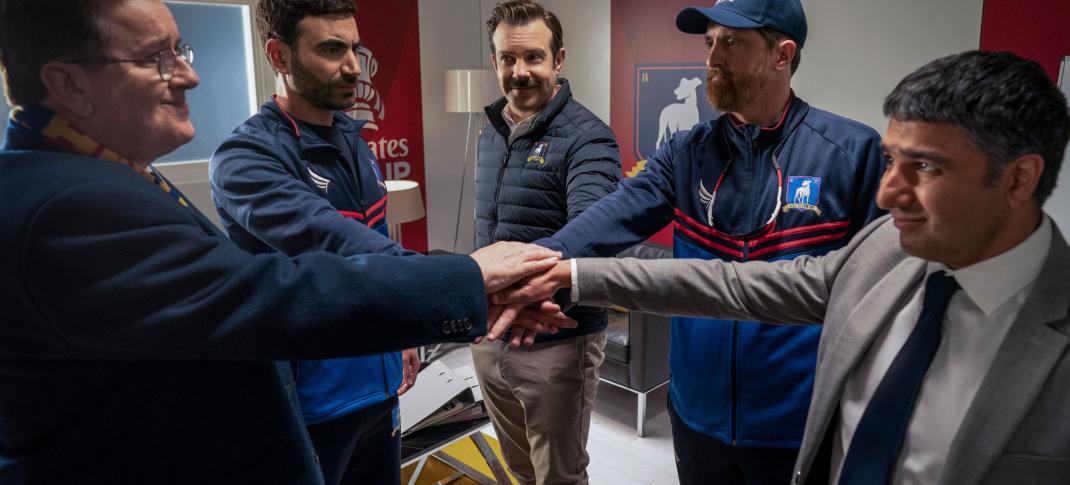 In television, timing is everything. His Dark Materials, which might have hit big in 2012, is one of the many also-rans of the prestige era in 2022. A series that's ahead of its time, like Life on Mars, struggles to find an audience in 2006 when in 2016, its time travel twisty storytelling would be a grand slam. On the other hand, something like Ted Lasso was right on time. The gentle, feel-good, fish out of water comedy about an American football coach hired to run a British football team was perfect for the summer of 2020 when we all needed the televised equivalent of a hug. 
Season 2 struggled a bit as fewer people wanted TV shows to hug them, but Season 3 (initially planned as the series' final season) seemed poised to arrive in the summer of 2022, whether we were ready for hugging or not. But apparently, things aren't going quite to plan. The filming start date for the new season was originally supposed to be January 2022, but then it slipped back to February 2022, and now delays are starting to mount. Though Apple TV+ has not responded to requests for comment, at least one of the show's actors/producers doesn't think the new season will be ready by July.
Speaking to TVLine, series co-creator and star Brendan Hunt (Coach Beard) confirmed the series still hasn't started filming Season 3, despite two deadlines to begin passing. So what's the problem? Go figure; it's football. Not the games on the show, but actual real live football. According to Hunt: "We're in pre-production and scripts are written," but there's a "football wrinkle."
What that means is the series is still trying to work out "when we might shoot football [scenes]."
"We are definitely starting later this year than in Season 2, that's for sure. So I would be surprised if our delivery dates were the same. That's above my pay grade; I don't know for sure, but I do have a vague understanding of the limits of this dimension we call time, and I would say it seems pretty unlikely that we would [premiere] as early this year."
Much like the timing of the series' initial release, the timing of filming Ted Lasso has also been fortunate. Season 1 was complete before lockdowns started, filming in Selhurst Park Stadium whenever it was not in use by the real-life team, Crystal Palace F.C., who play there. Season 2 was filmed in the spring of 2021, which was during the regular season, but things in the U.K. were still locked down, making it easier to work in time to film in the Crystal Palace stadium and historic places like Wembley Stadium. But this season is different. The current football schedule has been compressed due to Omicron, with games early in the season being canceled and shifted down the calendar, crowding out the series.
With the football season ongoing until May and not a lot of time available for the series to film, it's understandable why Hunt thinks that a July delivery date for episodes is unfeasible, and the show might delay its premiere until fall. But this may be a blessing in disguise. Considering that the World Cup is also on this year, happening in Qatar in the height of summer, it may be better for Ted Lasso to wait a bit to launch the new season rather than try to compete with the real stories happening on and off the pitch.
Ted Lasso Season 3 does not yet have a release date but is expected to debut sometime in 2022. Ted Lasso Season 1-2 are streaming on Apple TV+.
---
By
for on February 8th, 2022
More to Love from Telly Visions