By
for on December 14th, 2019
Steven Moffat's 'Dracula' Will Hit Netflix in January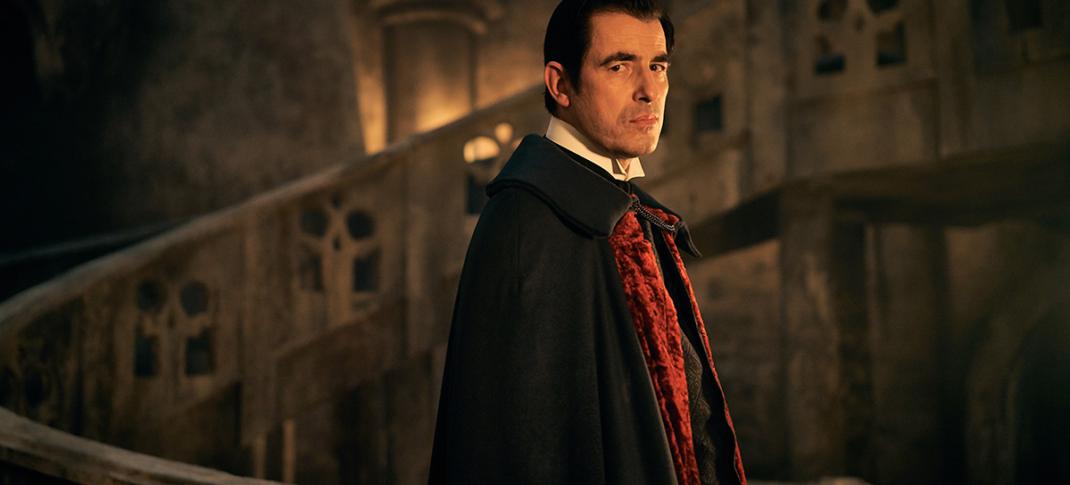 It's official: Steven Moffat and Mark Gatiss' highly anticipated adaptation of Bram Stoker's Dracula will come to America in January, courtesy of Netflix. 
This Gothic horror-themed take on Stoker's classic aims to bring the infamous vampire out of the shadows and center him within his own story. For those of you who don't know, in the novel Dracula, the titular character is largely regulated to the fringes of the story, and doesn't actually appear that much.
Moffat and Gatiss certainly seem primed and excited to change that, as every piece of promotional material surrounding this series has centered exclusively on Dracula himself. It's not clear at this point who else is even involved in this story, let alone how important they might be. Maybe, in this particular take, that doesn't matter so much. At least if its creators are to be believed.
"The big challenge we set ourselves was to make Dracula the central character in his own story for the first time. What's it like as the anti-hero? What you have to give him is a personality which spans four centuries… You don't want him to be just a shadowy presence," Gatiss told an audience at the recent British Film Institute premiere screening.
Claes Bang is Dracula.

On January 4, watch this new series from the makers of #Sherlock pic.twitter.com/gU2YAFsA06

— See What's Next (@seewhatsnext) December 13, 2019
This particular retelling will take place in 1897, as the titular Transylvania vampire relocates to Victorian London in search of "new blood". And to murder a whole lot of people in very gross and violent ways, if the trailers are anything to go by. In the wake of Netflix's premiere annoucement, the BBC dropped a second, longer trailer for the series' debut. And it's even more disturbing than the first one was.
From blood, decomposing corpses and uncomfortable close-ups of insects to blasphemous iconograpy and insanely poor nail care, there's every kind of grotesque horror here you could ever want. (And probably quite a few you don't.) The army of what appear to be vampire-killing nuns is kind of fun, though. (Maybe I'd be more into this if the show was about them?)
The series is Moffat and Gatiss' second co-creation following the globally successful Sherlock, which pretty much made a household name out of its star, a guy by the name of Benedict Cumberbatch. Will Dracula do the same for Claes Bang, who plays the titular bloodsucker? It certainly seems possible, particularly given how hard the series is pushing him not only as its lead but as sort of a murderous sex symbol. 
This actually isn't that weird, given the fact that culturally the entire concept of vampires is almost always associated with lust and sex, though that tradition is a big hard to square with Moffat's recent comments about how Dracula definitely isn't bisexual, he just likes to seduce and murder people of both genders, I guess. (And you thought we'd left this deeply uncomfortable and problematic sexuality discourse behind us with Sherlock. Joke's on us all, I'm afraid.)
Perhaps that's also why - although the behind-the-scenes pedigree is certainly compelling - this Dracula doesn't necessarily feel as though it's breaking any new ground. The idea of vampires-as-heroes-sort-of has kind of been done to death in recent years thanks to shows like True Blood and The Vampire Diaries. Do we really need another seires that does the same, even if it is centered around the legend that started it all? I don't know. We'll have to wait and see.
What do you think of this new Dracula? Will you be giving it a look next month?
---
By
for on December 14th, 2019
More to Love from Telly Visions