By
for on December 31st, 2019
12 British Shows To Stream In January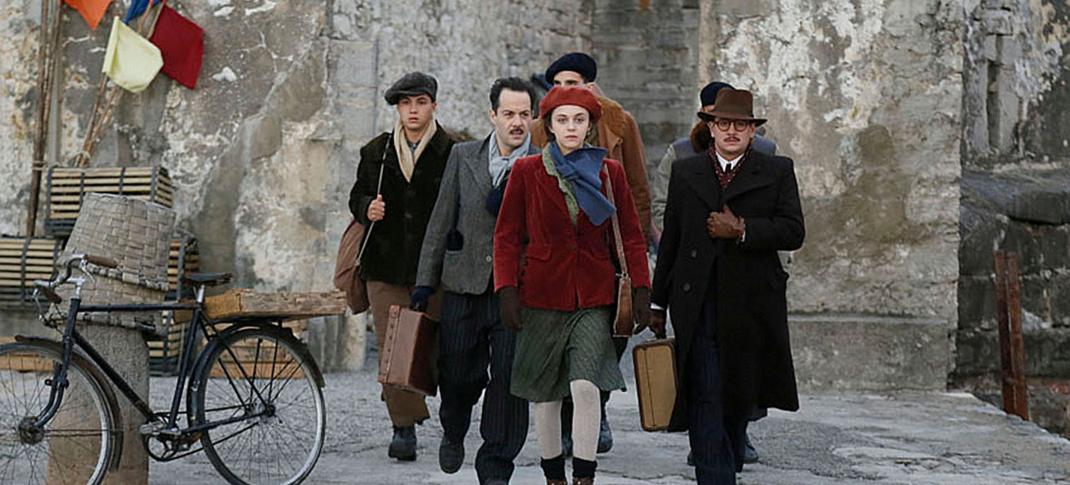 The cold and gloom of January mean lots of evenings spent in front of the telly. But rather than watching ending American TV shows, streaming services are out here bringing anglophiles like us lots of great TV from overseas. From Netflix to PBS Passport, there are a dozen new series arriving just in time to help us through the toughest time of the year.
What's coming to the U.S. in British TV this January? Let's run down the biggest titles arriving next month.
PBS
Resistance
The first "Walter's Choice" entry on PBS Passport for 2020, Resistance is a World War 2 story about young freedom-fighter in Paris named Lili, who joins up to produce an underground newspaper in during the Vichy years.
This six-episode series, arriving on Jan. 2, has everything from danger to romance to young men and women learning to fight back in the war. First broadcast on TF1 in France in 2014 and on More4 in the U.K. in 2015, the show is in French with subtitles and stars Pauline Burlet as Lili Franchet.
Sanditon
Masterpiece's big new series for the winter season, Sanditon is based on the unfinished work left behind by Jane Austen upon her death in 1817. The story has been filled out by Andrew Davies, who was behind last year's Les Miserables adaptation and is known for his on-screen versions of Pride and Prejudice, Sense and Sensibility, Northanger Abbey, and Emma.
Starring Rose Williams and Theo James, the show will be available to binge in full on PBS Passport starting Jan. 12 when the series premieres on-air, for those who can't wait to watch week-by-week. (FYI: Our recaps will follow the airing schedule.)
Expedition with Steve Backshall
With David Attenborough making Planet Earth a hot item on BBC America, and Netflix following suit with Our Planet, PBS is hyping its long-running relationship with nature-based programming.
The latest ten-part series, Expedition With Steve Backshall, commissioned with the BBC, debuts on Jan. 15 on most local stations, with members able to stream the entire series via PBS Passport.
Netflix
Dracula
The newest collaboration from Steve Moffat and Mark Gatiss arrives on Netflix on Jan. 4, mere days after it premieres on the BBC.
Unlike their last outing with Sherlock, Dracula promises to lean in hard on the era and the horror, staying true to Bram Stoker's vision. The series stars Claes Bang as Count Dracula and John Heffernan as Jonathan Harker.
Sex Education Season 2
The hit Netflix comedy Sex Education is back for another round. Starring Gillian Anderson and Asa Butterfield, the new set of episodes about a teenage boy who wins up being his school's unofficial sex counselor returns on Jan. 17.
Acorn TV
Terry Pratchett's Going Postal
Coming on Jan. 6, Acorn brings back 2010's Terry Pratchett's Going Postal, an adaptation of the novel by the same name, which is part of the best-selling Discworld series.
Starring Richard Coyle as con-man Moist von Lipwig, the story covers his experience "being caught by the law and given two choices: suffer a painful death, or take over a derelict post office." The made-for-TV film also features David Suchet (Poirot), Charles Dance (Game of Thrones), and Claire Foy (The Crown).
Ackley Bridge Season 3
The first two seasons of Ackley Bridge are already available on Acorn TV.  January 13 sees the third season arrive, with major PBS favorite additions including Robert James-Collier (Downton Abbey). The synopsis: "Set in and around a multicultural academy school in a small Yorkshire mill town covers the daily drama of the teachers, teenagers, and families whose lives and cultures collide when two schools are integrated after years of racial segregation."
The Silence
Another favorite from 2010, The Silence, is a four-part drama series from the BBC. Arriving on Jan. 27, it's a mystery series where a formerly deaf eighteen-year-old (Genevieve Barr) witnesses the murder of a police officer not long after having cochlear implantation, which unravels a web of corruption.
BritBox
Wallander Seasons 1-4
All four seasons of Wallander kick off the year on Jan. 1. Based on the award-winning mystery novels by Swedish writer Henning Mankell, the series, which began airing back in 2008, stars Kenneth Branagh as Police Inspector Kurt Wallander. The first two seasons also include a young Tom Hiddleston as Magnus Martinsson.
Silent Witness Season 23
Silent Witness began back in 1996 on the BBC and has been running ever since. The 23rd season of the crime series turns up on Jan. 7, starring Emilia Fox as Nikki Alexander, who leads a team of forensic pathologists through solving a new set of crimes. 
Vera Season 10
Vera, the crime drama series based on the Vera Stanhope mystery novels written by Ann Cleeves, is now officially the longest-running female-led detective series in the U.K. The tenth season starts Jan. 21 with two-time Oscar nominee Brenda Blethyn back once more as Detective Chief Inspector Vera Stanhope.
Mrs. Brown's Boys All Seasons
The New Year will see the Mrs. Brown's Boys New Year special from 2019  arrive Jan. 1, but the real news is that the rest of the series follows come Jan. 28 with all three seasons.
The show, which stars Irish comedian Brendan O'Carroll, is famous for the matriarch persona he plays, Mrs. Agnes Brown. This critically lambasted comedy, which aired regularly from 2013-2016, now has an international cult following. 
---
By
for on December 31st, 2019
More to Love from Telly Visions