By
for on October 5th, 2022
BritBox Scores a Bullseye with Gripping Crime Thriller 'Sherwood'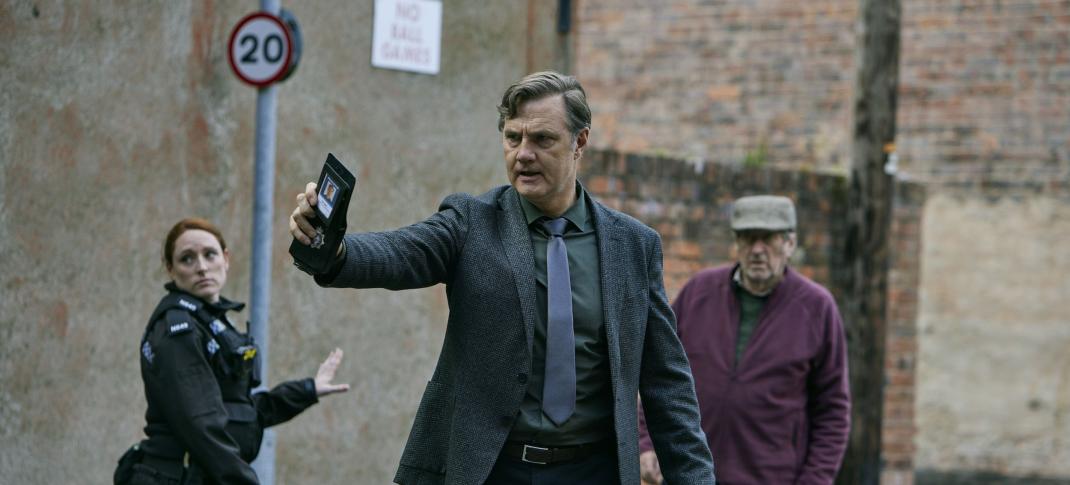 BBC's Sherwood was the must-see series of Summer 2022 in the UK. Social media was abuzz after each of the six episodes, and a second season has already been commissioned. Four months later, the acclaimed British drama has come to our shores via BritBox, with all episodes streaming starting October 4th.
The series is a fictionalized account inspired by two real-life murders and the ensuing manhunt in a Nottinghamshire mining community in 2004. Just as in the show, one of the murders was committed with a crossbow which begs all sorts of Robin Hood comparisons. For James Graham, the show's creator, Sherwood is his attempt to give a voice to his hometown. By shining a light on actual events from the mid-80s national coal mining strikes, Graham explores how union divisions continued to fracture the community decades later and affect their ability to come together in a crisis.
Another focus of the series is the Metropolitan Police department's part in local tensions. London officers were assigned to the county to protect the substantial number of miners who crossed picket lines during the strike. Excessive force by the police was not uncommon. And as if the increased police presence didn't cause enough mistrust, the Met deployed undercover officers to insinuate themselves into the community. These spy-cops were trained to eavesdrop on locals and pit the striking miners against the working ones. In the Sherwood storyline, one of these officers stayed in the area, married, raised a family, and never broke cover
With the historical background established, let's talk about the things Sherwood did exceptionally well.
The writer leaves the audience in the dark just enough to make things tense and interesting, but not so much that they feel frustrated. Fortunately, background information and clarifications are revealed on a schedule that provides the audience a degree of gratification (i.e., the feeling that you're smart enough to keep up with the case). For example, we don't know what pivotal and life-changing event happened "that night in '84" until episode five. But once the pieces start falling into place, there's that "ah-ha!" feeling of satisfaction that comes from great storytelling.
Sherwood is a series that shifts back and forth between periods, with younger actors playing the 80s versions of present-day characters. It can be confusing unless you have your trusty IMDB app handy as you watch. But it is essential to see these middle-aged characters as they were in their youth, often too young to cope with the responsibilities and decisions placed on their shoulders. Interestingly, in the case of the character of Met officer DI Kevin Salisbury, actor Robert Glenister plays present-day Kevin, while his son Tom Glenister portrays young PC Salisbury to significant effect.
Another well-deployed device is the abrupt cliffhanger-like endings on the second through fifth episodes, the kind that makes you audibly gasp. For example, the audience is shown a character who is gentleness and timidity personified, behaving violently and irrationally when under extreme pressure. We're also treated to one of the best character reveals I've seen in quite some time. After spending the best part of an hour pointing viewers in one direction, an arrow literally strikes at the home of the real spy.
Saying the cast of Sherwood is phenomenal is an understatement. Undoubtedly, this show will be well-represented in next year's television BAFTA acting categories.
Especially moving were the scenes between sisters Julie Jackson (Lesley Manville) and Cathy Rowley (Claire Rushbrook) as they gradually healed their decades-long estrangement in the face of a family tragedy.
Also of note was the performance of Adeel Akhtar, who played the lonely widower and devoted father, Andy Fisher. Witnessing the tortuous emotional roller coaster he endured, from concern over being distanced from his son to sudden rage, then immediate panic and gut-wrenching guilt, and finally to acceptance, was heartbreaking. You just wanted to hold Andy in your arms and tell him everything would be all right.
David Morrissey and Robert Glenister had a lot of chemistry as DCS Ian St. Clair and DI Kevin Salisbury. These guys overcame a very difficult event from their early policing careers to work together and apprehend their killer; you might even say they became friends.
Warning: Spoilers for Sherwood follow!
The only letdown viewers might experience is that when the crossbow killer is apprehended, his motives don't match the profile the police expected. Our killer wasn't a criminal mastermind or someone trying to make a political statement. He was just an angry, alienated young man.
Overall, Sherwood is so much more than a crime drama. It's a very human story about how old grudges and wounds must be dealt with to move forward. Sometimes it just takes a lot of pain to reach the point of realizing what's important.
---
By
for on October 5th, 2022
More to Love from Telly Visions