By
for on September 28th, 2022
British Actresses You Should Know: Joanne Froggatt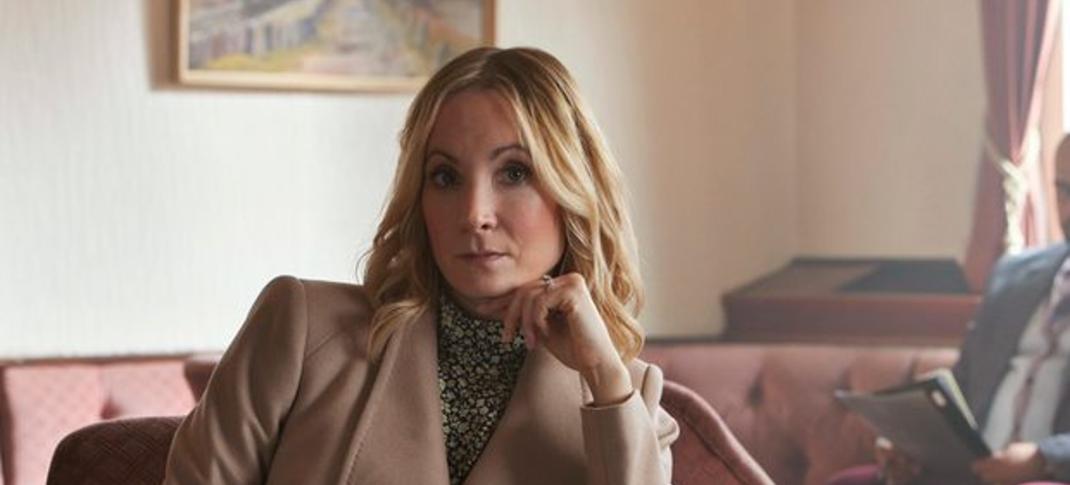 Joanne Froggatt is best known for playing the Crawley family's loyal maid. However, this North Yorkshire lass has portrayed various characters in her 20+ year career; many are not nearly as endearing as the compassionate and resilient Anna Bates, the role for which she won a Golden Globe in the 2014 season of Downton Abbey.
Froggatt may seem too young to have been in the business for over two decades, but she was serious about acting from a young age. So serious that she left her family's small sheep farm at 13 to attend the Redroofs Theatre School in Berkshire. She earned her first screen credit in 1996 on the long-running British crime drama, The Bill, and has worked every year since.
Below are some of Froggatt's roles over the years that demonstrate her development and range as an actor.
Coronation Street
From 1997-98, Joanne appeared as a regular on the British television institution Coronation Street, known affectionately as Corrie. At 16 years old, she played troubled pregnant teen Zoe Tattersall who initially sold her baby to a local couple before reneging on the deal. Sadly, Zoe's daughter died, causing her to lash out at her neighbors for her tragic misfortune. She later left Weatherfield for America with her cult leader boyfriend. It is a soap opera, after all...
Life on Mars
Froggatt played a small but pivotal role in this 2006 BBC sci-fi police drama Life on Mars, about a police officer named Sam Tyler (John Simm) who suffers serious injury from a hit-and-run and somehow traveled 33 years into the past. As Sam tries to solve the mystery of what has happened to him, he befriends his mother, Ruth (Froggatt), and his four-year-old self from 1973. This encounter with young Ruth strengthens Sam's connection to his mother in the present.
Robin Hood  
Froggatt joined the cast of the BBC's anachronistic action-adventure series Robin Hood in its third and final season, which aired in 2009. She played Kate, a spirited Locksley villager who seeks revenge against the Sherriff of Nottingham and Guy Gisborne after her brother's death.
Kate joins Robin (Jonas Armstrong) and his band of outlaws in Sherwood Forest. As the lone woman in the group, she predictably attracts several admirers. Also, predictably, she falls for Robin, but her feelings aren't fully reciprocated.
Still Life
Joanne costarred in the poignant 2013 drama Still Life about John May (Eddie Marsan), a lonely man who works as a council funeral administrator. With his job due to be eliminated by a callous manager, John doggedly embarks on his last case. While tracking down a recently deceased man's next of kin, he meets Kelly Stoke (Froggatt). Inspired by stories of Mr. Stoke's swagger and the promise of a friendship with Kelly, John sets out to make changes in his life.
Bob the Builder
When the animated children's show Bob the Builder rebooted its look in 2015, Froggatt was cast as the voice of Wendy for the next three years. Bob's business partner, best friend, and love interest runs the office, keeps the business in order, and does some construction work as well. Along with the rest of the Can-Do Crew, Wendy proves that "the fun is in getting it done!" 
Dark Angel
Masterpiece viewers may remember Dark Angel, the two-part historical crime drama that aired in 2017. Froggatt starred as Mary Ann Cotton, poisoner and Britain's first female serial killer of the industrial age. Crushing Victorian-era poverty imposed on a woman overly burdened and convinced she deserves a better life combines to create a killing spree that likely exceeded Jack the Ripper. One thing you don't want to hear Mary Ann say to you is, "Why don't you let me make you a nice cup of tea."
As a side note, Joanne reunites with her Downton Abbey costar Thomas Howes (footman William Mason from Seasons 1-2) in this scene as Mary Ann's second husband, George Ward.
Liar
Joanne starred in Liar, a crime thriller that takes the "he said, she said" scenario to an extreme level. Froggatt portrays a newly single schoolteacher, Laura Nielson, who goes on a pleasant date with an attractive surgeon and widowed father, Andrew Earlham (Ioan Gruffudd). In the morning, Laura is horrified to discover she's been raped. When the police can't help, Laura takes the investigation into her own hands, breaking into Andrew's house and posting her accusations on social media. Has Laura manufactured the sexual assault, or is Andrew the liar?
Liar ran for two seasons in 2017 and 2020 on ITV in the UK and Sundance TV in the US.
Sherwood
In 2022 Froggatt returned to Sherwood Forest, but the "outlaws" are not good guys this time. Sherwood is a modern crime drama inspired by real-life murders in a Nottinghamshire village still fractured by the mining strikes of the mid-80s. Jo's character, local Conservative councilor Sarah Vincent, is ambitious, abrasive, and has openly taken sides in the divisions within the village. She's also a newlywed with many thoughts about how much her father-in-law should be involved in their lives.
BBC's Sherwood was the must-watch drama of the summer in the UK. If you want to experience the compelling performances of this fantastic cast (including Ms. Froggatt's), all six episodes debut in the US on BritBox on October 4.
---
By
for on September 28th, 2022
More to Love from Telly Visions