By
for on March 14th, 2023
Everything To Remember Ahead of 'Sanditon' Season 3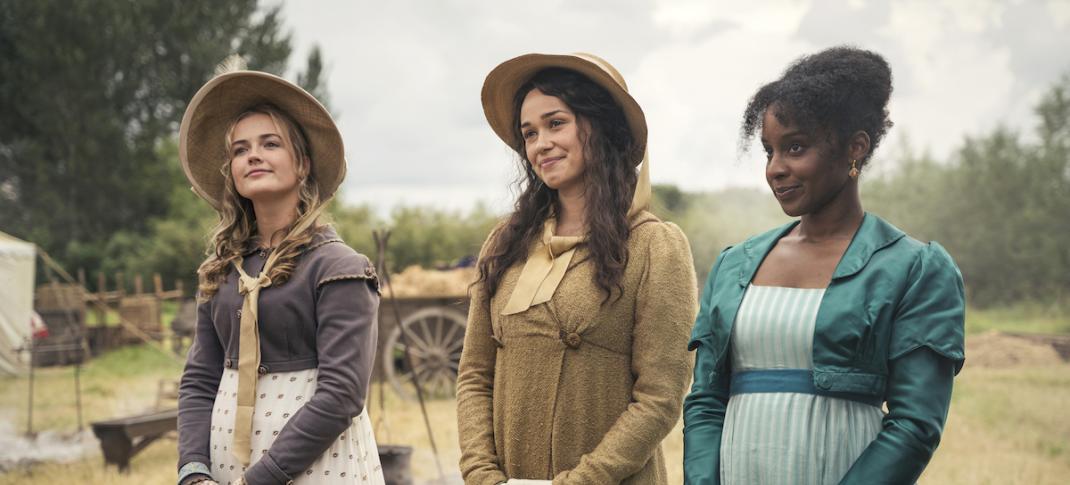 Sanditon's first season was a hit for PBS when it debuted in early 2020, but it came with a pair of disappointments baked in. The first was that the series, based on the unfinished Jane Austen novel, and written by Austen auteur Andrew Davies, had been canceled by ITV for poor viewership in the U.K. before the series debuted in America. The second was that Davies had written a cliffhanger ending, expecting a second season, leaving heroine Charlotte Heywood (Rose Williams) unmarried, sobbing in a carriage home to the farm, while her true love Sidney Parker (Theo James) married another, a very un-Austen ending indeed.
However, Peak TV has room for all, and after a year and change of negotiations, Masterpiece secured a two-season renewal of the series, which it filmed back to back. Not everyone was attached to come back — most notably James, leaving Charlotte's character in want of a new true love. Davies also moved on, leaving the project in the hands of Season 1 co-writer Justin Young. Young, for his part, added a bevy of new, available men, a younger sister for Charlotte, Alison Heywood (Rosie Graham), and one central mystery surrounding the exit of the previous hero.
Season 2 also brought back several Season 1 favorites, starting with Georgiana Lambe (Crystal Clarke), Charlotte's BFF and heiress to her late father's fortune. The Parker family, which is investing in Sanditon, returned as well, including Tom (Kris Marshall), his wife Mary (Kate Ashfield), and Tom's unmarried younger brother Arthur (Turlough Convery), who is also Georgiana's other BFF. Lady Denham (Anne Reid), the town benefactor, also turned up with her niece, Esther (Charlotte Spencer), now Lady Babbington, as did Esther's two nemeses, Edward (Jack Fox) and Lady Denham's former ward Clara (Lily Sacofsky).
Some of the returnee storylines worked well. Esther, for example, was struggling with infertility, now something that period pieces like Austen's tend to tackle. Some of them worked less well, like Edward and Clara's attempts to have Esther committed so that they could land Lady Denham's fortune. (At least Clara gave Esther her baby as an apology.) Tom and Mary's takeover of Georgiana's guardianship in the wake of Sidney's absence worked well in integrating her into the family and the central storyline. However, Tom's money mismanagement problems felt like a retread of Season 1's Parker plot, one someone should have fixed by now.
But the real meat of Season 2 was the decision to kill off Sidney Parker since James was not coming back. It was clever, giving Charlotte a reason to return to Sanditon and an emotional mountain to scale as she learns to move on from her grief. (It also let those who shipped the characters grieve his leaving the show.) And it guaranteed that any relationships she might form would not be consummated until at least Season 3. And it gave the show a mystery: Why was Sidney in Georgiana's home country of Antigua, and does it have anything to do with her parents?
As for Charlotte, as a single woman in want of an income, she became a governess working for her primary love interest Alexander Colbourne (Ben Lloyd-Hughes), looking after his niece Augusta (Eloise Webb) and tomboy daughter Leo (Flora Mitchell), working with their housekeeper Mrsd. Wheatley (Flo Wilson). Meanwhile, she and Alison are also distracted by the new soldier regiment in town, including the available Captain Carter (Maxim Ays), Colonel Lennox (Tom Weston-Jones), and Captain Fraser (Frank Blake), while Georgiana thinks she's met her match in artist Charles Lockhart (Alexander Vlahos).
Alison and Charlotte work through the Austen-esque romance of being attracted to the wrong man before discovering the right one was under their nose the whole time. In Alison's case, she is dazzled by Captain Carter, unaware he is lying to her, while Captain Fraser stares at her with heart-eyes. Likewise, Charlotte is focused on Captain Lennox, even as she recognizes how attracted she is to her boss, Colbourne. Both these relationships come to a head at the Sanditon Ball (naturally), where Charlotte discovers Lennox is a degenerate gambler, and Alison realizes that Carter is a fraud.
At least Alison was granted a happy ending, realizing that Fraser is the real deal and getting engaged to him. On the other hand, Charlotte quits Colbourne's employ, feeling used by both him and Lennox, and departs home again. However, when she arrives, a fiance, Ralph Starling (Cai Brigden), suddenly emerges from the woodwork, who her parents engaged her to ages ago, and nobody thought to mention until now. As for Georgiana, just as she's about to get engaged to Lockheart, Sidney's reasons for being in Antigua are revealed, including that Charles is a cousin out to steal her inheritance. Enraged, she dumps him.
But Sidney's letter also reveals a second surprise: Georgiana's mother is alive and well in Antigua. Now, Georgiana has a new mystery to solve and begins to hunt for her mother, even as she starts the hunt for love all over again. 
Sanditon Seasons 1 and 2 are streaming on PBS Passport. Season 3 begins airing on most PBS stations starting at 9 p.m. ET on Sunday, March 19, 2023, and will follow a weekly release schedule. All six episodes will arrive on PBS Passport to stream the same day. As always, check your local listings.
Stream Now
Sanditon
The fan-favorite drama inspired by Jane Austen's final, unfinished novel.
Image
---
By
for on March 14th, 2023
More to Love from Telly Visions