By
for on May 22nd, 2022
'Ridley Road:' Finale Recap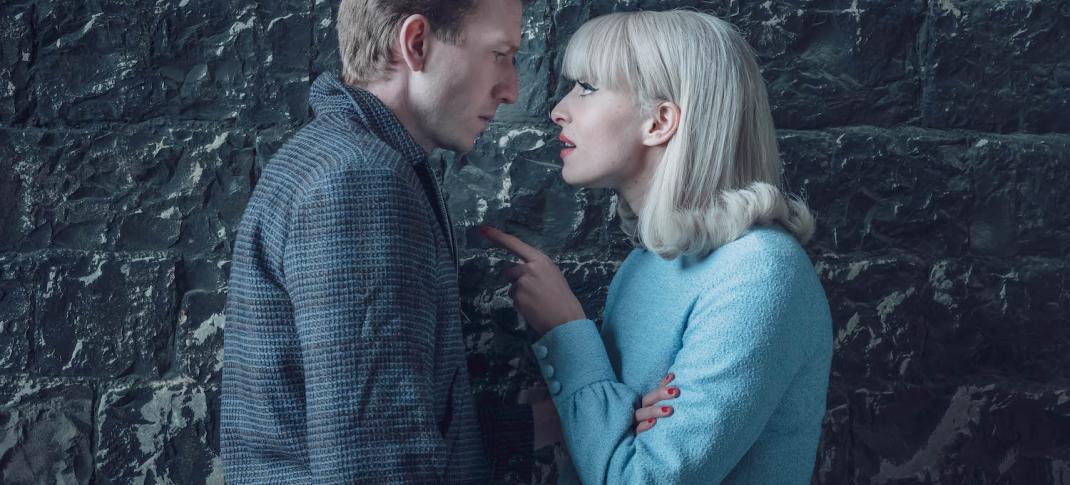 As the final episode of Ridley Road begins, the first thing Vivien does after her night with Colin Jordan is to search for the suitcase that holds damning evidence of his organization's activities. But she's interrupted by the arrival of his son, Paul, and we realize that we're at the scene that opened the series. This time, though, we see Jordan stare after Vivien and know she's in danger.
Worse, none of the members of the 62 Group know where she is. Soley finds empty gasoline canisters in their headquarters and is loading them up in his cab to get rid of them when the police arrive. He's arrested, and the police seize his cash as "evidence." And when Nancy goes to the hairdressers to find Vivien, she's not there and she learns that Jackie's son Stevie has been arrested.
Back at the country house, Jordan is jubilant that the fire at the National Socialist Movement headquarters is being blamed on the Jewish community and has made national headlines. He's called a meeting for everyone. Elise, though is upset about Lee's serious injuries and wants him to be taken to hospital; she also brings up the issue that Jack wanted to leave him at the scene of the attack, but Jeff agrees with his version. Hospitals, Jordan announces, are full of immigrants' germs, and that he'll be better off with Jane nursing him. He sends Elise away, ordering Jeff and Jack to drive her to the train station.
Jack makes an excuse to return to the house, and finds Vivien. He warns her that Jordan knows who she is and she should get out. She refuses and refers to her night with Jordan––"I sacrificed, I did what needed to be done"––but she's not asking for forgiveness. She wants him to follow her lead and help her to find the suitcase. But meanwhile Jeff is looking for him and they can't be seen together.
Meanwhile, there's been something of an Epstein family reunion. David finds both Soley and the group's money have disappeared, and Liza visits Nancy, reeling from all she's learned about her family:
My husband is a documentation forger for an underground organization that my brother runs, and my youngest daughter, the apple of my eye, knocked at your door, having never been outside of Manchester, and in a matter of what, a couple of days, you had her bleach her hair, adopt an alias, and send her into schmooze a full-blown Hitler disciple? .... Do you remember when you sent your Ronnie up to me, that time your mother was ill? Do you remember where I took him? The train museum. That's right, Nancy. We had a look at the old steamers. I bought him a pencil case and afterwards we went to Lyon's Teahouse and had a lovely cream cake. Do you see the difference?
And then Liza throws her coffee cup at the wall. 
At the local police station, Stevie argues that he hasn't been charged and he can't be held after 24 hours, and he's also been subjected to a body cavity search. All this, he asks, for not even touching a stupid Nazi who was so scared he fell on his arse?
He and Soley exchange information via a third prisoner who throws vile racist comments at them both, and Stevie agrees to tell Soley's family what's going on.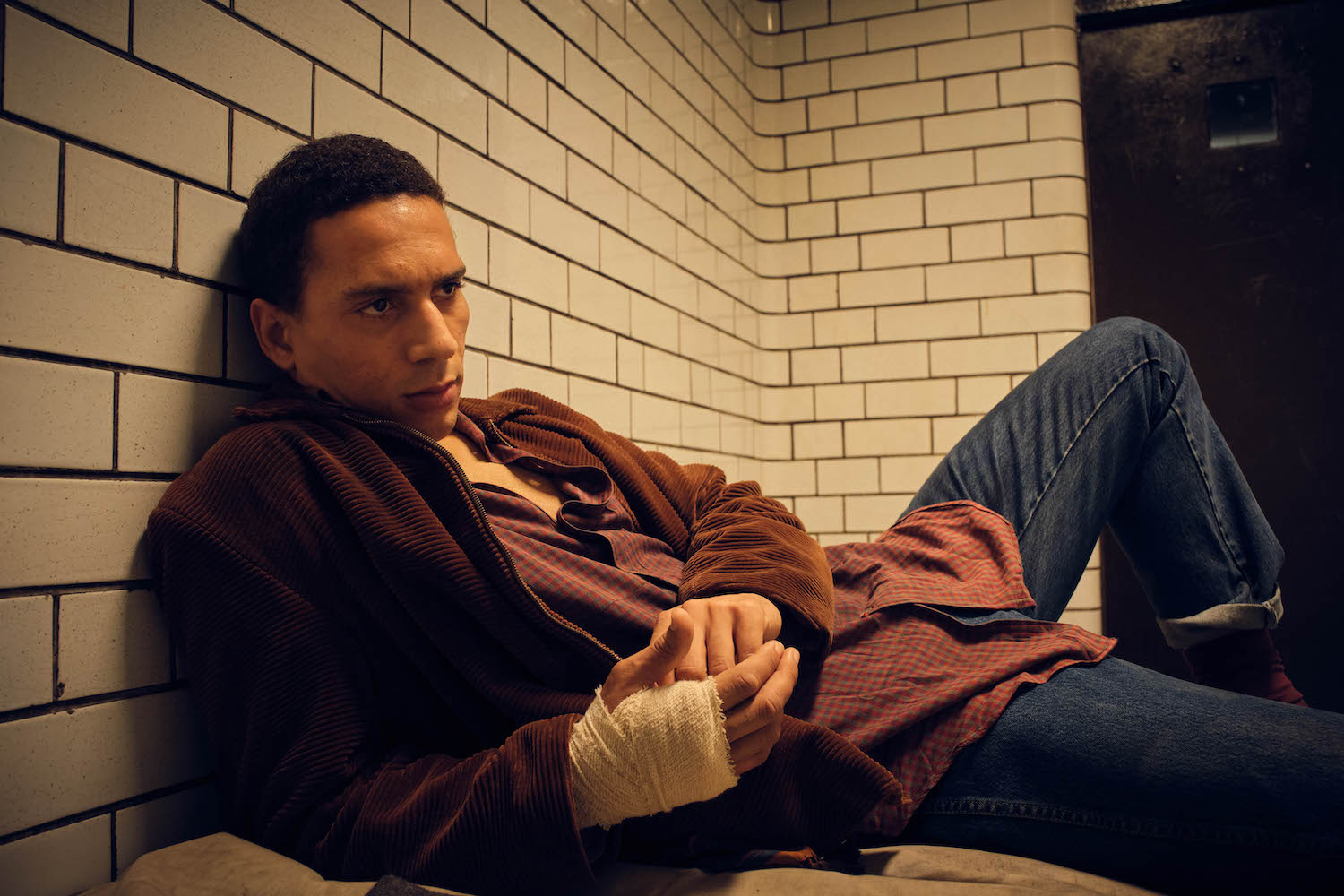 Liza, David, and Nancy have been joined by the Rabbi at the fabric store, and they're surprised to see Stevie. He passes on his message, adding that almost certainly the police will return, and they should leave. Nancy, who recognizes him, stops him as he leaves to thank him:
"You risked your neck coming here today. Thank you. At the end of the day, we're all the same, aren't we?"

Stevie smiles and replies, "No, we're not quite the same. But maybe we're fighting the same fight."
Vivien is still searching for the missing suitcase and makes it into a game so that Paul will help her. But Jordan finds her and takes her into the basement of the house, locking the door behind him. It's an ugly scene. Jordan insults and hits Vivien, claiming he knew who she was before the Ridley Road march, and she falls to the floor weeping. He shouts at her but Vivien flings an open canister of liquid (quite likely paraffin or weedkiller) in his face and escapes. She runs through the house and hears Paul singing upstairs. He has the suitcase. He asks Vivien if she'll leave if he gives it to her, and knowing what her answer will be, locks her into the room.
There's no escape from the window, but Vivien sees Jack surrounded by Jordan's men, some of whom are armed. A skylight in the ceiling leads her to the attics of the house, a continuous area that runs the length of the building. Crawling on her hands and knees over broken glass and debris, pushing the suitcase ahead of her, at one point she's directly above Jordan. A trapdoor gives her access to the roof, where she escapes into the grounds, and then she heads for the road, where a truck passes before a friendly farmer offers her a ride to the station.
Jeff is in the back of that truck with Jack in handcuffs, taking him to an unknown destination and his probable death. Jack asks Jeff for help. He tells him he knows Jeff has had a hard life, he's been let down by everyone, and he's right to be furious with the world. (Jordan specialized in recruiting young men from dysfunctional and criminal backgrounds). But Jordan isn't the answer, Jack says. He's using Jeff. Jeff tears up, angered and hurt, opens the doors of the van and pushes Jack out. He lies unconscious and bleeding on the road.
Vivien is safe aboard a train to London—or so she thinks, until Jordan appears, sits beside her, and continues from where he left off in the cellar. She pushes the suitcase further under the seat in front of her. Vivien stands up and announces that she's in danger from the man beside her, but this is England in 1962. Her fellow passengers look embarrassed, Jordan adds that his wife is unwell, and when the train reaches its final stop, one of them helpfully retrieves the suitcase from under the seat. One woman looks back on them with curiosity, but she's apparently not concerned enough to help.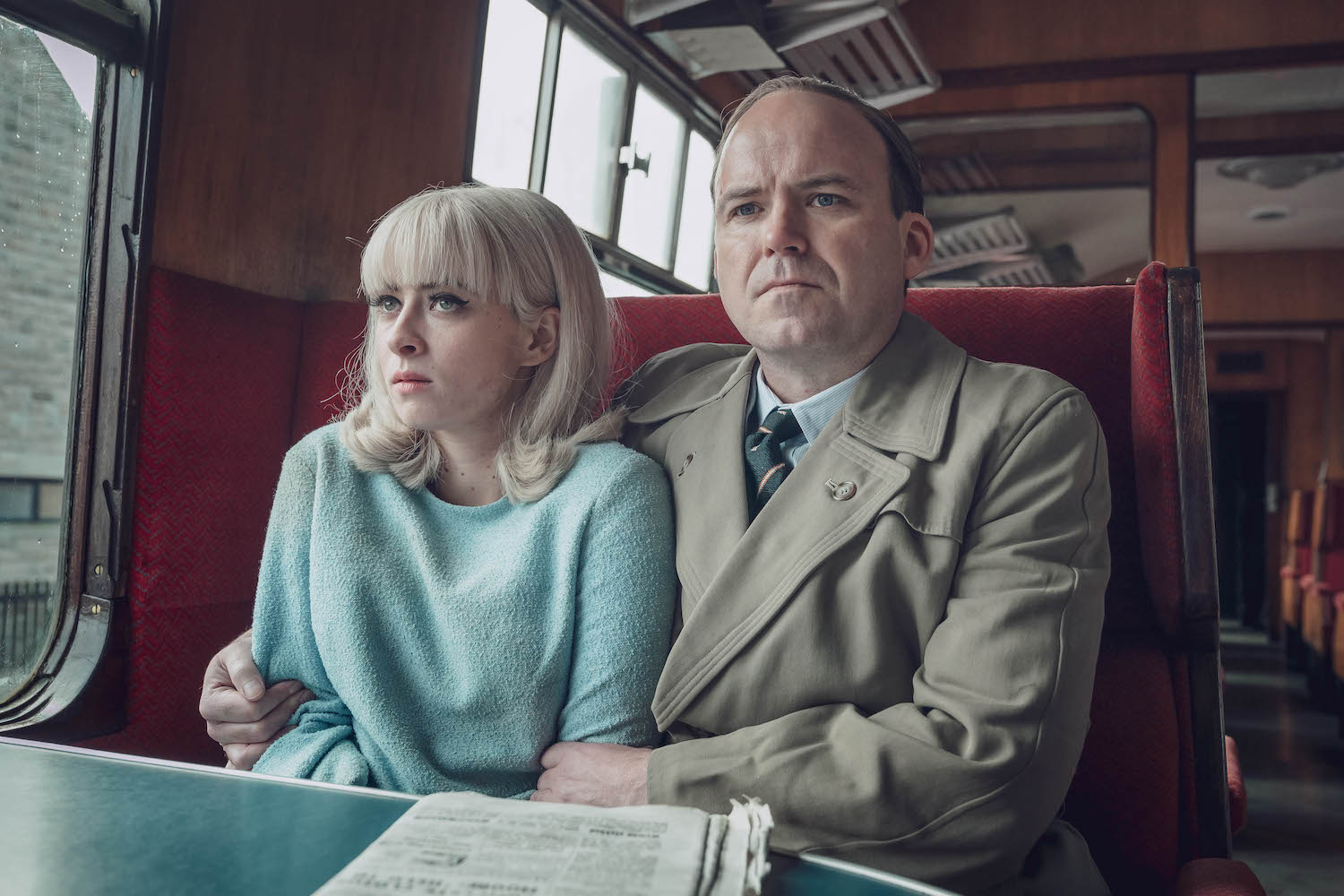 Outside the station, a car with two of Jordan's associates is waiting, but using the suitcase as a weapon, Vivien breaks free and runs. Once again she asks a stranger for help—a barmaid in a pub who laughs at her. But when Vivien leaves the pub by a side door, the barmaid follows her, and shouts at her attackers, who beat her brutally. Customers hear what's going on and rush to her defense. "This is my country," Jordan shouts as he's grabbed by a Black customer.
Vivien escapes to the fabric store on Ridley Road, where she asks Ronnie, the only person there, about Jack. He replies that he's sorry. And we're not told any more, as Vivien collapses in grief and shock at her lodgings, with Nettie, Roza, and Liza taking care of her. She has a surprise visitor, her boss Barbara, who transforms her back again to a brunette.
David, meanwhile, has negotiated a Special Branch meeting for Vivien to show them her evidence. Unfortunately he can't accompany her, because he has a bit of a record himself, another rude shock for Liza. So Liza goes with Vivien, and the shocking contents of the suitcase are revealed––purchase orders for weapons, bank transfers, and more, with the majority of the financial support coming from the U.S. But even the Special Branch doesn't have information about Jack.
Nettie receives a visit from the leader of the community group and refuses to invite him in. We've never been quite clear about Nettie's political views, particularly since she and Mr. Burns do seem to be quite close. They're sitting shiva, she tells him, and presumably this is for Jack. And then she lets rip:
I lost three boys during the war, fighting off vicious buffoons like you. I'll be long cold in the ground before I let history repeat itself. So if you wouldn't mind taking a running jump, Mr. Burns, clear off and quite frankly rot in hell.
We see Vivien and her family next at an airport saying goodbye as she boards a flight to Tel Aviv. It's a tearful scene as she knows she won't see them again for some time; it's not going to be safe for her. She is traveling under Roza's name on a German passport, almost certainly lovingly doctored by David.
As she settles into her seat, a hand lands on her leg. It's a bit too reminiscent of the scene on the train with Jordan, but the hand belongs to Jack, and her quiet pleasure at the sight of him tells us it's not a complete surprise for her. What a great series—excellent acting, a wonderful snapshot of London history we don't hear about too often, along with some uncomfortable parallels with our own times. Ridley Road is a series you'll keep thinking about long after viewing.
---
By
for on May 22nd, 2022
More to Love from Telly Visions