By
for on November 8th, 2020
Remembering British Sitcom Legend Geoffrey Palmer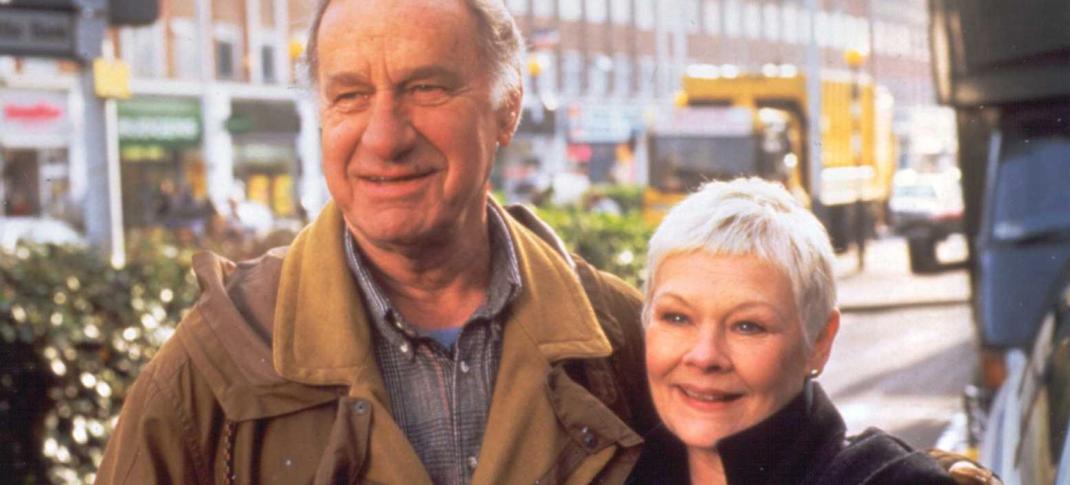 By now you have probably heard the news that English character actor Geoffrey Palmer passed away last week at his home in Buckinghamshire, England. He was 93 years old. Best known to American audiences as Lionel Hardcastle in the beloved 90's Britcom As Time Goes By, Mr. Palmer had a full and varied career even when he wasn't appearing with his frequent co-star, Dame Judi Dench.
The son of a chartered accountant and a homemaker, the London-born Palmer went from school straight into the military at the end of the Second World War. He followed in his father's accounting footsteps but was tempted by a girlfriend to give amateur theater a try.
His career progressed from regional stages to his West End debut in 1963. Though he worked on the stage with the likes of Sirs Laurence Olivier and John Gielgud during the next few decades, Palmer's television career began to take off at this time and would prove to be the medium where he made the biggest impact.
His sonorous baritone, world-weary demeanor, and confessed fleshy visage made Palmer an immediately recognizable television actor. He made a career of playing rigid characters lacking in empathy and basically annoyed with the world. His role as cantankerous ex-army officer Jimmy Anderson in the mid-70's sitcom The Fall and Rise of Reginald Perrin was one such character which gained Palmer some notice.
In 1979, he made an unforgettable appearance in "The Kipper and the Corpse" episode of the classic comedy Fawlty Towers. In it, Palmer played an insistent hotel guest with a hankering for breakfast sausages who comes up against the meek but equally resolute Manuel (Andrew Sachs).
In four seasons of the comedy series Butterflies, Palmer played Ben Parkinson, a doleful dentist more engrossed in his butterfly collection than his wife and two lay-about sons.
But it wasn't until the early 1990's that Palmer would be cast in the career-defining role of Lionel Hardcastle in As Time Goes By, a touching sitcom about an autumn romance rekindled after a long and unintended separation.
Most of us probably know the story of Korean war soldier Lionel and his sweetheart Jean Pargetter (Dench), separated by his overseas deployment and a lost letter. Life moved on. Both married other people and raised families. Almost 40 years later, serendipity brings the couple together when Lionel hires Jean's daughter as a typist for his memoirs and the couple gets an opportunity to set the record straight.
In the late '90s, Palmer worked with Dame Judi on the big screen as well. In the Academy Award-nominated film Mrs. Brown, he portrayed Queen Victoria's chief secretary Sir Henry Ponsonby who expresses concern at her growing closeness to a rugged Scots stable master and estate manager, John Brown (Billy Connolly).
He also played Admiral Roebuck, M's Royal Navy colleague in the 1997 Bond film, Tomorrow Never Dies.
Mr. Palmer's other distinctions include being the only actor who appeared in both the original Doctor Who franchise in the 1970s and reappeared in the reboot "modern" series as Captain Hardaker in the 2007 Christmas special episode, "Voyage of the Damned".
Palmer received his OBE (Order of the British Empire) honors in 2005 for his services to drama. He was a keen fly fisherman and a champion of environmental conservation in the UK.
Geoffrey Palmer is survived by Sally Green, his wife of 57 years, two children, and two grandchildren.
Please share your thoughts and memories of Geoffrey Palmer's roles and impact on British television in the comments.
---
By
for on November 8th, 2020