By
for on March 20th, 2022
Prime Video Comedy 'The Outlaws' to Premiere This April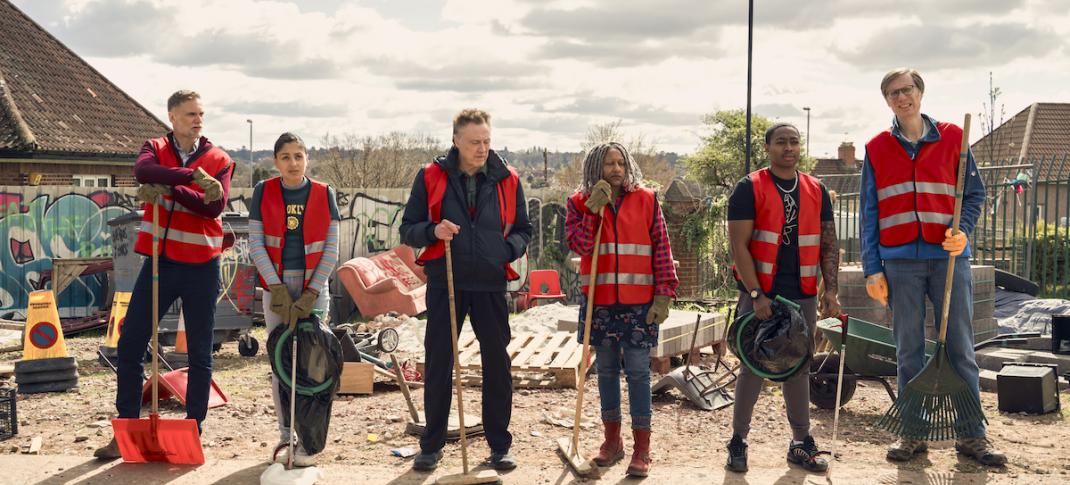 Prime Video has set the official U.S. airdate for The Outlaws, a comedy about a disparate group of criminals thrown together while competing a community service assignment. (Think Misfits, but without the whole addition suddenly they all get superpowers thing.) 
Set in Bristol, the six-episode first season follows the titular septet as they are forced to renovate a derelict community center, an activity ordered by the court as part of their custodial sentences for various crimes they committed that run the gamut from everything from forging checks to soliciting sex. 
Were it not for getting caught for their law-breaking, these folks probably would never have met, yet here they are---70-something conman and womanizer Frank (Christopher Walken); recently-divorced and inept corporate lawyer Greg (Stephen Merchant); scholarship student and kleptomaniac Rani (Rhianne Barreto); socialite social media influencer and substance abuser Lady Gabriella "Gabby" Penrose-Howe (Eleanor Tomlinson); right-wing blowhard and failing businessman John (Darren Boyd); civil rights veteran and radical activist Myrna (Clare Perkins); and Christian (Gamba Cole), the sole carer for his young sister and a young man in debt to a criminal gang.
They resent being forced to take part in menial labor and they resent each other. But when they discover a bag full of cash, their lives as they know it change instantly — not least because they aren't the only people who want the money. Soon they find themselves caught in the middle of a dangerous criminal turf war and drawn into the underground world of organized crime. How will they get out of it?
The Outlaws is created by Merchant (who also co-created the U.K. The Office) and Elign James (creator of Mayans M.C.). The series will arrive on Prime Video on Friday, April 1. 
Watch the trailer:
The official synopsis describes the series as follows.
The Outlaws is a comedy thriller about a disparate group of lawbreakers thrown together to complete a community service sentence. Seven strangers from different walks of life are forced to work together to renovate a derelict community center. When one of their number gets dragged into a dangerous world of organized crime, they unite in ways none of them thought possible. 
Other notable cast members include Jessica Gunning (Back), Dolly Wells (The Pursuit of Love), Aiyana Goodfellow (Small Axe), Ian McElhinney (Game of Thrones), Nina Wadia (Death in Paradise), Charles Babalola (Bancroft), Tom Hanson (Brassic), Claes Bang (Dracula), Sam Troughton (Ragdoll), and Richard E. Grant (Dispatches from Elsewhere).
The Outlaws premiered in the U.K. last October and has already snagged a second season renewal. It will arrive on Prime Video on April 1.
---
By
for on March 20th, 2022