By
for on May 10th, 2023
'The Outlaws' Will Return for a Third Round of Community Service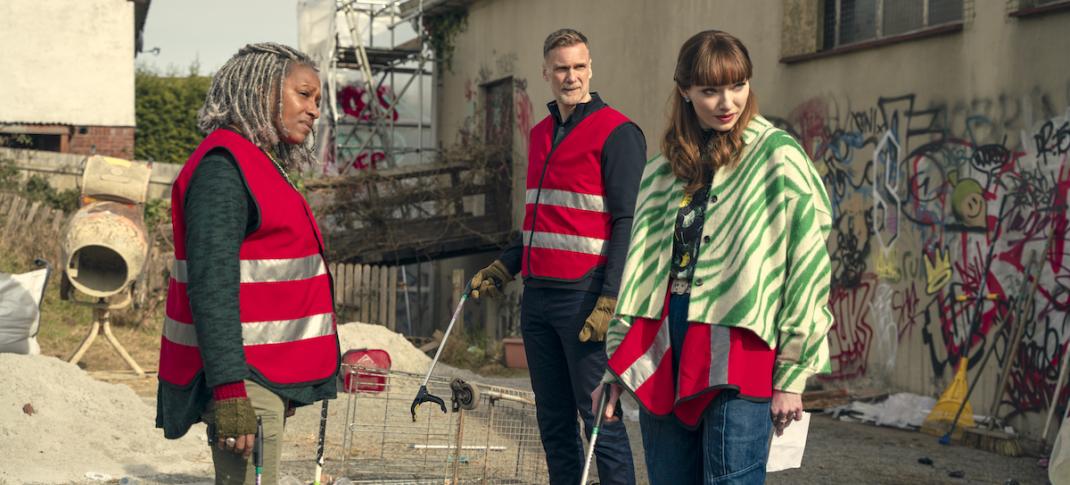 Misfit comedy series The Outlaws was one of 2022's most unexpected delights, a charmingly bizarre crime caper with darker themes, more complex characters, and smarter twists than anyone likely expected. And, in one of 2023's most pleasant surprises to date, the BBC and Prime Video coproduction has been officially renewed for a third season.
The Outlaws follows the adventures of a squad of strangers from different walks of life, all forced to work their mandated community service hours together after committing a variety of low-level crimes. Along the way, the discovery of a stolen bag of cash (and the life-threatening hijinks that ensue) forces their group together as a sort of oddball found family. (Who must subsequently learn some valuable lessons about life and friendship along the way.)
Stephen Merchant (The Office) returns to the series as Greg, along with Rhianne Barreto (Honour) as Rani, Gamba Cole (Hanna) as Ben, Darren Boyd (Killing Eve) as John, Clare Perkins (The Wheel of Time) as Myrna, Eleanor Tomlinson (Poldark) as Lady Gabby, Jessica Gunning (Fortitude) as Diane, Charles Babalola (Bancroft) as Malaki, and Tom Hanson (Brassic) as Spencer. 
Interestingly, the press release announcing the series' third season makes no mention of Christopher Walken's involvement, so perhaps we're meant to assume ex-con man Frank has finally headed off to retirement or taken his daughter and grandson on that vacation they so clearly deserve. We'll have to wait and see how (or if!) the show references his absence when it returns. 
The series' second season saw the gang face off with crime boss The Dean (Claes Bang), the original owner of that bag of stolen money who was determined to force the group return the money they took from him, an ultimatum that lead to some dark and dangerous choices. But, as Season 3 begins, The Dean is behind bars and awaiting trial. The Outlaws are, by and large, moving on with their lives.
But when one of their own returns with a deadly secret, they'll be thrown back into mortal danger.  As a murder manhunt closes in on the gang, can they prove their innocence before The Dean's case collapses, and he comes looking for revenge?
"After the overwhelming response to the first two series, I'm delighted to be bringing back our lovable band of miscreants for more misadventures," Merchant said in a statement. "Audiences have really taken the characters to their hearts, so I can't wait for them to see what hot water we've thrown them into this time. And I'm thrilled we'll once again be filming in my hometown of Bristol. I expect I'll be welcomed with a ticker-tape parade. It didn't happen on the previous series, but I put that down to COVID."
The Outlaws is a Big Talk and Four Eyes production co-created by Merchant—who also serves as an executive producer, director, and writer—and Elgin James. Luke Alkin, Kenton Allen, and Matthew Justice also serve as executive producers for Big Talk, along with John Butler. 
Seasons 1 and 2 of The Outlaws are currently streaming on Prime Video. 
---
By
for on May 10th, 2023
More to Love from Telly Visions