By
for on June 22nd, 2017
Prime Suspect: Tennison, A Trip Back In Time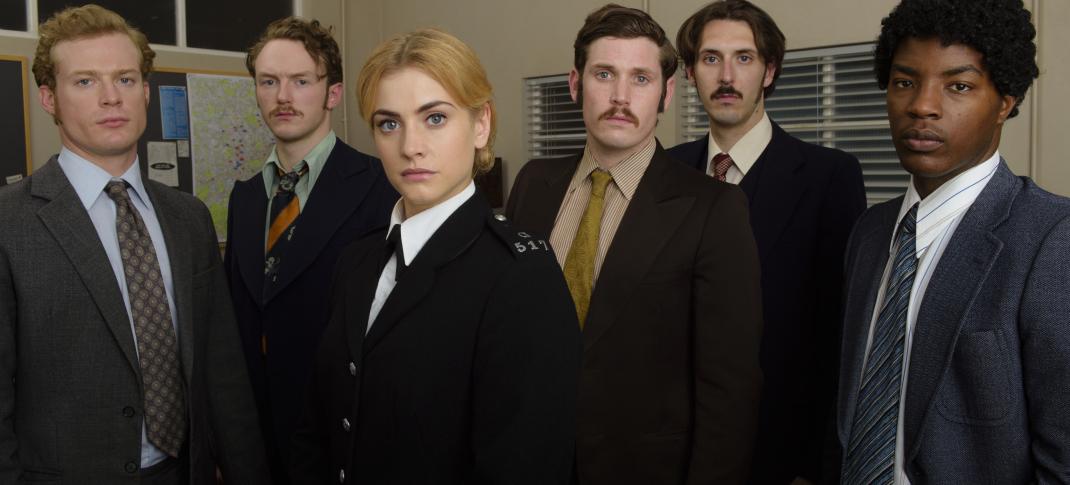 The prequel to beloved crime drama series Prime Suspect comes to Masterpiece this summer. Entitled Prime Suspect: Tennison, it takes us back to the beginning of the career of one of British television's most famous detectives.  It's 1973, and a young Jane Tennison has just joined the force...
DCI Jane Tennison: My voice suddenly got lower, has it? Maybe my knickers are too tight. Listen, I like to be called Governor or The Boss. I don't like Ma'am - I'm not the bloody Queen. So take your pick.
This seems to be the decade of 25th anniversaries, as TV looks back on itself and revives popular programs from the end of the last century. With the Inspector Morse prequel series Endeavour a solid hit, ITV went back this year and did an origin series for another major property of the 1990s, Prime Suspect, which helped rocket Helen Mirren to fame.
When Prime Suspect first came to PBS in the 1990s, the show was a revelation to me. Up until that point, Masterpiece Theater's "Mystery" series (later re-branded "Masterpiece Mystery") were mostly period pieces -- David Suchet's Poirot, Jeremy Brett's Sherlock Holmes and Roy Marsden's Adam Dalgiesh in the early P.D. James adaptations. In short: male detectives, working in a male dominated world, with only the occasional intrusions of Mrs. Hudson or Miss Lemon with tea. Women detectives were relegated to Miss Marple, who was an old biddy who'd come of age in the Victorian era, or flapper era Tuppance, who always had her Tommy to rescue her. 
The shock of Jane Tennison, a modern woman living a modern life, attempting to smash the glass ceiling of the police force in a world where "Women's Rights are Human Rights" was still considered a radical statement, cannot be understated. Tennison was real. And moreover, unlike Marple or Tuppance, she was flawed. She drank. She swore. She fought not only sexism in her day-to-day life, but also called out insistutional racsim in later series. She even had an abortion. She wound up in Alcoholics Anonymous.
It was radical. And it influenced many shows that followed. One could argue that series like The Closer (which starred Kyra Segwick) existed because of Prime Suspect. It was a Law & Order show before Dick Wolf coined the concept, but far better. And now we're going back to the beginning to see how she got there.
Prime Suspect was also radical in another way in the 1990s--it was one of the first shows I ever saw where the length of the production went exactly as long as needed to tell the story and no further. Though each series was technically two parts, those parts ran at varying lengths, depending on the need of the story. That may not sound all that odd. After all, nowadays that's a hallmark of Peak TV shows. But in the early 1990s, network programming all ran either 22 or 44 minutes, and 22-29 episodes a season without fail. Most of what PBS imported from the BBC and ITV were seasons' worth of mysteries, each of which would be solved in 48-53 minutes. To have a show that only used exactly what it needed was a bit mindblowing.
Whether or not Prime Suspect: Tennison will thrive without Mirren at the helm is questionable. Her attitude made the show. And with reports yesterday that ITV will not be moving forward with a second season, it seems like, for now, this is our only chance to look back and see just how rough Tennison had it back in 1973 when she first began with the force. 
Prime Suspect: Tennison premieres on Masterpiece on Sunday, June 25th, 2017, at 10:00 p.m. ET. 
---
By
for on June 22nd, 2017
More to Love from Telly Visions