By
for on November 20th, 2013
Preview Cold War Drama 'Legacy' with Andrew Scott and Romola Garai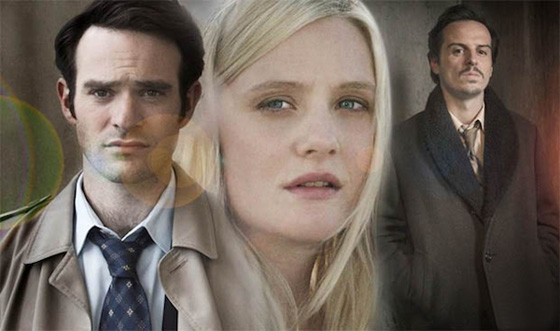 BBC Two has released the first trailer for Legacy – a one-off Cold War thriller which boats an impressive roster of recognizable British actors among its cast. The drama stars Boardwalk Empire's Charlie Cox, Sherlock's Andrew Scott, The Hour's Romola Garai and The Hollow Crown's BAFTA-winning Falstaff Simon Russell Beale among others.
Based on the novel by Alan Judd, Legacy is written by Paula Milne, who also penned the recent The Politician's Husband with David Tennant. The drama tells the tale of a British spy named Charles Thoroughgood (played by Cox), who, at the height of the Cold War in 1970s London, discovers some rather unsettling information about his father's complex past. Though Charles has barely begun his MI-6 training, he also winds up on a case involving an old university acquaintance (Scott) who is now a Soviet diplomat. Obviously this is going to complicate matters further.
Milne describes Legacy as more than just a British spy thriller, claiming that it has "an extraordinary personal twist" because of the family relationships involved in the story.
Watch the trailer for yourselves below and see what you think. 
It seems that Mr. Scott has also joined the deeply unnecessary mustache club where his Sherlock co-star Martin Freeman also seems to be a member these days – though at least Scott has the excuse of starring in a period piece that takes place during a time period where unfortunate facial hair was trendy.
But, really, who cares, it's just lovely to see Scott back doing television work again, since it seems unlikely we'll be seeing much of Moriarty in the new series of Sherlock.  The drama will premiere in the UK at the end of November. No word yet on whether we can expect to see Legacy air here in the States, but here's hoping, particular given the rising profile of all its stars on this side of the pond. 
Does Legacy look like something you'd watch? 
---
By
for on November 20th, 2013