By
for on June 8th, 2018
'Poldark' Gets a New Nemesis For Season 4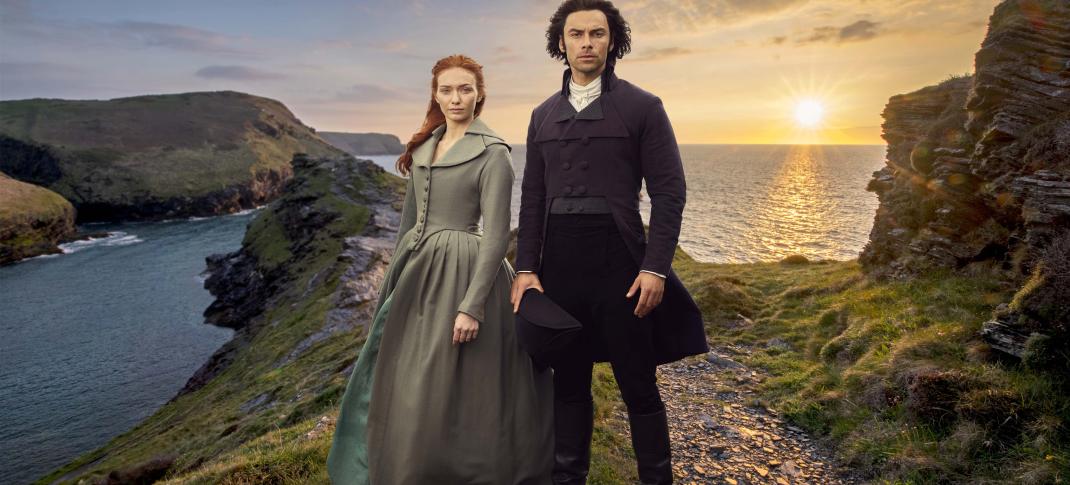 Poldark's newest antagonist, Monk Adderley, will be "a dark reflection" of Ross.
Poldark Season 4 is gearing up to premiere in the UK, and ahead of the show's arrival, we're getting little tidbits of the changes coming to Cornwall. Or perhaps, more appropriately, the changes coming because the show is leaving Cornwall.
At the end of Season 3, it was determined that Ross (Aidan Turner) would become an MP "just as soon as he could stand for it." This season will make good on that promise and send the Poldarks to London, though there will still be characters left back in Cornwall to check in on. But Ross and Demelza (Eleanor Tomlinson) will be spending a good chunk of their time in and aroundWestminister, as will George Warleggan (Jack Farthing), because wherever Ross goes, George needs to follow and bedevil him.
But Ross will also meet a new foe in London this season: Monk Adderley, played by Max Bennett. The new character is described as "an accomplished duelist, a sneering socialite, and a threat to everything Ross Poldark holds dear." (Even his hair? Here I thought the only threat to Ross' locks was a barber.) 
​Speaking to Digital Spy, Bennett called the two men "kindred spirits."
They're described in the novel as wild men, so they're kindred spirits in that sense. You can see them as two sides of the same coin. He's the dark reflection of Poldark. I think they both recognize that in each other, and there's sort of an innate animosity between them.
But it turns out Ross isn't Adderley's only target. Once he realizes that George Warleggan hates Ross with an irrational passion, Adderley twists that into a friendship he can use to his advantage. Like Ross, Adderley may have the name, but he doesn't have the money to keep up appearances without a benefactor, and he's perfectly happy to use George to provide. Warleggan, meanwhile, thrives in the "dog-eat-dog" atmosphere of politics.
When it comes to Delmelza, perhaps she won't need Hugh Armitage to get it on with other men. According to Bennett, Adderley will apparently also have an eye on Ross' wife as she's attempting to navigate the London scene. 
She's a fish out of water in London society, so that's a lot of fun for him. Obviously, she's beautiful, so he's attracted to her… and his flirtation with her is a way of getting at Ross as well.
But according to Tomlinson, Season 4 will see Ross and Demelza rekindle their relationship.
He's pretty gutted that she's fallen in love with somebody else, and has had more than just a fling with this character Hugh... Relationships are complex... It's just about honesty and speaking plainly. Listening is vital... and that's something Ross isn't necessarily very good at, at the best of times! But I think it's a new lease of life for them, for both. There's some sort of revival in the relationship, which is fun... because actually the last couple of years have been a bit rough!
Poldark Season 4 will start airing in the UK on Sunday, June 10, 2018. The rest of us on this side of the pond will have to wait until the fall TV season, when the series begins over here on September 30, 2018. 
---
By
for on June 8th, 2018
More to Love from Telly Visions