By
for on August 2nd, 2017
PBS Confirms 'Victoria' Season 2 Will Air in January 2018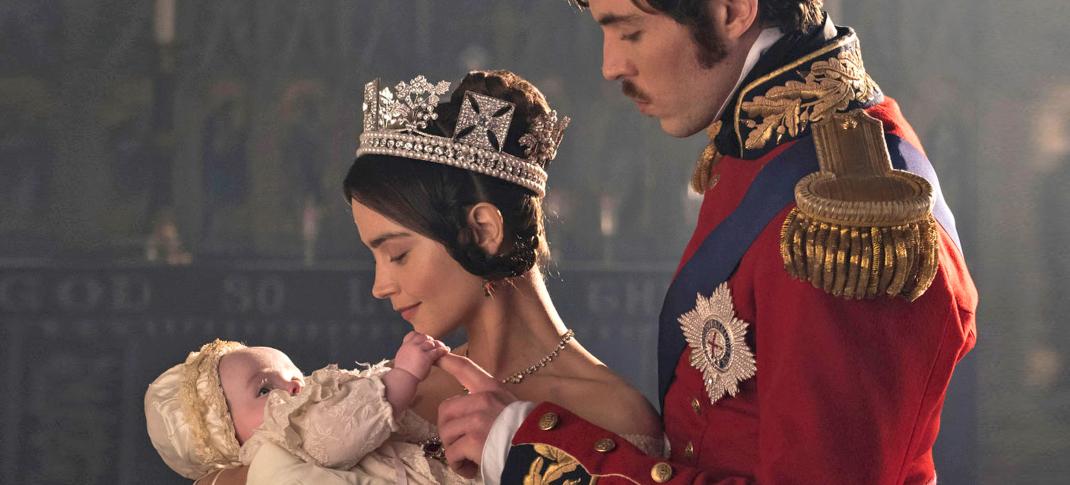 It's official: The highly-anticipated second season of popular period drama Victoria will premiere in January 2018 on Masterpiece.
Victoria's first season was quite a success here in the U.S., clocking in at over 16.2 million viewers. That's the second highest-rated PBS drama in 20 years – second, of course, only to the mega-popular Downton Abbey. So it probably shouldn't surprise anyone that Victoria is getting the exact same scheduling treatment Downton did.
The second season of the period drama will air in the UK sometime this Fall, and will come to America in January of 2018. No firm date has yet been set, and we probably all already guessed this as a likely airing window already. But at least we have some official confirmation. Progress!
A new image from the upcoming season was also released, featuring co-stars Jenna Coleman and Tom Hughes as the young royal couple. It's basically just a shot of Victoria and Albert applauding something in what looks like a drawing room, so it's not exactly giving away a whole lot of plot. But, as usual, Victoria's dress looks fabulous.
Mark your calendars for January 2018: Queen Victoria & Prince Albert will return for Season 2 of #VictoriaPBS on MASTERPIECE on @PBS! pic.twitter.com/XwDEGRSpBW

— Masterpiece PBS (@masterpiecepbs) July 30, 2017
Season 2 will pick up six weeks after the conclusion of Season 1, and cover some portion of the queen's reign in the 1840s. It will focus heavily on Victoria's efforts to balance her duties as a monarch with her new role as a mother. The queen had two babies by the time she was 21, and gave birth to four children in five years. For a woman who disliked being pregnant as much as Victoria did, this must have been a difficult time to navigate, particularly when she was determined that motherhood wouldn't interfere with her royal obligations.
You can watch a brief clip from the new season here. 
Creator Daisy Goodwin seems very keen to make more seasons focused on the young queen's life. "There's no shortage of story, that's for sure," she said during the series' Television Critics Association panel. "So, it could go on and on."
This is true. Victoria reigned for 63 years and had nine children with Albert, so clearly there's plenty of life ahead of both the queen and the royal couple. (Albert lives until 1861.)
"My feeling is, take it slowly," she said during her panel interview. "There are quite a lot of movies about Victoria in her later life coming out." Goodwin stressed that she finds the queen's younger years very interesting, so it would seem we should expect the series to focus on them for the foreseeable future. (Season 1 only covered about five years of Victoria's life, remember.)
Are you looking forward to more Victoria? How far would you like to see the series go? Let us know! 
---
By
for on August 2nd, 2017
More to Love from Telly Visions