By
for on July 11th, 2022
'The Outlaws' Season 2 Trailer Promises Another Wild Con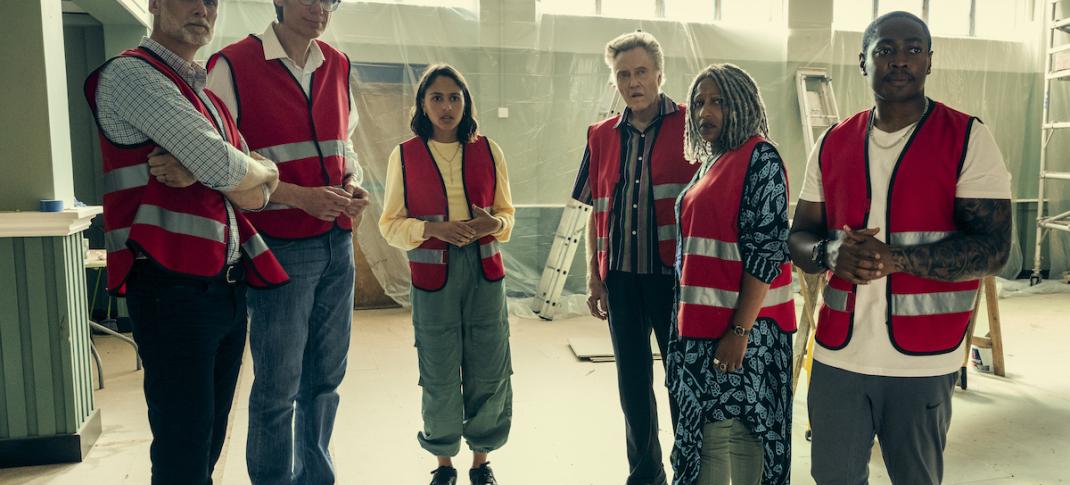 Prime Video's misfit comedy The Outlaws is one of the more unexpected delights of the 2022 television season to date, a charming found family caper featuring a great cast and some fairly inventive subversion of standard comedy tropes. And although Season 1 only arrived on the streamer back in April, we're getting already a second this summer — much sooner than any of us probably expected. (Thanks for exactly one good thing, coronavirus pandemic.)
The trailer for Season 2 arrived this week, and it promises even more ridiculous hijinks for our favorite low-level criminals. Picking up a few months after the dramatic conclusion to Season 1, nerdy lawyer Greg (Stephen Merchant), social media influencer Lady Gabby (Eleanor Tomlinson), former con man Frank (Christopher Walken), shoplifting overachiever Rani (Rhianne Barretto), conservative businessman John (Darren Boyd), liberal activist Myrna (Clare Perkins), and former gang member Christian (Gamba Cole) are all still serving out their mandated hours at their local community payback group. And it sounds like the misfits will face much bigger (and more potentially life-threatening) problems this time around. 
Though the first season's primary arc — involving a stolen bag full of cash — was largely resolved by the finale in the sense that everyone managed to stay out of jail, it sounds like the Bristol underworld isn't quite through with our outlaws just yet.  Now indebted to the unforgiving London drug lord known as The Dean (Claes Bang), the group has just eight weeks to figure out a way to return the money they took from him.
But since every single one of them has already spent their cut — or, in Frank's case, had their grandson steal it from them — they'll have to find a way to get the money back (or somehow get The Dean out of the picture) in order to avoid getting knocked off for good.
Watch the trailer for yourselves below. 
The Season 2 synopsis reads as follows.
In Season Two, the Outlaws still have time to serve on their sentences, but quickly realize the criminal underworld isn't done with them yet—not by a long shot. This ragtag group of misfits' shared past comes back to haunt them, in the shape of a terrifying London drug lord out for blood—The Dean.
The Outlaws' first season was the BBC's biggest comedy launch in 2021 and has been streamed on iPlayer over 11 million times. It arrived in the U.S. by way of Prime Video at the beginning of April and received lots of positive word of mouth, which will hopefully only be helped by the arrival of a second run so close on its heels. 
The series' first two seasons were filmed back-to-back after pandemic-related shutdowns delayed production on the first long enough for Merchant (also one of the show's co-creators) to pen a second during his downtime. Everyone wins!
Prime Video will drop all six episodes of The Outlaws Season 2 on Friday, August 5. You can stream Season 1 now.
---
By
for on July 11th, 2022
More to Love from Telly Visions