By
for on May 14th, 2023
The 'Outlander' Season 7 Trailer Teases the American Revolution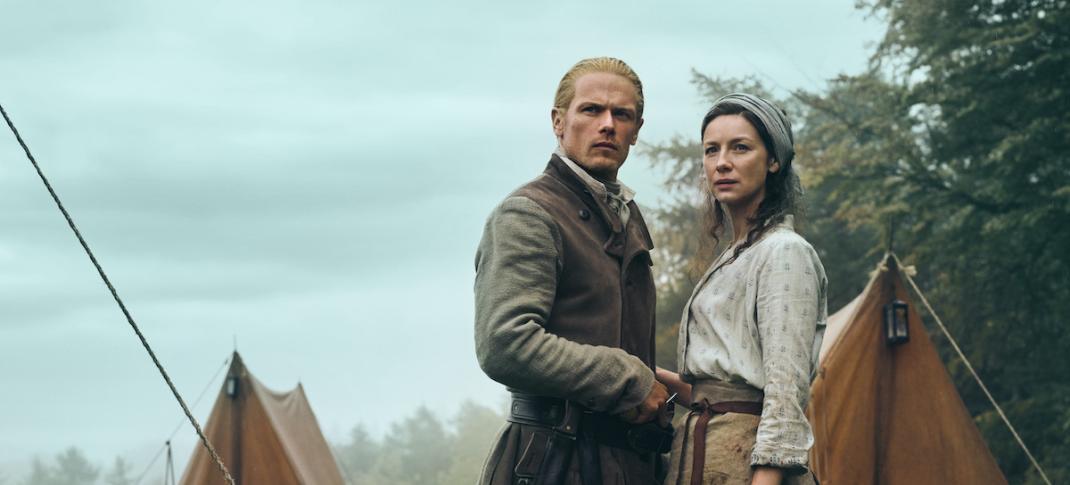 Starz's time-traveling period drama Outlander has taken viewers everywhere from 18th century Scotland and France to 1950s America over the course of its six seasons to date, so it probably shouldn't surprise anyone that Season 7 will see the Fraser family embroiled in the American Revolution. (Yes, alongside their adult daughter who was raised in the future. Just go with it at this point.)
The popular historical romance follows the love story of World War II Claire Randall (Caitriona Balfe) and handsome Scottish warrior Jamie Frasier (Sam Heughan), who must endure all manner of sorrow, hardship, violence, and joy across multiple time periods and continents as they struggle to stay together. As Season 6 concluded, the Frasers are now homesteaders in North Carolina in 1776 as the Revolutionary War looms in the distance.
Season 7 will essentially pick up where its predecessor left off, with Claire charged with the murder of her close medical apprentice, Malva Christie. If she's found guilty, she'll hang. Her husband Jamie is on his way to save her, along with Young Ian, and while we have to assume they'll make it in time given how many other things the trailer hints will likely be happening, the looming noose in the trailer suggests that it might be a pretty near thing. 
But, as is clear in the series' promotional materials, the real story of this season will be the American Revolution, as Jamie, Claire, and their family are caught up in the violent birth of a new nation. The land the Frasers call home is changing – and they must change with it. They'll learn that sometimes to defend what you love, you have to leave it behind. And as the conflict draws them out of North Carolina and into the heart of this fight for independence, Jamie, Claire, Brianna, and Roger are faced with impossible decisions that have the potential to tear their family apart.
Season 7 is based on An Echo in the Bone, the seventh installment in author Diana Gabaldon's popular series of Outlander novels. It will also include some material from the sixth book, A Breath of Snow and Ashes, which was left out of the pandemic-shortened sixth season. (Season 7 will be a supersized sixteen episodes, split into two parts. The back half will arrive at some point in 2024.)
In addition to Balfe and Heughan, returning cast includes Sophie Skelton as Brianna MacKenzie, Richard Rankin as Roger MacKenzie, John Bell as Young Ian, and David Berry as Lord John Grey. Joining the series are Charles Vandervaart (Lost in Space) as Jamie's grown son William Ransom; Izzy Meikle-Small (Ripper Street) as Quaker woman Rachel Hunter: Joey Phillips (Doctors) as her brother Dr. Denzell Hunter; and loria Obianyo (Dune) as Mercy Woodcock, a free Black woman trying to navigate life in Colonial America.
Outlander has already been renewed for an eighth and final season, and a prequel series, Outlander: Blood of My Blood, has been greenlit. The show will focus on the romance between Jamie's parents, Ellen MacKenzie and Brian Fraser, though that's unlikely to air before 2024 either. 
The first half of Outlander Season 7 will premiere on Friday, June 16. Seasons 1-6 are currently streaming on the STARZ app.
---
By
for on May 14th, 2023
More to Love from Telly Visions