By
for on December 25th, 2012
News Roundup: Happy Christmas Edition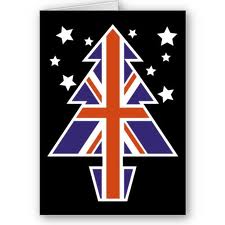 Happy Christmas Telly Visions readers! (If you're celebrating, of course – Happy Tuesday and generally Winter-ish season if you're not.) Hope your day is going wonderfully and that Santa has brought you lots of goodies, including hopefully some British TV under the tree!
As ever at this time of year, it seems appropriate to once again say thank you to each and every one of you for being here – for reading and commenting and tweeting and just being generally fantastic. Getting to talk about a topic I love with such smart people regularly is pretty much the best present a gal could ever want. Well, that and the rest of the classic Doctor Who box sets I don't already own. (But, I think I ask for that every year.)
So, as we head into the part of the day where everyone is buried under wrapping paper and is possibly guilty of eating too much, take a break to pat yourselves on the back for being awesome, and then catch up on the latest from around the world of British entertainment with this week's edition of the News Roundup.  We've got bits and bobs on Sherlock, Call the Midwife, Downton Abbey, The IT Crowd, The Making of a Lady, Call the Midwife and more!
This is adorable: the ladies of Call the Midwife get in the Christmas spirit for the Radio Times.
Martin Freeman talks Sherlock Series 3.
Doctor Who will "take over television" in 2013, according to showrunner Steven Moffat.
Much of the Downton Abbey cast was in New York last week doing press for the US premiere of Series 3 – and they all went to see their castmate Dan Stevens in his Broadway debut in  The Heiress. So cute!
Mark Strong to reprise his role of Det. Frank Agnew in AMC's remake of Low Winter Sun.
The incomparable Sir Christopher Lee has….released a heavy metal Christmas record. No, really.
Doctor Who showrunner Steven Moffat seems confident that a film version of the popular sci-fi series will happen eventually.
Benedict Cumberbatch's new radio play Copenhagen will transmit on Sunday, January 13 at 8:30pm on BBC Radio Three. Americans, we can listen to this on the Radio Three website!
Ten teasers about Doctor Who Christmas special The Snowmen.
Pretty much guaranteed to make you laugh: 21 Brilliant British People Problems
BBC America has ordered a full ten-episode season of Chris Hardwicke's The Nerdist as a TV talk show.
A Q&A with Tom Rosenthanl about the Friday Night Dinner Christmas special and more!
Former Tenth Doctor David Tennant dressed up as the Virgin Mary for a radio play. No really.
A section of British Antarctic Territory has been renamed Queen Elizabeth Land in honor of Queen Elizabeth II.
Lovely piece on Absolutely Fabulous star Joanna Lumley and her latest project The Making of a Lady from the Radio Times.
Fabulous comedy The IT Crowd may return for a one-off special in 2013.
Several members of the Downton Abbey cast went on talk show The View last week to talk about Series 3 – here's video from their appearance.
A couple notable Brits on IMDb's Emerging Stars of 2012 list –Sherlock's Benedict Cumberbatch and The Avengers' Tom Hiddleston.
A third Sherlock Holmes film with Robert Downey Jr. and Jude Law is said to be a "high priority" for Warner Bros, but there's no script yet.
Julian Fellowes says that he won't recast Matthew Crawley on Downton Abbey should Dan Stevens not return for the show's fourth season.
A steam train returns to Baker Street station for the first time in a century to mark the 150th anniversary of the London Underground.
For you Benedict Cumberbatch fans, the longer trailer for Star Trek Into Darkness has arrived.
More Star Trek related goodies: Cumberbatch and fellow brit Alice Eve discuss their characters in the new film.
This is adorable: watch the Doctor Who cast pick out Christmas ornaments for each other.
The Daily Beast sits down for a chat with Downton Abbey's Lesley Nicol.
Doctor Who showrunner Steven Moffat dismisses Star Trek's William Shatner's chances of playing the Master. (Why was this even a thing? Unclear.)
Nice interview with Scottish thespian Robert Carlyle on Once Upon a Time and the differences between American and British television.
The Telegraph interviews new Doctor Who companion Jenna Louise-Coleman. Good read!
Have yourself a Downton Abbey Christmas!
Photos of Downton Abbey star Hugh Bonneville's latest project, the television adaptation of children's book Mr. Stink.
The Guardian says that The Great British Bake Off was the best television program of 2012.
Famed naturalist Sir David Attenborough shares memories from his epic broadcasting career with the Radio Times.
Dawn French admits that she almost turned down the lead role in The Vicar of Dibley.
The Big Bang Theory, Doctor Who, The Hobbit and more: Being a Geek Goes Mainstream in 2012.
Fascinating article about the history of one pub in London – that's tied to Geoffrey Chaucer, William Shakespeare and Charles Dickens.
---
By
for on December 25th, 2012
More to Love from Telly Visions