By
for on March 27th, 2023
'The Nevers' Final Episodes Now Streaming on Tubi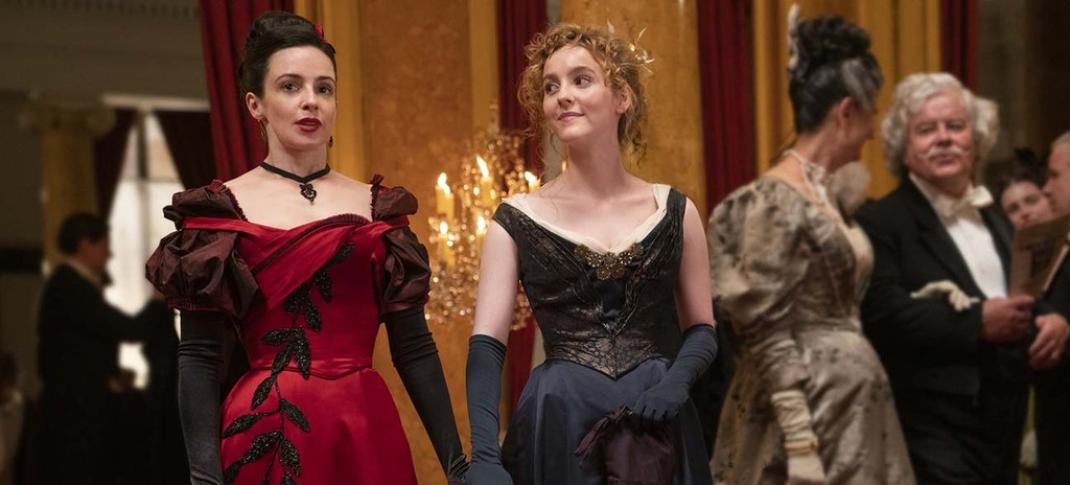 Life comes at you fast. Three years ago, in 2020, Joss Whedon's The Nevers was positioned as the Next Big British-ish Fantasy Series for HBO following Game of Thrones, including taking over the latter's coveted pre-Emmy vote schedule-block of Sundays at 9 p.m. in April and May. But Whedon's star fell fast after Justice League flopped; he was forced to resign from the series just before the pandemic hit, delaying filming the season's second half. Then AT&T sold the company to Discovery Networks and David Zaslav, whose first order of business was to cut everything that wasn't working, including The Nevers, despite having never aired its final four completed installments.
This was a blow for fans of the very ambitious, if quite flawed, series, as the first six episodes that did debut left viewers on one hell of a cliffhanger. After five episodes of a mystery creature or ship in the sky raining down seed on Victorian London, granting the women it touched bizarre superpowers, fans learned that the story wasn't an 1800s set period drama. It was a space-faring future-set series, where the leading character (Laura Donnelly's Amaila True) had been accidentally thrown back in time along with the alien creature vessel that bestowed these powers.
The final four episodes would have returned viewers to London in the 1800s, now armed with this new knowledge and far more cognizant of True's plan to have her gifted girls invent as many modern amenities as possible. With HBO's cancelation, it seemed like that was not to be.
However, the newly christened Warner Bros-Discovery's decision to remove The Nevers from HBO Max and cancel the series unaired on HBO was partly to make its acquisition by someone else more attractive. Though most viewers are unaware, every episode of TV that a streamer keeps on its platform is a payout to the show's cast and creatives in residuals -- which are based on a negotiated fee determined by the streaming service's overall popularity, not how much a show is streamed. It was a formula that made sense when every exclusive title on a platform was used as part of the enticement to bring in subscribers.
However, as streaming rounds into its second decade, that's not working for production studios, paying millions in residuals while Netflix and Disney+ eat everyone's lunches. So WBD is going back to the old way of doing things: It makes the content, and then someone else pays them (and the cast & creatives) for the rights to stream it. In this case, that's Tubi, a FAST service owned by Fox.
If you have not heard of FAST services, you will very soon, as they've become the new hottest way to stream content. Standing for "Free-Ad-Supported TV," these new streamers are basically...well, what TV used to be before cable: free, ad-supported, broadcast TV shows. There's no subscription; you download the app and start watching, with occasional commercials breaks to play the same three adverts, ad nauseam. WBD does not have its own (yet, at any rate), so its shows are going to other FAST services, with Tubi first in line, as most of Fox's titles are now owned by Disney, leaving it in need of programming.
Several FAST services have popped up in the last few years. The most significant for Anglophiles thus far are Paramount's Pluto TV and The Roku Channel. Pluto has all of Patrick Stewart's Star Trek via CBS, all of Classic Doctor Who, plus channels for BBC Food and BBC Home, and Sky News via British contracts, and will most likely start importing Channel 5 series (which Paramount now owns) as well. As for Roku, it nabbed all the BBC's original episodes of The Great British Baking Show (Seasons 1-7), plus the An Extra Slice aftershow and all the Celebrity Bake Off series.
With Tubi picking up HBO's leftovers, it has also earned a place on the Anglophile giant board of streaming services. Along with the final four episodes of The Nevers' first season (and the original six), it also streams The Time Traveler's Wife, Babylon 5, Westworld, Lovecraft Country, and other highlights that have left HBO Max.
---
By
for on March 27th, 2023
More to Love from Telly Visions