By
for on February 25th, 2023
Netflix's 'Luther: The Fallen Sun' Seamlessly Transfers to The Big Screen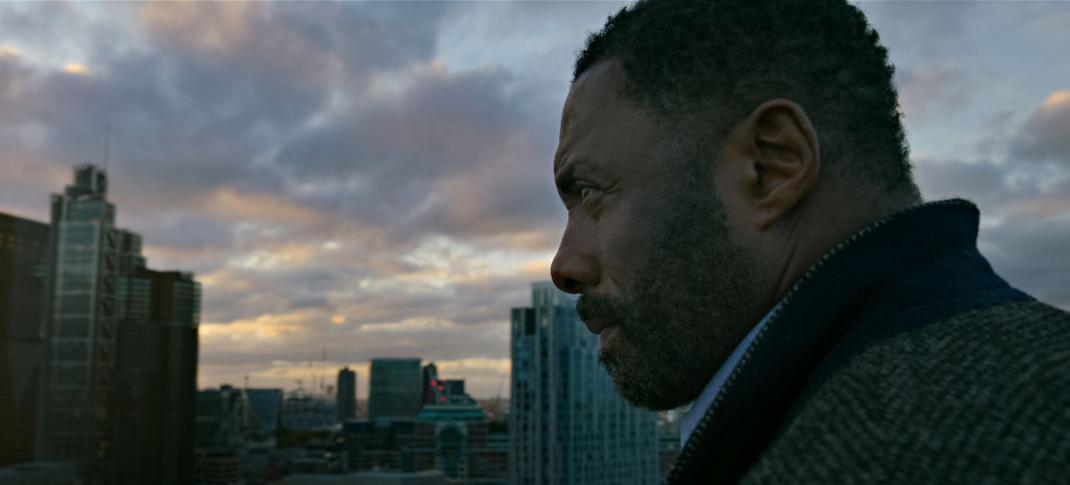 Luther, the psychological detective series that ran on BBC in fits and starts across the 2010s, earned acclaim from critics and audiences that helped propel its lead actor to stardom. Since Luther first graced the small screen in 2010, Idris Elba has gone on to play the heel for the Starship Enterprise, the Fast & Furious crew, and even Mowgli and Baloo. But most audiences were introduced to Elba at the same moment they met DCI John Luther — a determined, skilled, and decidedly unorthodox detective. He's inherited Sherlock Holmes and Lieutenant Columbo's knack for instantaneous psychological profiling but wields it with a lot more brute force.
It makes sense then that, even if Elba's enthusiasm and talent for playing the brutish but conniving copper remain strong, the scale of his adventures has to match Elba's ballooning celebrity. Hence, The Fallen Sun is a movie where a sadistic mass blackmailer gets Luther locked up before embarking on an untempered mission of chaos and carnage.
But Luther's jump to the big screen is not cynically motivated — it's perfect timing. Elba and Luther creator Neil Cross have voiced their eagerness for a Luther film for over a decade, and not only is Elba now a bigger draw than when the show was airing, but he's also back in character most audiences — both in Britain and America — most associate him with. (Well, maybe apart from his arc on The Office.) 
The film is also distributed by Netflix, which helped upscale the character from its TV origins. It can guarantee a wider viewership with an audience that likely first watched his serialized adventures on their platform. (Netflix was only starting to produce original content when Luther wrapped up its initial three seasons!) The only question is if the vast majority of people are going to watch this on Netflix, why such a push to make it a big cinematic spectacle?
But you won't hear us complain that the Luther film looks, feels, and acts like a proper big-budget movie. The Fallen Sun has all the heft and scale of a 2000s TV-to-movie adaptation — which is welcome in a time where the line between film and television is increasingly, deliberately blurred. Cross pens the script, and Jamie Payne — a seasoned pro being loads of quality British telly — directs after recently helming all of Luther's most recent season. The visuals have also been upgraded; now, we're presented with a gorgeous and dynamic frame for our heroes and villains to barge through.
What's wild is how seamlessly Luther works even though the scale is expanded, the stakes are raised, and the credulity of the crimes takes a decent knock. It's likely because the series was always… a bit outlandish. The serial killers became more hyper-specific and overblown, the grittiness was painted in increasingly broad strokes, and the criminal schemes gave the show the feeling of a blockbuster procedural.
British crime shows definitely upscaled to a "go big or go home" phase in the 2010s, and it's crazy to think that their two biggest hits, Luther and Sherlock, premiered within a couple of months of each other. It's somewhat endearing that Luther is the show with lasting longevity. (The less said about Sherlock's decline, the better.)
The villain is played by a maniacal Andy Serkis, and after his in-person roles in 2022's Andor and The Batman, it's clear he's doing a hard shift into non-mocap performing. The villain's weapon is, as is always the case, that nice, vague, nebulous "cybercrime," but in The Fallen Sun's defense, here it's used as a means to an end rather than an ideological force — there's no monologuing about its potential for leveling the playing field and liberating people from technocracies. 
His plots are, simply put, fairly intense — bodies are left bloody, burnt, and brutalized, but the most unsettling crimes are left unsaid. Cross' script wisely doesn't disclose the details of any blackmail used to push civilians into doing dirty work, letting a morbid, undisclosed paranoia germinate in our minds. Luther always excelled at leaning into the horror of serial killer fiction (a certain Season 3 cold-open still feels blood-curdling), a baton well-and-truly passed to The Fallen Sun; the film gladly leaning into some Videodrome (but mainly its spiritual successor, Demonlover) territory and finds a creepy way to digitize ritual killings. 
There are also plenty of thriller influences; a classic prison break leads into The Fugitive, set across a crowded, seedy London before we pivot in the final stretch to heightened Scandi-noir. In terms of inspiration, the whole gang's here — but Elba's winning charisma and Payne's tight direction keep the whole thing moving at a quick pace. However, there are some speed bumps along the way: Luther's profiling skill can seem like an attempt to lurch the story forward to where Cross needs it to be; all the comments it makes on "our society" are paper thin; and the climax seems a bit overwrought and drawn-out even for this supercop. 
What's more, the film's light attempts to make Luther accountable for his history of dodgy police work seem a bit misguided — it doesn't seem possible to ethically judge the actions of a man who is now fighting a supervillain too convoluted to exist in our world. But The Fallen Sun marks the end of a long journey to level up a character we thought had no more juice left in the tank. Welcome back, John Luther — what have you got for us next?
Luther: The Fallen Sun is in limited theatrical release beginning Friday, February 24, in both the U.S. and the U.K., and will stream on Netflix starting Friday, March 10, 2023.
---
By
for on February 25th, 2023
More to Love from Telly Visions