By
for on August 7th, 2023
'Heartstopper' Season 2 is a Gleeful Celebration of Queer Love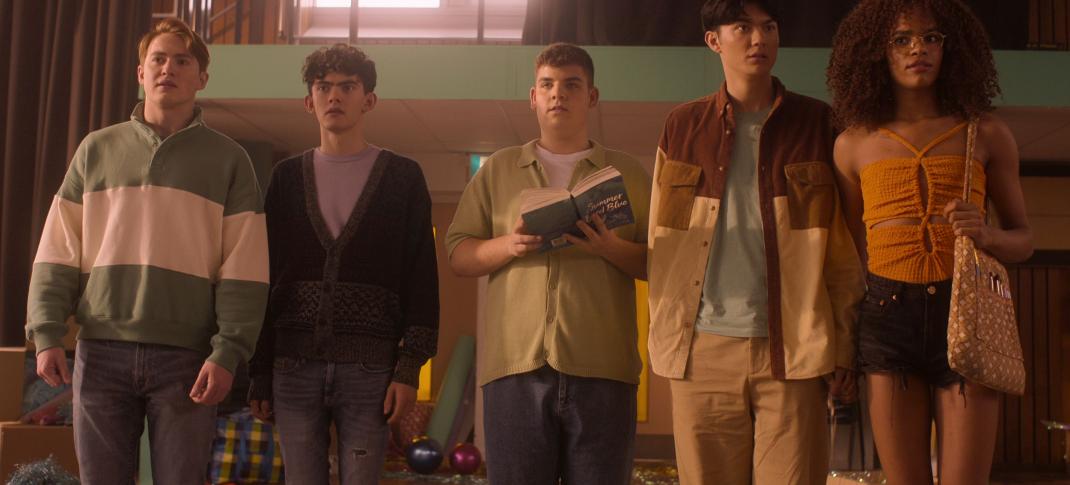 Season 2 of Netflix's Heartstopper, the sweet and charming show about two high-school-aged British boys falling in love, is just as heartfelt, genuine, and poignant as its premiere season. Based on the webcomic by Alice Oseman, the story picks up the day after the first season ended, following Nick (Kit Connor) having just come out about his bisexuality and his boyfriend to his mom Sarah (Olivia Colman). Where the first season focused on the friendship-turned-romance of Nick and Charlie (Joe Locke) and Nick's confusion about his sexuality, the second season sees Nick endeavoring to come out publicly.
It is an understatement to say this show is necessary, both as a safe space for people to explore their own sexuality but also as a bastion of positive queer identity and representation. Additionally, the show is incredibly well-written. The story revolves around the lives of the central friend group of Charlie, Tao (William Gao), transgender Elle (Yasmin Finney), and Isaac (Tobie Donovan). The characters are fully realized. The interpersonal drama is organic, believable, and moving. The central relationship between Nick and Charlie is darling.
The history of gay male representation on television is a scant one. Story arcs for lesbians and bisexual women happened more frequently before gay men were featured. The first gay male kiss on American TV was on MTV's The Real World in 1994, followed six years later on network television with Dawson's Creek. Those of us who are old enough remember how much hype that episode garnered before it aired and how much of a gimmick it felt like. Even now, shows featuring gay and/or bisexual men kissing are rare.
Heartstopper spotlights Charlie and Nick kissing prominently throughout the second season. They can't seem to stop kissing, including during stolen moments at school. Although the threat of discovery looms large in many of their make-out sessions, it is mercifully without malice or the fear of violence. This makes Heartstopper something of a fairy tale but in the best way possible. Shielding the audience from worry about the real-life possibility of Nick and Charlie getting gay-bashed allows us to lose ourselves in the joyous love story. It's worth noting their kissing is not for ratings or sensationalism but integral to the plot and never treated cheaply.
The love stories of the central characters grow out of healthy friendships, which is refreshing. The will-they-or-won't-they flirtations of best friends Elle and Tao, established during the first season, are innocent, exciting, and gentle. We get more development and screen time for the adorable lesbian couple Tara (Corinna Brown) and Darcy (Kizzy Edgell), as well as touching on Darcy's not-so-idyllic home life. Bookworm Isaac also happily gets his own character arc concerning his sexual identity. Isaac's story does have a too-convenient conversation, where an artist expounds upon the exact crises Isaac is going through. However, the more significant point is the importance of being seen and heard.
Nick's journey of coming out to the larger community – his close friends, rugby teammates, and father – is fraught with anxiety and insecurity. Nick has just experienced a significant shift in his selfhood and fears what others might think. He is not yet confident in himself as a bisexual person. Charlie is supportive of Nick. He is excited by Nick's coming out but feels super protective, wanting to safeguard Nick from the bullying Charlie himself went through when he was outed. The message the show keeps repeating is that queer people don't owe their coming out to anyone. Who they tell, and how and when they reveal it, is each individual's choice and should be respected.
Other significant themes highlight consent and its importance. Nick asks Charlie for permission to kiss his neck (which leads to a hickey and a host of new conflicts). Charlie addresses non-consent in an impassioned speech to his former secret boyfriend Ben (Sebastian Croft), who assaulted him in the first season. The speech is a powerful showcase of the self-worth Charlie has gained through his loving relationship with Nick and an essential reminder that forgiveness is a personal choice, not a requirement.  
On the topic of forgiveness, I was bothered by a scene where Season 1 antagonist Harry (Cormac Hyde-Corrin) attempted to apologize to Nick and Charlie and was rejected. Unlike Ben's appeal to Charlie (self-serving with a profound lack of introspection), Harry shows growth and seems remorseful about his past homophobic comments. Nonetheless, Charlie slams the door in Harry's face and gets applauded by his friends, which seems like the wrong message. Harry may be far from an ally, but he seemed willing to try. It felt like a mistake to close the door on communication. But it's a minor quibble in an overall well-thought-out series.
It must be mentioned, in a nod to its comic origins, animation serves as the punctuation for emotions in this show, and it's very effective – not to say cute! Hearts, leaves, butterflies, and fireworks are often shown when characters in love get physically close or think of each other. It could feel too apparent for some, but it contributes to the show's overall fun and glee and deepens the emotional adventure.
Heartstopper Seasons 1 and 2 are streaming on Netflix; Season 3 is expected in 2024. Make time for this show!
---
By
for on August 7th, 2023
More to Love from Telly Visions