By
for on February 6th, 2021
Netflix's 'The Dig' is a Moment in Time Beautifully Captured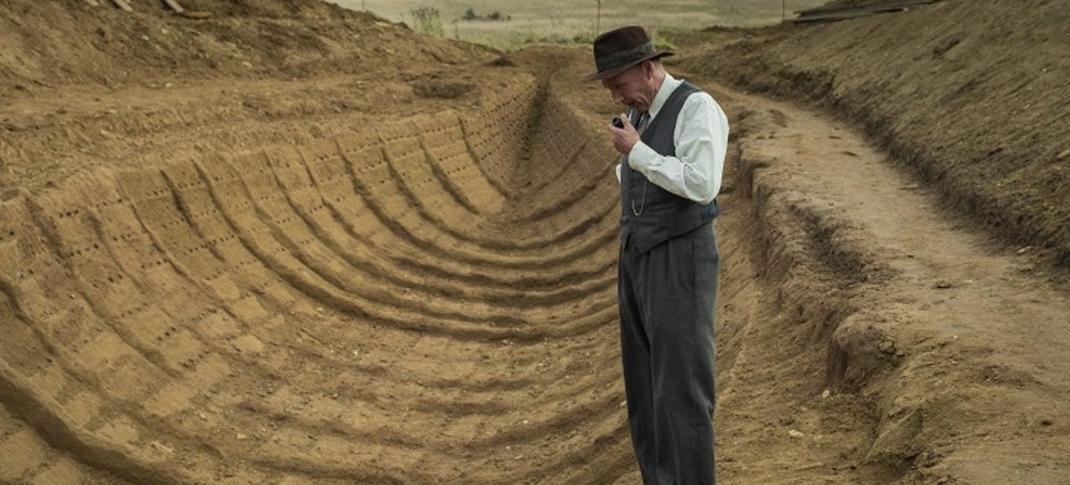 Netflix's The Dig is a beautifully made film, a meditative exploration of time, mortality, and heritage, that tells the story of one of England's greatest archaeological discoveries, the Sutton Hoo ship burial and its treasures.
It is set in 1939, when England was on pause, waiting for a declaration of a war that is about to change everything. With a wonderful cast and cinematography, it is directed with great sensitivity by Simon Stone from a screenplay by Moira Buffini (Harlots), based on John Preston's 2007 novel.
With war imminent, rich, widowed Edith Pretty (Carey Mulligan) knows time is running out for new archaeological excavations and is anxious to discover what the burial mounds on her land conceal. She hires a local expert, Basil Brown (Ralph Fiennes), who works for the Ipswich (local) museum. He's taciturn and dignified, a self-educated working-class man, whose father taught him to interpret changes in the soil, the essence of archaeological work. And he's an excavator, not an archaeologist.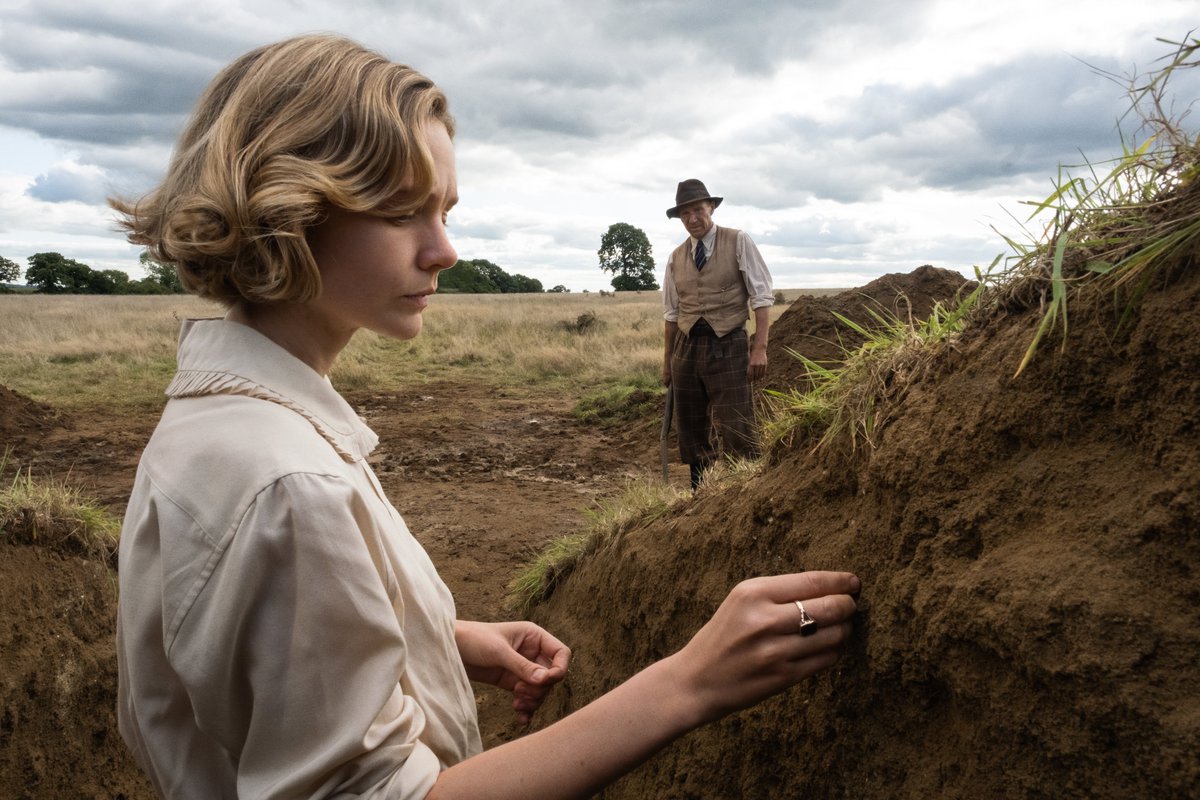 He starts work and there is a near disaster when his trench caves in. Both he and Edith feel this is a sign that they should work on another mound, the one he originally decided was not worth it since there were signs that it had been robbed. The Ipswich Museum staff come to visit, trying to get in on the act as Basil discovers what appears to be a wooden plank in his trench. As they attempt to lift it, it disintegrates.
Basil and his assistants continue the work, painstakingly revealing the skeleton of a huge ship. Word gets out, and it becomes a battle of the archaeologists when the British Museum takes over. But despite the macho rivalry, we are reminded that this is an excavation of a tomb. A king or mighty warrior was buried here, leaving no trace of his body, which has disintegrated in the soil. (This is something the film glosses over, by the way. It was proved decades later by chemical analysis). The uncovered ship, revealed by darker and differently-textured soil and corroded iron bolts, is fragile and needs protection from rain and heavy-footed humans. We learn of Edith's physical fragility and her worry over her son's future. Asleep, she curls into the fetal position common in ancient burials. For her, time is running out too.
Edith and Basil develop a close, restrained relationship in the way we see so often in British period films; bound by formality and class. Basil's wife May (Monica Dolan), a likable and pragmatic woman, turns up now and again with clean shirts and writes every day. She's concerned that her husband is being exploited and underpaid and won't receive acknowledgment for his work. But the most moving relationship in the film is that between Basil and Edith's son, Robert (Archie Barnes). They share a passion for astronomy and for storytelling, and Basil understands Robert's fear and helplessness as his mother fades.
The British Museum crew, led by Charles Phillips (Ken Stott), shakes things up. They have greater clout than the Ipswich Museum, and certainly more than Basil, who at first is delegated to menial tasks. Edith persuades him to stay one more day, and that's the day everything changes. The burial chamber is revealed, and then the amazing items within. Up until this point, everyone had assumed that it was a Viking site, but the discovery of a much earlier coin determines that it's Anglo-Saxon.
This period, referred to as the "Dark Ages," was seen as a time of brutal raids and societal breakdown following the end of the Roman occupation. But the beautifully wrought treasures of precious metals and minerals reveal a sophisticated trading culture, inspiring a burst of patriotic pride among the British Museum archaeologists.
The first gold is discovered by Peggy Piggott (Lily James), the only female archaeologist on the team, and light enough to be trusted on the fragile surface. Her husband Stuart (Ben Chaplin) nervously rejects her friendly sexual moves, and there's a suggestion that he may be gay. He's definitely a lot more comfortable in the company of hearty, back-slapping male archaeologists than with his wife.
A cousin of Edith's, Rory Lomax (Johnny Flynn), has joined the team as a photographer, and he and Peggy are attracted to each other. But the frequent signs of mobilization around them serve as a reminder that Rory has applied to the RAF, and their time together will be limited. As charming as the two actors are, their story detracts from the excitement of the excavation and interrupts the subtle richness of Edith and Basil's relationship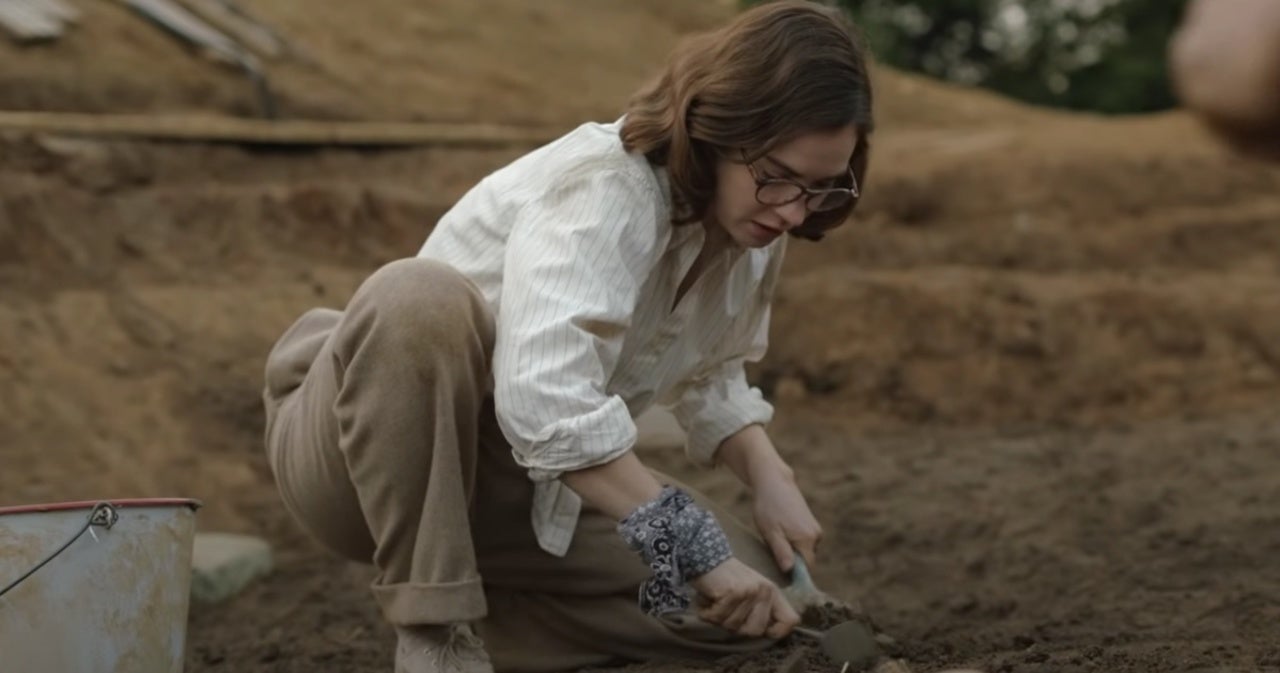 Edith donates the valuable items after an inquest ruled that because they were on her land and of proven antiquity, she is the legal owner. She makes the decision to donate them to the British Museum because it is the place where as many people as possible will be able to see them.
There are some astonishingly beautiful moments in the film, particularly in the depiction of the Suffolk countryside: Marshes and fields and waving grasses, a palette of muted golds and greens. One striking moment is when we watch  Fiennes sitting in long grass, smoking his pipe, looking out over the river. Time stills. A sailing barge comes into view, and it's like magic: You almost expect to see a Viking ship. For moments like this, The Dig is unforgettable, and altogether it's worth watching.
The National Trust now owns the Sutton Hoo sites and you can digitally tour the artifacts in the British Museum.
Have you watched The Dig? What did you think?
---
By
for on February 6th, 2021
More to Love from Telly Visions