By
for on December 9th, 2020
An All-Star Cast Headlines the Trailer for Netflix's 'The Dig'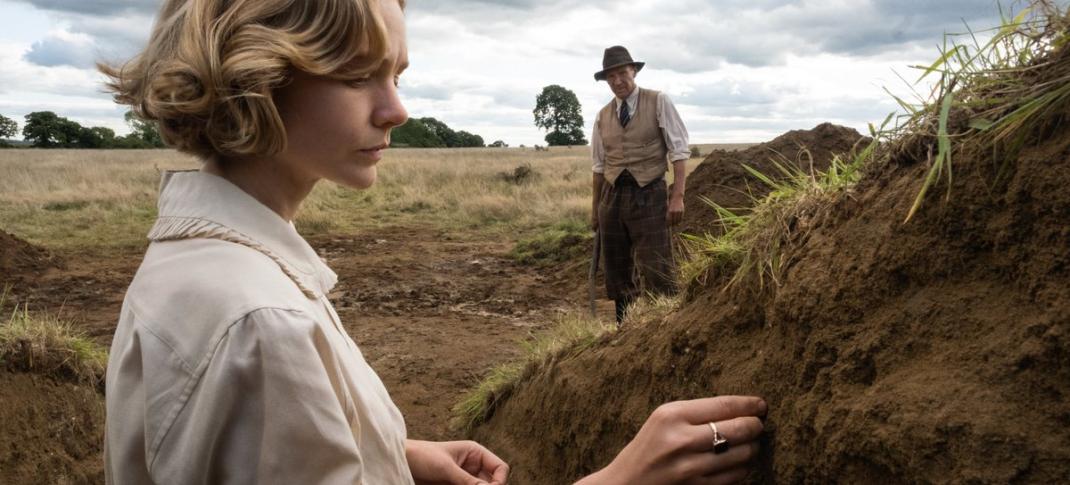 Netflix has released a trailer for its upcoming period film The Dig and if the clip is anything to go by, the movie promises to be a lush, heartfelt tale about the ways the past can inform our present.
The film is based on a book - also called The Dig - but the story it tells is based on real events: The discovery and excavation of Sutton Hoo.
Located in Suffolk, England, Sutton Hoo is the location of two medieval burial grounds that date from the 6th and 7th centuries. The main site, which contained an undisturbed Anglo-Saxon ship burial, is considered to be the greatest treasure ever discovered in the U.K., thanks to the spectacular artifacts found there. These, according to Wikipedia, included everything from a  suite of metalwork dress fittings in gold and gems to a ceremonial helmet, a shield and sword, a lyre, and a silver plate from the Byzantine Empire. Most of it can now be seen in the British Museum.
These finds are important not just for their completeness, but for the window they give historians into the early Anglo-Saxon period. Scholars generally believe that Raedwald of East Anglia is the man who was most likely buried in the ship - a best guess according to the dates on the coins in the treasure mound -  and its contents reveal much about Anglo-Saxon customs, beliefs, and craftsmanship. 
The film follows the story of a wealthy widow who, under the looming shadow of World War II, hires an amateur archaeologist to excavate the burial mounds on her estate. But when they make a remarkable discovery, the echoes of Britain's past resonate even more strongly in the face of its uncertain future. 
Watch the trailer for yourselves below. 
As you can see, The Dig boasts a gangbusters cast full of awards nominees and familiar faces, including Carey Mulligan, Ralph Fiennes, Lily James, and Johnny Flynn.
And while the obvious budding romances that dot the trailer are fictional, the set-up of the film is relatively true to life. The Sutton Hoo site was first excavated by the property landowner before museum experts came in and took over once everyone realized the size and scope of the discovery.
The Dig will release in select theaters - thereby making it awards season eligible - before it premieres on Netflix on January 29. 
Thoughts on the trailer? Is anyone else getting a distinctly historical feel-good vibe from this or is it just my general love of all things Anglo-Saxon? Let's discuss in the comments.
---
By
for on December 9th, 2020