By
for on December 3rd, 2013
Must-See for 'Doctor Who' Fans: 'The Five(ish) Doctors Reboot'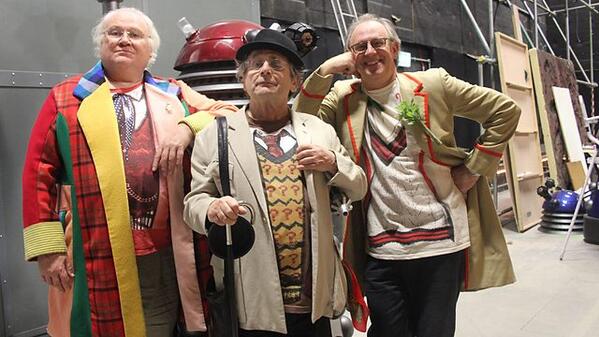 In the wake of  all the hype, excitement and general flailing surrounding the Doctor Who 50th anniversary, there's something extremely awesome you might have missed seeing. 
We can probably all agree that, although The Day of the Doctor was pretty awesome, the one thing that could have made it even more exceptional would be if it had featured a few more classic Doctors.  (Not that it wasn't nice to see David Tennant, Tom Baker and Paul McGann engaged in various 50th anniversary-related festivities, but, well, Whovians were hoping for a full house, if you will. So, you'll probably be excited to know that, in the end, we did get something a bit closer to it.
Fifth Doctor Peter Davison has put together an absolute treat for Doctor Who fans everywhere – a thirty-minute special called The Five(ish) Doctors Reboot that was by turns funny, dramatic and sweet. Named  in honor of the episode which marked the iconic series' 20th anniversary in 1983, the mini-special featured not only Davison himself, but also Sixth Doctor Colin Baker, Seventh Doctor Sylvester McCoy , several more surprising (and seriously fantastic) guest stars and dozens of inside Who jokes. 
Really, if you haven't seen this yet, stop what you are doing and watch. It's that good. 
The general "plot" here is that classic Doctors Davison, Baker and McCoy all wage a campaign to be part of the 50th anniversary special at any cost and then hijinks and hilarity ensue. (More details would really spoil it.)
Watch a brief trailer for The Five(ish) Doctors Reboot over below, and then make some time to sit through the whole half-hour just as soon as you can. 
Not enough for you? You can watch the full thirty minute special here: 
The best part of this whole thing has to be the series of jokes surrounding McCoy's involvement with The Hobbit, but it's okay if your opinion (like mine) tends to vacillate every time you watch it. Amazing and wonderful all around.  
What did you think of The Five(ish) Doctors?
---
By
for on December 3rd, 2013
More to Love from Telly Visions