By
for on February 26th, 2022
The 'Murder In Provence' Trailer Will Take You Away To France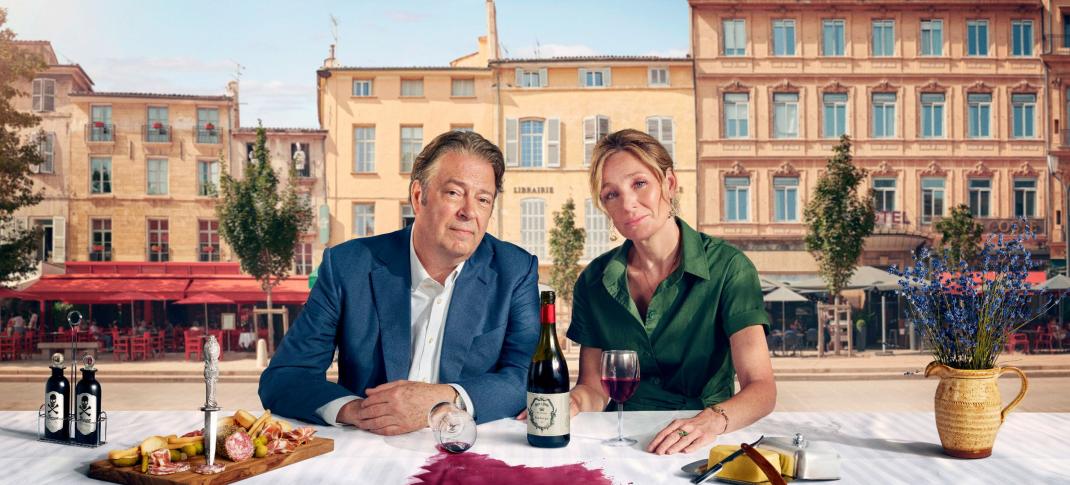 There's something special about investigating a murder in beautiful places. That is why Agatha Christie put death on the Nile or small British villages where the quaint cottages mask gruesome crimes. In one of its first series to air on both BritBox US and BritBox UK, the streaming service has taken advantage of the south of France being, you know, just south of England and set its new series, Murder In Provence, in Aix-en-Provence. It might not be everyone's idea of a vacation, but it certainly will be an escape to the continent for those still stuck indoors.
Based on the Verlaque and Bonnet books by Canadian author M.L. Longworth, Roger Allam (Endeavour) stars as Antoine Verlaque, an investigating judge who spends his time out in the courtroom hunting down the whodunit, and Nancy Carroll (The Crown) as Marine Bonnet, his on-and-off girlfriend. She turns out to be a perfect partner in investigating crime. (It helps that she's a law professor and very knowledgeable about these things.) Keala Settle (The Greatest Showman), Verlaque's detective friend Hélène, helps them with the official arresting stuff. In between, they cook french food, drink wine, and eat cheese. You know, as you do. 
Check out the delightful trailer that shows Allam and Carroll's excellent chemistry, as well as a few glimpses of the guest stars who will be part of the season's cases.
Here's the series synopsis:
Murder in Provence follows Antoine Verlaque, Investigating Judge in Aix-en-Provence, and romantic partner Marine Bonnet as they investigate the murders, mysteries, and dark underbelly of their idyllic home. Their efforts are aided by Hélène, a detective and Antoine's trusted confidante.
Carroll, Allam, and Settle are joining in the first season by guest stars Patricia Hodge (All Creatures Great and Small), Geff Francis (Killing Eve), Kirsty Bushell (Silk), Samuel Barnett (Penny Dreadful), Christophe Tek (Emily In Paris), Leila Mimmack (Love In The Lockdown), Louise Delamere (Dracula), Jonathan Aris (Sherlock), Paul Bazely (The Ipcress Files), Sara Powell (Unforgotten), Cara Horgan (West of Liberty), Lizzy McInnerny (The Haunting of Bly Manor), Jeremy Clyde (Downton Abbey), and Melanie Gutteridge (The Salisbury Poisonings).
Allam recently said that part of what drew him to the role was that it was so different from his other hit detective show, Endeavour, where he plays Fred Thursday. But Endeavour Season 8 is still AWOL until at least this summer on PBS. (No release date has been set, but it usually debuts as part of the "Summer of Mysteries" alongside Grantchester.) Murder In Provence looks to be the dose of Allam crime-solving that fans need to tide them over. It even runs the same length, with three feature-length episodes.
Murder In Provence will arrive on BritBox, Tuesday, March 1, 2022, with all three episodes. No word yet if the series will be greenlit for Season 2.
---
By
for on February 26th, 2022