By
for on November 1st, 2013
Missing 'Sherlock'? Here's What You Should Watch Instead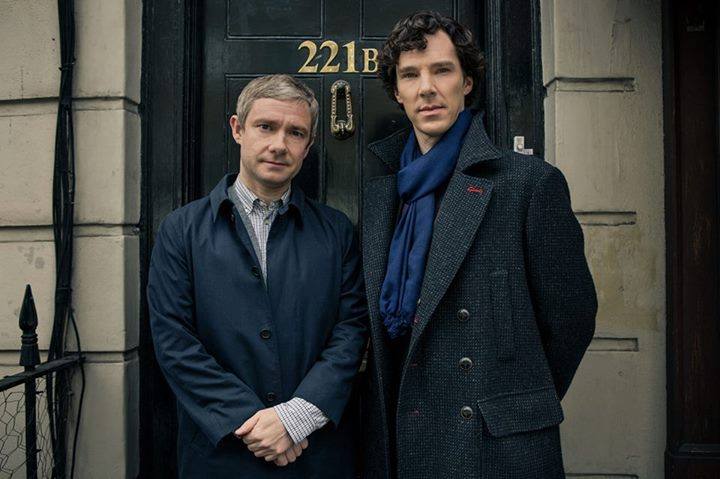 One of the most torturous times of year for any TV fan is the interminable wait between seasons of your favorite show. When that show only airs three episodes at a time and the wait between seasons is somewhere between one to two years? Welcome to the life of a Sherlock fan.
Since Series 3 is premiering in January, we can at least see the light at the end of the tunnel that is this particular Great Hiatus. But, even with this fantastic knowledge to sustain us, we've still got a couple of months to go before new episodes arrive, so now might be the perfect time to find a new show to help fill the consulting detective-shaped hole in your heart.
Here are several suggestions for Sherlock fans – each based on various aspects that make the show so appealing. Read on, and let us know what you think – or what you'd recommend instead! 
Dirk Gently. If Sherlock were a fluffy comedy, Dirk Gently would probably be that show. Based on characters from the novels by Douglas Adams, Dirk Gently operates his detective agency using the "fundamental connectedness of all things" which relies on random chance to uncover connections between seemingly unrelated things. The actual Sherlock would probably have a heart attack if confronted with this particularly investigative method, but the series is funny and sweet. And there's even time travel. Stephen Mangan, Darren Boyd and Helen Baxdale star.  
We've aired Dirk Gently on our WETA UK channel in the past if you're local – so keep an eye out for a possible rebroadcast in the future. It's also available on DVD. 
Inspector Lewis.  Lewis and Hathaway aren't quite Holmes and Watson, but the Oxford duo is a reasonably appealing odd couple-style substitute. Kevin Whatley and Laurence Fox star in this spinoff from the popular Inspector Morse series, as the pair investigate the disproportionate amount of murders that continue to occur in Oxford and the surrounding community.  
[This video is no longer available.]
You can find Inspector Lewis on Netflix streaming. 
Jekyll. This is another modern day adaptation of a classic novel and, surprise, surprise, it's also written by Sherlock creator Steven Moffat. This series is a sort of sequel to Robert Louis Stevenson's original novel and focuses on a descendent of the real Dr. Jekyll, who has recently begun transforming into Mr. Hyde. As a result he's abandoned his family, barricaded himself in a basement flat, hired a psychiatric nurse and starts swapping video messages with his alter ego. Then, as you might expect, bad things happen when Hyde seizes control of their new living situation. James Nesbitt, Michelle Ryan, Gina Bellman, Paterson Joseph and more star in this very strange, but interesting version of the Jekyll story.
Jekyll is currently available on both Netflix and Amazon Instant Video.  
Luther. If what you're missing is an occasionally dark, somewhat morally ambiguous, often socially awkward main character, look no further than crime drama Luther and its brilliant leading man Idris Elba. In this gritty and suspenseful drama, DCI John Luther tracks down the worst sorts of criminals for London's Serious and Serial Crime Unit. Luther is so obsessed with his work that he finds it hard to leave the darkness of the crimes he's trying to solve behind. 
Series 1 and 2 are both streaming on Netflix and Series 3 is available on DVD. Keep an eye out, it probably won't be too long before that's on Netflix too! Fascinating cases and Elba is incredible in the title role. 
Sherlock Holmes. The Sherlock hiatus is a perfect time to catch up on some of the classics of the Sir Arthur Conan Doyle canon – for some, that means reading the stories and for others that involves watching all eight-some odd episodes of the Granada Sherlock Holmes TV series. Starring Jeremy Brett as the great detective and David Burke as the ever-faithful Watson (followed by Edward Hardwicke), this series is largely faithful to the original canon and is full of wonderful period details.  Forty-two of the original sixty Holmes stories are adapted within this series, so you've got a lot to get through. 
We currently air Sherlock Holmes on our WETA UK channel if you're local, and it can also be found on DVD.
Whitechapel. If what you're craving is some dark, twisty Moriarty-style crime, try out Whitechapel. This drama follows detectives in London's Whitechapel district who deal with murders that replicate historical crimes. (This apparently happens a lot in their neighborhood.) The first three series deal with cases that appear to be copycatting Jack the Ripper, the Kray twins, the Ratcliff Highway murders and more. The mysteries are well-plotted and surprising, the casting is great, and the creepy factor is high. Well worth your time! 
Wire in the Blood. Featuring another lead character that's forced to confront his own dark side, Wire in the Blood follows the story of Dr.  Tony Hill, a bizarre clinical psychologist with a strong sense of empathy that allows him to get inside the heads of serial killers and help law enforcement apprehend them.  This show is dark and twisted, to be sure, but Robson Green's performance is captivating.  
You can watch all six series on Netflix. 
Thoughts on any of these suggetions? What other series would you put on this list?
---
By
for on November 1st, 2013