By
for on October 23rd, 2013
It's Official: 'Sherlock' Series 3 to Premiere on PBS Stations Nationwide in January 2014!
The news that we've all been waiting for is finally here – the long awaited US premiere date for Sherlock Series 3 has been announced and it's probably a lot closer than you were expecting.
Benedict Cumberbatch and Martin Freeman will return as everyone's favorite crime-solving duo beginning Sunday, January 19, according to an exclusive announcement from Entertainment Weekly. EW also released the first official promo image for the new season, which you can see below.
Yes, this is really happening. It's okay if you need to take a deep breath. 
Masterpiece executive producer Rebecca Eaton tells EW that this is the best season yet of Sherlock. "They're fantastic," she says of the new episodes. "They are jaw dropping. They are like small movies. Benedict and Martin are so in their Sherlock-Watson groove. They are so comfortable with that relationship it's like being in the room with them."
The boys of Baker Street look surprisingly good for making us wait so long: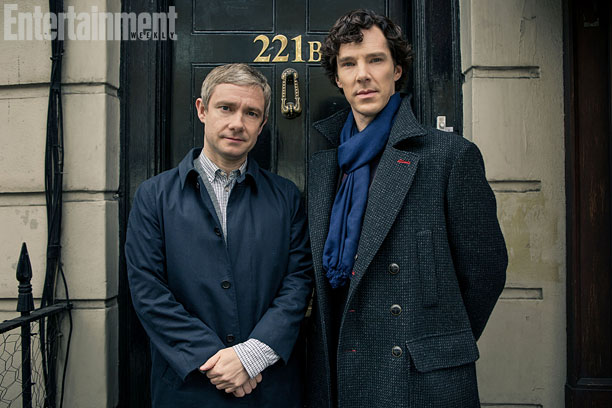 Surprisingly, this means that PBS stations around the country will be double airing two of their biggest hits on the same night as Sherlock will air at 10pm, back-to-back with mega-hit costume drama Downton Abbey. You might as well just block off Sunday nights in January now, is really what this means.
The US airdate – which, let's be honest, is much earlier than any of us expected – gives a lot of weight to the theory that the British transmission should happen around Christmas or New Year's as the BBC has first airing rights to the show. So, everyone start dusting off your deerstalkers and firing up your theories about how Sherlock survived his dive off of St. Bart's hospital and what's the deal with guest star Amanda Abbington's new character, who will be very familiar to fans of the Arthur Conan Doyle stories.
Hands up if you're excited to get the Sherlock countdown clocks started! 
---
By
for on October 23rd, 2013
More to Love from Telly Visions