By
for on March 23rd, 2020
'Miss Fisher & The Crypt of Tears' Is (Almost) Everything Fans Could Want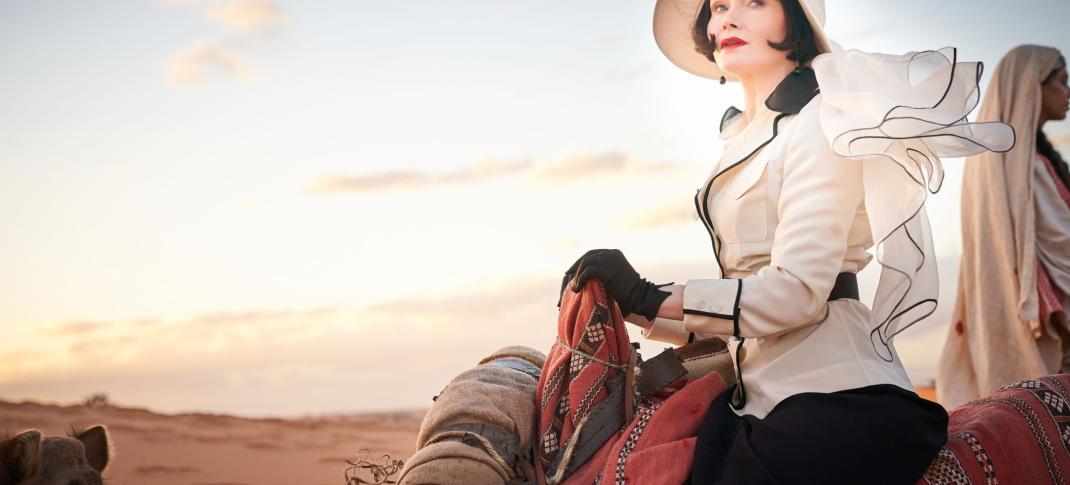 The third and final season of Miss Fisher's Murder Mysteries initially aired in 2015. Since then, viewers have been waiting and hoping for Every Cloud Productions to find a way to bring Essie Davis back to the role. It's been a long road from the Kickstarter in 2017 to this week's premiere of Miss Fisher & The Crypt of Tears, the first feature film starring The Hon. Miss Phryne Fisher, but I am happy to report to all and sundry it is worth the wait. There's only one small cloud, but one that maybe can be rectified, should there be a sequel.
Jack: End the Curse?
Miss Fisher: That's what you *do* with curses, Jack.
When the film opens, Miss Fisher finds herself in British-Controlled Palestine, but not for long. She's a wanted woman, not just for sticking her nose into international affairs, but for a prison break, as she rescues Shirin Abbas (Izabella Yena), a rabble-rouser working to overthrow the British empire's control of her country. The two of them escape, in a ten-minute sequence that magically features Fisher in three different outfits, and jumping onto a moving train in heels and a hat without twisting an ankle or losing her hat. Unfortunately, it seems like Phryne doesn't make it, as the train hits a tunnel with her still on top.
The funeral is the excuse to call together all the Fisher family, except that most of them don't answer. Bert (Travis McMahon), Cec (Anthony Sharpe), Collins (Hugo Johnstone-Burt), and, most critically, Dot (Ashleigh Cummings) all stay behind in Australia. One can understand Bert and Cec not fitting into this new story, or even Collins getting left behind. But the removal of Dot is the one dark cloud in the film. Dot's character arc is one of my favorite things about the original program. I sincerely hope any sequel seeks to resolve her absence.
Instead, it's just Jack Robinson (Nathan Page) who comes to London, where he's greeted by Aunt Prudence (Miriam Margolyes) and the Lofthouse family, including Jonathon (Rupert Penry-Jones), as well as Shirin and her father, Sheikh Kahlil Abbas (Kal Naga). But it's not too long before Phryne drops in. She's not dead, and turning up at her own funeral is exactly her style. Jack is personally offended at having had all these feelings over her death when she was perfectly alive, and leaves, setting up the final "will they or won't they" of the long-standing fan-favorite relationship. (Don't worry, his snit won't last.) Meanwhile, Phryne has discovered someone is trying to cover up a decades-old mystery from Shirin's childhood where her entire tribe was murdered.
What follows is a mystery right out of the 1920s era Egyptian craze set off by Lord Carnarvon after he died soon after the opening of King Tut's tomb. All of the cliches you would expect to see turn up, in order, with curses, muddled professors, ties to World War I, British people looting other nations, and long-buried secrets. There's a necklace that might have special meanings, an emerald the size of someone's forearm, and a race against time to lift the curse before an eclipse sends humanity into a thousand years of doom, or vague notions to that effect.
But let's be real, like any good Miss Fisher episode, the mystery is secondary, a thing happening in the background because Robinson is a Detective Inspector and Fisher a lady detective, and this is their job. The real delight is in their relationship, the roadblocks in the way, and the quicksand moment that causes Jack to rip his shirt off in an act of heroism. And, of course, there's Miss Fisher's always impressive wardrobe. I counted no less than 16 outfits all told, one of which gets worn in six different configurations, making 22 looks in all from the film. Considering the runtime is only an hour and forty minutes, that's a feat of costuming worth watching on its own.
And there's even a mid-credits scene that sets up a sequel! Whether or not Acorn TV decides the film is worth funding a follow-up remains to be seen. But with the streamer offering a 30-day free trial and all three seasons also on offer, perhaps this will bring about another organic wave of Miss Fisher fans to add to the show's ever-growing cult. Just next time, let's find a way for Dot to join in the fun.
Miss Fisher & The Crypt of Tears is currently streaming on Acorn TV.
---
By
for on March 23rd, 2020
More to Love from Telly Visions