By
for on June 10th, 2023
'Men In Kilts' Season 2 Will Debut In August on STARZ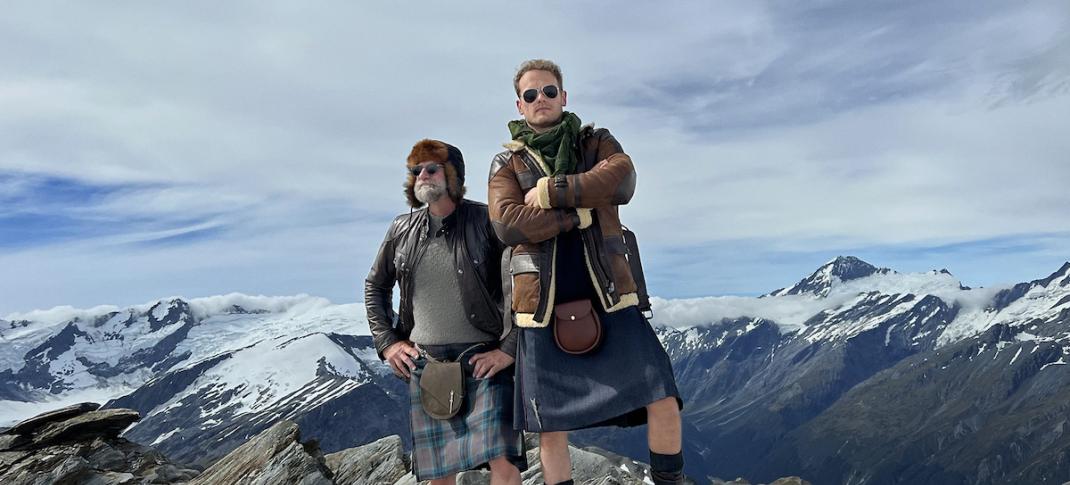 There's good news and bad news for fans of Starz's lavish time-traveling period drama Outlander this summer. The show will finally return for its long-awaited seventh season this June. But despite the fact that Season 7 will be a super-sized installment comprised of sixteen episodes --- to make up for the abbreviated sixth season necessitated by the COVID-19 pandemic --- it will also be split into two parts, and viewers won't see the back half until some point in 2024. Truly, Starz giveth and Starz taketh away.  And then...giveth again?
The cable network,  well aware of the fandom's heartbreak over yet another "Droughtlander" -- their nickname for the show's often extended hiatuses --- is at least giving them something to look forward to in the dog days of summer that features the stars of their favorite show. The travel series Men in Kilts will officially return for its second season this August.
The charming docuseries features Outlander stars (and real-life friends) Graham McTavish and Sam Heughan as they head off for a dose of adventure, fun, and charming camaraderie as they explore the world in true road-trip style. The first season of Men in Kilts aired in 2021 and saw the two men dig in to the rich cultural heritage and history of Scotland -- a perfect fit for them given that much of Outlander's early seasons take place in and among the country's gorgeous glens and lochs.
This new second outing will see the pair head down under to explore the adventure capital of the world: New Zealand. And their wild exploits will include everything from a thrilling zip excursion to surfing, all while spotlighting the unique and enduring friendship between the two men.
(Look, all I know is if these two don't visit Hobbiton together at some point what are we even doing here?! McTavish played a dwarf in The Hobbit trilogy for goodness sake, they can't possibly miss the chance for him to pull out that dwarf mountain song can they?)
Developed by Heughan and McTavish, Men in Kilts is produced by Boardwalk Pictures, in association with Sony Pictures Television. Together, Heughan and McTavish conceived the original idea for the series and both serve as executive producers alongside Alexander Norouzi, Andrew Fried, Dane Lillegard, Sarina Roma, and director Kevin Johnston.
Season 2 will premiere on Friday, August 11. The show will debut at midnight ET on the STARZ app, streaming, and on-demand platforms, followed by a broadcast on the network the same day at 9:30 pm ET/PT. New episodes will arrive each Friday, following the same release pattern. Season 1 of Men in Kilts is currently streaming on the STARZ app. 
---
By
for on June 10th, 2023
More to Love from Telly Visions