By
for on July 13th, 2023
The 'Men in Kilts' Season 2 Trailer Shows Off the Gorgeous Scenery of New Zealand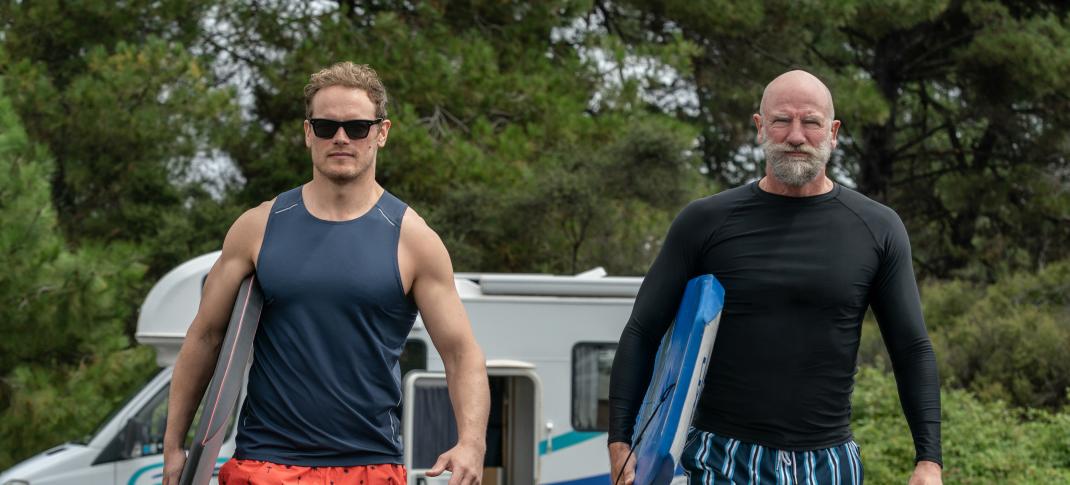 Though they're used to it now, Outlander fans face another substantial gap between new episodes. Though new episodes are airing, the show's penultimate eighth season will take a break at its midpoint and won't return to finish its run until an as-yet-undetermined date in 2024. (Yes, this will likely push the show's final season into at least 2025, but who's counting?!)
At least cable network Starz is well prepared for the arrival of another "Droughtlander" — the colloquial fandom term for the gap between seasons — and is set to drop the second season of its Outlander adjacent travelogue series Men in Kilts later this summer to help viewers get through the long wait until Jamie and Claire Fraser return to their screens. 
The ridiculous docuseries features Outlander stars (and real-life friends) Graham McTavish and Sam Heughan as they head off to explore the world in true road-trip style. The first season of Men in Kilts aired in 2021 and saw the two men dig into the rich cultural heritage and history of Scotland — a perfect fit for both the stars and the show, given that much of Outlander's early seasons take place in and among the country's gorgeous glens and lochs.
Season 2 will see the two men head down under to New Zealand, a country known for its extreme sports, breathtaking scenery, and the fact that it was the filming location for all the Lord of the Rings and The Hobbit movies. But although New Zealand is essentially on the other side of the world from Scotland, about 20% of the country's population has Scottish roots!
The trailer leans into the delightful chemistry (and obvious bond) between the two Outlander stars as they try a variety of terrifying high-risk activities, learn about the vast history and culture of the Maori, and eat their way through the delicious food of the country's various islands. (Yes, there are more than one.) As for what other adventures they'll get into, well. That's anyone's guess. But given that McTavish played one of the dwarves in Peter Jackson's Hobbit trilogy, there's also no way this series isn't sending these two guys to Hobbiton and/or making them sing that dwarf song about the Misty Mountains, right? 
Mostly, I'd just watch these guys be BFFs anywhere they wanted to go.
Developed by Heughan and McTavish, Men in Kilts is produced by Boardwalk Pictures in association with Sony Pictures Television. Together Heughan and McTavish conceived the original idea for the series, and both serve as executive producers alongside Alexander Norouzi, Andrew Fried, Dane Lillegard, Sarina Roma, and director Kevin Johnston.
Season 2 will premiere on Friday, August 11, 2023. The show will debut at midnight ET on the STARZ app, streaming, and on-demand platforms, followed by a broadcast on the network the same day at 9:30 pm ET. New episodes will arrive each Friday, following the same release pattern. Season 1 of Men in Kilts is currently streaming on the STARZ app. 
---
By
for on July 13th, 2023
More to Love from Telly Visions