By
for on July 28th, 2023
BritBox Series 'McDonald & Dodds' In Production for Season 4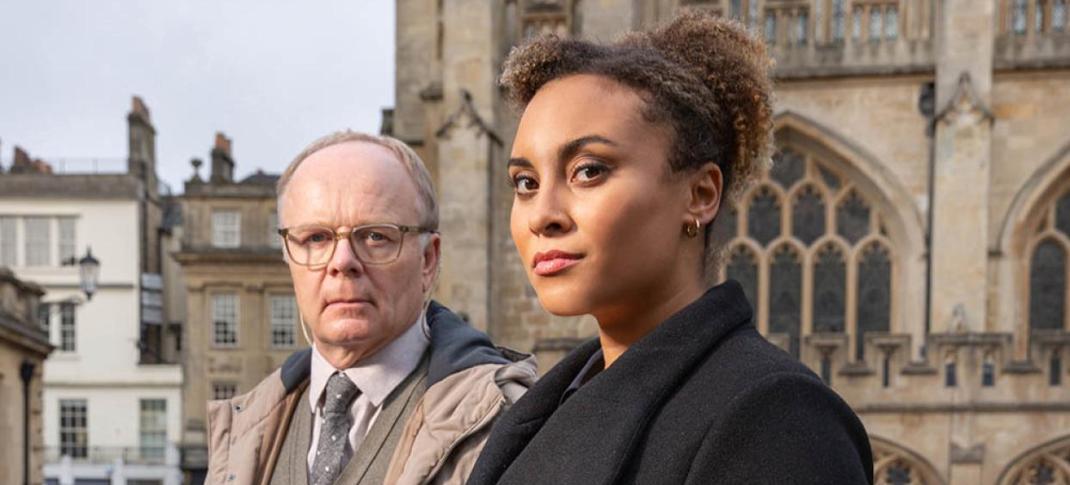 McDonald & Dodds has headed back into production for a fourth season. The odd-couple pairing mystery series, which unlike most, actually features two police officers, Tala Gouveia (Cold Feet) as DCI Lauren McDonald and Jason Watkins (The Crown) as DS Dodds, has been a sleeper mystery hit for ITV in the U.K. and is now on BritBox in the U.S. Packed with A-list guest stars for each mystery of the week, and filmed in the gorgeous city of Bath, the show is the epitome of an easy to watch "cozy mystery" made up of three feature-length episodes per season.
ITV initially commissioned the series from Mammoth Screen in 2019 under the working title Invisible. It was conceived of as a pair of film-length mystery stories, aired in the U.K. the first week of March 2020, just before lockdown. However, the two episodes had quite a long tail, as more viewers picked it up over the next few months, leading to a recommission in 2021, and upped to three installments a season. ITV aired the first two episodes, but the finale was delayed due to scheduling conflicts, even as a third season was commissioned
BritBox first test aired in the U.S. in 2022, using the as-yet-unseen Season 2 finale as a stand-alone film to entice Americans into watching. The plan worked, with the four episodes of Seasons 1 and 2 soon following. But the Season 2 finale was so delayed it eventually was just repurposed to become the Season 3 finale, with critical scenes refilmed due to casting changes, which is why Season 3 is billed as four episodes in the U.K. and three in the U.S. Despite the snafu, ITV renewed the show for a fourth season in March 2023.
Thus far, ITV has only given out the synopsis for the first of the three feature-length mysteries of Season 4,
In this first film, McDonald and Dodds begin to investigate when a middle-aged woman is found shot dead in a rented flat. The killer has removed all clues to her identity, but DNA reveals she went missing over 35 years ago. Where has she been all those years? And who with? 
Gouveia and Watkins will again be joined by Claire Skinner (The Pale Horse), who plays Chief Superintendent Ormond, and Charlie Chambers (Noughts + Crosses), who plays DC Goldie. Bhavik C. Pankhania (World On Fire) joins the lineup as DC Lee. The guest cast for the first story includes Toby Stephens (Black Sails), singer/songwriter Pixie Lott (The Voice Kids), Lydia Leonard (Flesh & Blood), Daniel Lapaine (Miss Fisher & The Crypt of Tears), Dipo Ola (We Hunt Together), John Gordon Sinclair (Traces) and Ace Bhatti (Line of Duty).
McDonald & Dodds Season 4 is expected out in 2024.
---
By
for on July 28th, 2023
More to Love from Telly Visions