By
for on June 17th, 2023
British Actors You Should Know: Shirley Henderson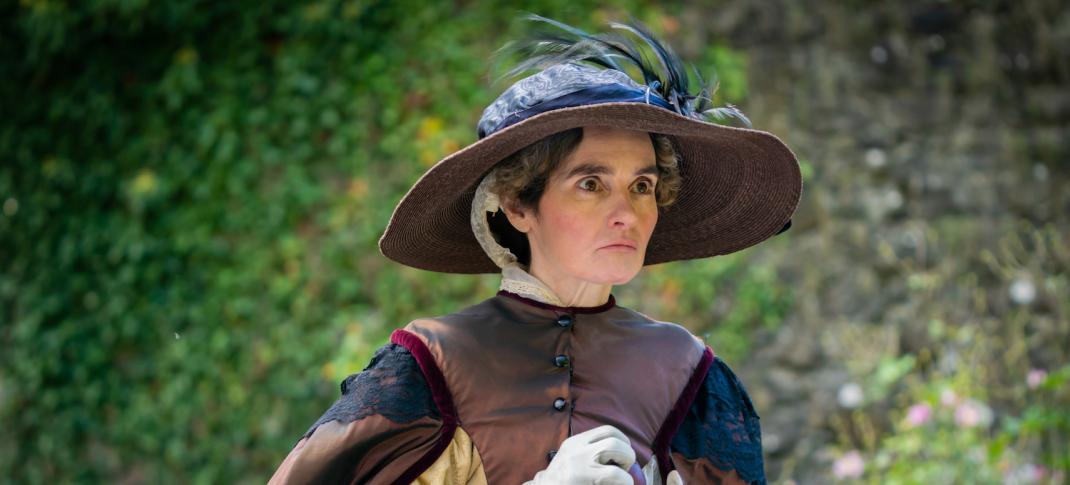 Scottish actor Shirley Henderson, last seen on PBS Masterpiece as Aunt Western in Tom Jones, seems to pop up in everything, is instantly recognizable –– tiny, dark, and intense, with that characteristically high voice. She was known for years as "Spud's girlfriend" from Trainspotting, until she became famous as Moaning Myrtle in the Harry Potter franchise. However, her career has been so much more.
Henderson came from a working class background and began her career as a child, singing in working men's clubs and in the ring before boxing matches. Inspired by the TV talent show Opportunity Knocks, she went on to a place at the Guildhall School of Music and Drama at the age of 17. Her first big TV break came in the series Hamish Macbeth (1995) starring Robert Carlyle.
Trainspotting (1996), provided breakout roles for her, Carlyle, and Ewan MacGregor, until she landed the role of Moaning Myrtle in Harry Potter and the Chamber of Secrets. She also became identified with the Bridget Jones movies, as best friend Jude, a high-powered bank executive who calls Bridget daily from the privacy of the ladies' toilet in tears over her boyfriend.
Let's look at some of the roles that made her career, both the well-known and the less remembered.
Moaning Myrtle in 'Harry Potter'
In a 2018 web chat with fans in The Guardian, Henderson was asked about her inspiration for Moaning Myrtle (the ghost of fourteen-year-old Myrtle Warren who haunts the Hogwarts bathroom): "The clues are in the book! She's an old woman in a young girl's body and feels things way beyond her years. She's very much in love with Harry and can do nothing about it."
Shirley holds the dubious distinction of being the oldest actor (mid-30s) to portray a Hogwarts student in both Harry Potter and the Chamber of Secrets (2002) and Harry Potter and the Goblet of Fire (2005).
'Doctor Who': "Love and Monsters"
Now with a younger generation of fans, Henderson went on to take a role in Doctor Who ("Love and Monsters" 2006), playing Ursula Blake, a victim of the Azorbaloff, a monstrous mattress-like creature who absorbs people, and whose victims faces are stuck in his anatomy. Yes it's weird, and Shirley lives in his stomach area.
The Doctor (David Tennant) defeats the Abzorbaloff, causing him to become absorbed into the earth. Ursula's boyfriend Marc Warren is able to extract her and their subsequent romantic relationship continues with Ursula's living face engraved on a rock tablet, which is even weirder and not much of a happy ending for either of them.
'The Taming of the Shrew'
Given Henderson's acting training and early stage experience, it's surprising that she doesn't do more Shakespeare, but she was terrific in a version of The Taming of the Shrew, written by Sally Wainwright for the BBC series ShakespeaRe-Retold (2005).
Katherine Minola is a high-powered, terrifying conservative politician who comes to the conclusion that marriage will promote her political career. Petruccio (Rufus Sewell), an impoverished and eccentric aristocrat, decides she is the woman for him, and they enter into a tumultuous battle of wills and mutual attraction. Given this was made eighteen years ago I'm not sure it's aged too well, but you can't deny the energy, charm, and inventiveness of their performances.
'Charles II: The Power and the Passion'
Henderson appeared in 2002 with Rufus Sewell in Charles II: The Power and the Passion (The Last King in the U.K.), currently streaming on both Britbox and Amazon Prime Video. In this interview, Sewell talks about Catherine's arrival at the royal court, when the King takes in the tiny black-clad woman with enormous hair and exclaims, "They brought me a bat to marry." Henderson joins him and they talk about the series and how Charles and Catherine become allies and friends if not conventional lovers.
The series is a riot of lace, wigs, and aristocratic misbehavior, and the cast includes the late Helen McCrory as Barbara Villiers, Charles's chief mistress. The series struggles to stick to historical facts (the Great Fire, the Plague, wars, Charles's refusal to compromise with Parliament), but the portrait of the marriage rings true. Charles could have sent Catherine back to Portugal after she was found to be infertile, but she stayed as his Queen, and they are, for the most part, affectionate and gentle with each other. Charles clearly found his wife more restful than Barbara, Nell Gwynn, and the rest of the demanding royal lovelies.
The role of opera singer Leonora Braham in Mike Leigh's Topsy Turvy (1999) gave Henderson the chance to exercise her singing chops. When William Schwenck Gilbert, lyricist (Jim Broadbent), and composer Arthur Sullivan (Alun Cordiner) are fresh out of ideas for their next opera, they turn to Japan for inspiration. Leonora debuted many roles for Gilbert and Sullivan, including that of Yum Yum in The Mikado.
"Working with Mike Leigh was extraordinary. It really opened up my world in film. We did a lot of improvising and research, building a character from scratch but also looking for clues into her, finding local hints about her life. She liked a little drink –– that gave me a feeling that I was able to take into the dressing room scene. Leonora Braham had a lot of sadnesses in her life."
PBS Masterpiece's The Way We Live Now (2001) seems to have disappeared from the streaming circuit, but this was a much-praised series based on Anthony Trollope's 1875 novel of the same name and adapted by Andrew Davies (Sanditon).
Augustus Melmotte (David Suchet), a European-born financier with a dodgy past, takes London by storm, recruiting the rich, gullible, and stupid for a dodgy investment scheme. Dissolute spendthrift Sir Felix Carbury (Matthew MacFadyen) takes the bait, and also pursues Augustus's daughter and heiress Marie, played by Henderson. This series of scenes between Matthew and Shirley is interesting not only for their acting chops, but for the chance to see Mr. Darcy behave like Mr. Willoughby.
Singing is also the focal feature of Urban Hymn (2017). Set against the background of the 2011 U.K. riots., visionary social worker Kate (Henderson) believes in the redemptive power of music and encourages angry, wayward teen Jamie (Letitia Wright) to use singing to escape from her troubled life.
Jamie is torn between Kate and her street-tough best friend, Leanne (Isabella Laughland). Reactions were mixed –– The Times called it "a movie of noble intention and clod-footed execution," but the more left-wing Guardian defended it as: "A mixed bag, but one that comes good in its closing stretch, working its way towards a place of quiet power."
'The Trouble With Jessica'
Having touched on just a few of Henderson's best roles, this is the trailer and blurb for her next movie The Trouble With Jessica (2023), where she once again exercises her comic chops. Note that even now, the ghost of Moaning Myrtle haunts her.
Can the prospects of failing to sell a home lead to committing a crime? Audiences can find the answer to that question in the upcoming black comedy, The Trouble With Jessica. The film, which also stars Sewell and Olivia Williams (The Crown), has launched its first trailer, taking audiences through glimpses of events that lead to normal folks committing a crime. The movie follows two couples who find themselves in an unforeseen circumstance that leads them to move a dead body. The couples decide to commit this crime for the sake of making sure their house sale doesn't fall through.
Stream Now
Tom Jones
Two lovers follow their hearts in a new adaptation of Henry Fielding's novel.
Image
---
By
for on June 17th, 2023
More to Love from Telly Visions