By
for on October 3rd, 2022
The 'Magpie Murders' Trailer Hints at a Complex Ending
Since Masterpiece announced in 2020 that it would adapt British author Anthony Horowitz's novel Magpie Murders to series, viewers have been anticipating having Lesley Manville as an amateur sleuth solving a mystery via the victim's novel. Little did they know it would come as part of a trio of shows centered around female detectives, or in the middle of the Manville-aissance, where the actress would simultaneously be starring in Sherwood, The Crown, Mrs. Harris Goes To Paris, and Dangerous Liaisons in a 90-day span.
But Magpie Murders is probably the biggest of her projects and the most likely to extend to a regular series, should it be a big enough hit on this side of the pond. (It was already a critical darling in the U.K. when it aired on BritBox UK in early 2022, but no renewal information has been forthcoming as yet.) In it, Manville plays Susan Ryeland, who is not a classic detective or even a person with a police background. Instead, she's an editor who is thoroughly irritated that her best-selling author, Alan Conway (Conleth Hill), has not turned in his manuscript on time. 
But when the pages finally make their way to her, Ryeland discovers she's missing the most crucial part: the final chapter that reveals the murderer. Worse, she cannot get those pages because they're missing, and Conway has been murdered. As she rereads his chapters, Ryeland realizes that all his characters, save his detective Atticus Pund, are based on the real people in his life, and the person revealed in the final chapter is probably the one who killed him.
Here's the series synopsis:
Book editor Susan Ryeland is given an unfinished manuscript by best-selling mystery writer Alan Conway featuring Conway's longtime main character, detective Atticus Pünd. When she attempts to attain the final chapters from Conway, she finds herself in the middle of a shocking mystery case of her own that will change her life in ways she never expected.
Manville stars alongside Conleth Hill (Vienna Blood) as author Alan Conway, with Timothy McMullan (Patrick Melrose) as Manville's imaginary partner in crime solving, detective Atticus Pünd. The rest of the all-star lineup of suspects includes Daniel Mays (Line of Duty), Alexandros Logothetis (The Island), Claire Rushbrook (Home Fires), Matthew Beard (Dracula), Pippa Haywood (Bridgerton), and Michael Maloney (Mr. Selfridge). Horowitz wrote all episodes based on his own work, and The Full Monty's Peter Cattaneo directed all six episodes.
Magpie Murders will debut on most PBS stations starting Sunday, Oct. 16, at 9 p.m. ET (between Miss Scarlet Season 2 at 8 p.m. and Annika at 10 p.m.) and stream as a binge on PBS Passport starting the same day. As always, check your local listings.
Stream Now
Magpie Murders
A mystery author dies and a search for a missing chapter in his new book leads to murder.
Image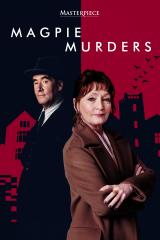 ---
By
for on October 3rd, 2022