By
for on November 13th, 2022
Lost Treasures Are Discovered in the Penultimate Episode of 'Magpie Murders'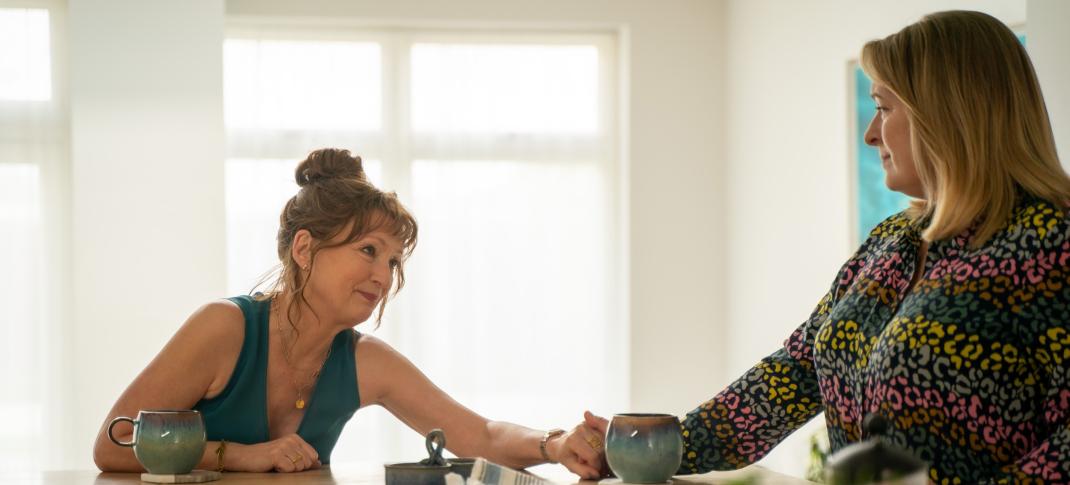 This week's episode of Magpie Murders again opens with a flashback to 2015, and Alan Conway is leading a writing workshop. He reads an excerpt from his manuscript, The Slide, and encourages the class to comment. Lee Jaffrey (remember him?) ventures some mild praise, but another participant says he doesn't get it, as he was expecting a whodunit. Alan gets annoyed at the mention of Atticus Pünd and asks the student his name. Predictably, Mr. Brent becomes the slovenly, witless gardener in Magpie Murders.
In the present, Susan is faced with her unsettling quandary from last week, the incriminating photo of Andreas and Alan sent to her anonymously. James Taylor texts her as she sits, as he remembered Conway's manuscript sitting on a coffee table when he left; he also saw Alan's sister, Claire, arriving as he went. He wonders if she might have taken the manuscript out of resentment. At Abbey Grange, Susan shows James a photo of Andreas. He doesn't recognize it but recalls Alan complaining a former colleague emailed him, presumably hoping to procure money. Alan didn't discourage Andreas from visiting, hat in hand, because it would be a pleasure to turn him down.
On the ride to London, Pünd sits in the passenger seat, suggesting motives for Andreas: fear, envy, anger, and desire. As he speculates, an exasperated Susan kicks him out of her brain and car before stopping at Claire's to pressure her about the Magpie manuscript. Claire admits she took it, but only read a few pages before burning it, humiliated by Alan's depiction of her. He'd demeaned her for years, paid her a pittance to be his dogsbody, and used her friend DI Locke as inspiration for his incompetent policeman in the Pünd adventures. She's glad he's dead.
In Saxby-on-Avon, Fraser takes Pünd to the antique shop where DI Chubb is waiting. Pünd uncovered Jack Whiteley's real surname is Whitelaw, formerly part of the Mansion Gang, a London-based professional burglary ring. The Whitelaws insist they came to the village for a new start and didn't know the brooch had anything to do with Sir Magnus. When asked who sold it to them, they pointed the finger at Brent.
The gardener admits he sold the brooch to Whiteley, pulling up a floorboard to reveal a silver figurine. He leads the detectives to a section of lawn near the lake where both pieces were found. He knew they were Sir Magnus' but felt entitled to keep them after being dismissed. Pünd asks Chubb to dispatch divers to dredge the lake and asks Brent to access Mary Blakisto's lodge house. 
As Pünd and Fraser walk through the eerie gloom, they find a dog's collar in Mary's sewing room and her diary. Atticus realizes it's a collection of all the dirt the housekeeper had on her fellow villagers. Pünd calls on several of those featured on Mary Blakiston's naughty list but doesn't appear she blackmailed or threatened anyone.
Stream Now
Magpie Murders
A mystery author dies and a search for a missing chapter in his new book leads to murder.
Image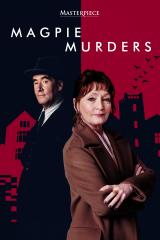 After checking on those in the diary, Pünd visits the church, where Rev. Osbourne (Chu Omambala) says Mary had "a strong interest in the community" but was a blessing to the church. He doubts Robert had actual malice towards his mother, as he was so distraught at her funeral that he left without speaking to his father, Matthew (David Herlihy).
Finally, Pünd stops at Lady Pye's to ask about Charles Dartford, her financial advisor, who Mary referenced in her diary. Though not surprised Mary was keeping tabs on her personal life, Lady Frances never received any threats from her housekeeper. She and Dartford had a very close relationship; she was with him in London the night Magnus was murdered. However, she also claimed to have called Mrs. Blakiston every day she was on holiday, including the day of Mary's death.
As expected, the rest of Sir Magnus's "stolen" artifacts are recovered from the bottom of the lake, as Pünd maintains that Pye Hall was not burgled. He promises soon everything will be made clear. While he isn't ready to name Sir Magnus's killer, Atticus knows Lady Pye murdered Mary Blakiston. Young Fraser is baffled this accusation doesn't involve Frances's affair, but Pünd insists she all but told them she did it.
Susan speeds back to London as Andreas fails to return her calls. She marches into his classroom to confront Andreas and, once the students clear out, shows him the photo. As she points out, the picture makes it look like he murdered Conway; Andreas promises he is innocent, though he admits he lied to her. However, his version of what happened is vastly different, mainly because it doesn't involve murdering Alan Conway. Andreas swears he went to Suffolk to ask Alan to invest €150,000 in his hotel in Crete. Alan was dismissive and derisive until Andreas asked him not to mention their discussion to Susan.
Suddenly, Conway's attitude shifted; he called his solicitor to arrange the money transfer as a gift to Susan for helping him with the Pünd series. Celebratory drinks in hand, the men went up to the tower, where the grateful Greek went in for a thank-you hug. Despite Alan's untimely death, Mr. Khan had the money ready for Andreas the following week. Susan is upset that Andreas would accept money, giving Conway control over her. Andreas is bitterly disappointed that Susan, his partner of six years, could believe him capable of murder. It's the moment where he realizes they can't be happy together in Crete or anywhere else.
Many loose ends remain, with the Magpie Murders finale set to air next week. For example, who was on the ground at Abbey Grange taking that misleading photo of Andreas and Alan? As Atticus Pünd is fond of saying, "Very soon, all will be made clear."
---
By
for on November 13th, 2022
More to Love from Telly Visions