By
for on November 6th, 2022
Funerals and Betrayal Are the Focus in 'Magpie Murders' Episode 4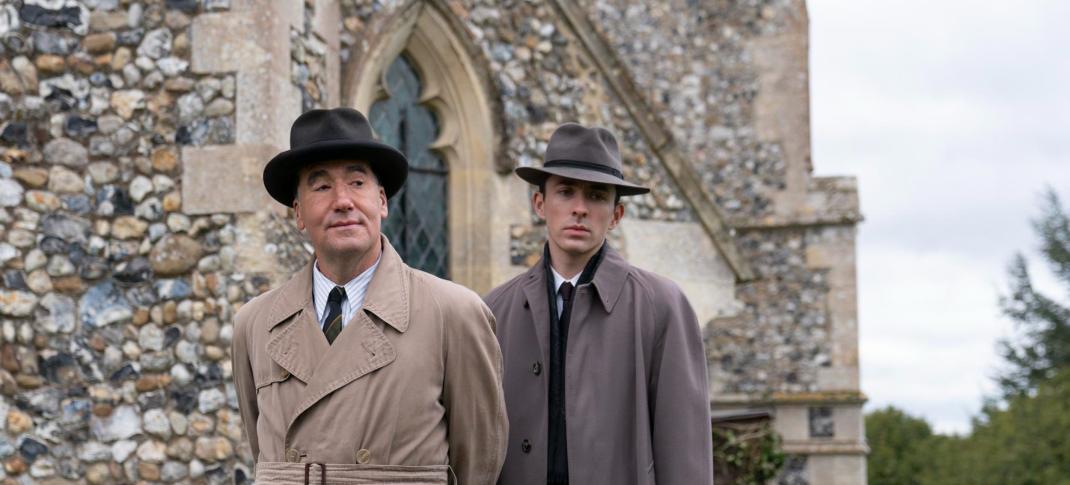 Magpie Murder's 4th episode begins with a flashback to a friendly catch-up between Susan's sister, Katie, and Alan Conway in a coffee shop. Katie seems pleasantly surprised that the author is interested in hearing about her and her family. But by now, we all know Conway is only interested in using others for his own gain and amusement.
In present-day London, Susan's ambivalence concerning her job promotion versus moving to Crete is wearing thin for Charles and Andreas. Both men are pressing her for a decision, and it appears she's waiting for a solution to her dilemma to drop from the sky.
In Saxby-on-Avon, Atticus Pünd has a fainting spell at breakfast. He is taken to the office of the village physician, Dr. Kamal (Sanjeev Kohli), who quickly clocks Pund's terminal condition. The detective takes the opportunity to ask the doctor a few questions about Mary Blakiston's death instead. He confirms that she appeared to have fallen down the stairs and was dead when he arrived; Brent had a key to the house. Also, she may have annoyed some locals with her snooping, but not enough to drive anyone to murder. Pünd says it depends on what Mary found out. On his way out, Joy Sanderling asks Atticus if she and Robert can meet with him after Sir Magnus's funeral to talk about the death of Sam Blakiston.
Sir Magnus and Conway's funerals are juxtaposed, with the double-duty actors appearing at both services. Neither man was beloved, and plenty of the 'bereaved" are glad to see the back of them. Susan and Pünd, each at their respective ceremonies, scan the attendees, wondering which one is likely to be the murderer.
The mourners are invited to Pye Hall for a drink and an update on the investigation from Inspector Chubb. The policeman hitches a ride with Pünd and Fraser, admitting he has no new leads. A scrap of paper from the fireplace in Sir Magnus's study had his blood on it, so the killer returned there after the murder, perhaps looking for something important. Pünd suggests the paper in the fireplace was what the murderer was after, and they burned it to get rid of the evidence.
Meanwhile, James invites Conway's friends and family to Abbey Grange. Susan makes a beeline for Alan's ex-wife, Melissa (Nathalie Armin), who says Alan's coming out was hard on their son, Freddy. Alan blamed her for suggesting he write a whodunit rather than the pretentious literary works he aspired to publish. Atticus Pünd made Alan rich and miserable. But more importantly, Susan learns Melissa and Andreas were together for years before she met Alan, something he never mentioned in the six years they've been together.
James makes an awkward speech "honoring" his partner wherein he describes Alan as a difficult bugger; they had their ups and downs; now, the house and most of Conway's money have been left to him. Their neighbor, Jack White, made a generous offer on Abbey Grange, so James is selling it and going for London. He raises a glass to Alan and then unceremoniously tells everyone to leave. On the way out, Susan congratulates Jack on buying the house. He says Alan was an impossible neighbor who relished picking fights; he bought Abbey Grange primarily to have a say in who lives there next.
Fraser and Pünd return to the garage to learn about the death of Sam Blakiston. Robert sets the scene; his father was away in the RAF, and when Mary became the housekeeper at Pye Hall, the family moved into the lodge house. Fourteen-year-old Robert (Joel Birkett) and twelve-year-old Sam (Jude Hill) had free rein of the grounds; Sir Magnus often hid one of his Roman coins for the boys to find.
One summer's day, the brothers separated during a treasure hunt, and Sam searched near the lake. Brent found him in the water, but it was too late; Sam had drowned. Robert's parents broke up, blaming each other for Sam's death. Mary and her remaining son stayed at Pye Hall, and Robert never entirely overcame that traumatic day. He blamed not only Sir Magnus but everyone, including himself.
Stream Now
Magpie Murders
A mystery author dies and a search for a missing chapter in his new book leads to murder.
Image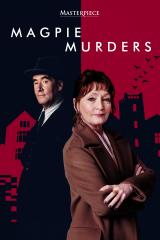 On her way to Katie's, Susan visits her father in the hospital, who begins apologizing, but she interrupts. He divorced her mother for the nanny long ago; she's forgiven him. Max says he was very happy but regrets what leaving did to her. Susan never found love or married because of her abandonment issues. Offended, Susan walks out to find Pünd waiting, asking why she's still so angry. Susan says her mother struggled to cope with the shame after Max left. While on a solitary holiday in the Lake District, Susan's mother got out of her depth while swimming and drowned, but she never believed it was an accident.
Suddenly, it hits Susan: Her family's tragedy is woven into the plot of Magpie Murders. She rushes to Katie's and confronts her about spilling their family's misfortune to Alan Conway. When Susan spells out how Alan made a game out of their pain, Katie is blindsided. Sir Magnus and their father both had relationships with their children's caretakers; the drownings of Sam Blakiston and Samantha Ryeland; even the surname of the Pyes' nanny, Darnley, is an anagram of theirs.
Katie tells Susan about the unexpected meeting with Conway, saying it just felt like a chat and apologizes; however, Susan's done being angry at her sister. It's all Alan's fault. She goes upstairs to change and checks an incoming message on her computer. An unknown account has sent her a screenshot of what appears to be Andreas and Alan Conway in a struggle on the tower at Abbey Grange. Her beau has turned out to be quite secretive already, but could he be a murderer?
---
By
for on November 6th, 2022
More to Love from Telly Visions