By
for on October 30th, 2022
The Plot Thickens with Burglaries and Plagiarism in 'Magpie Murders'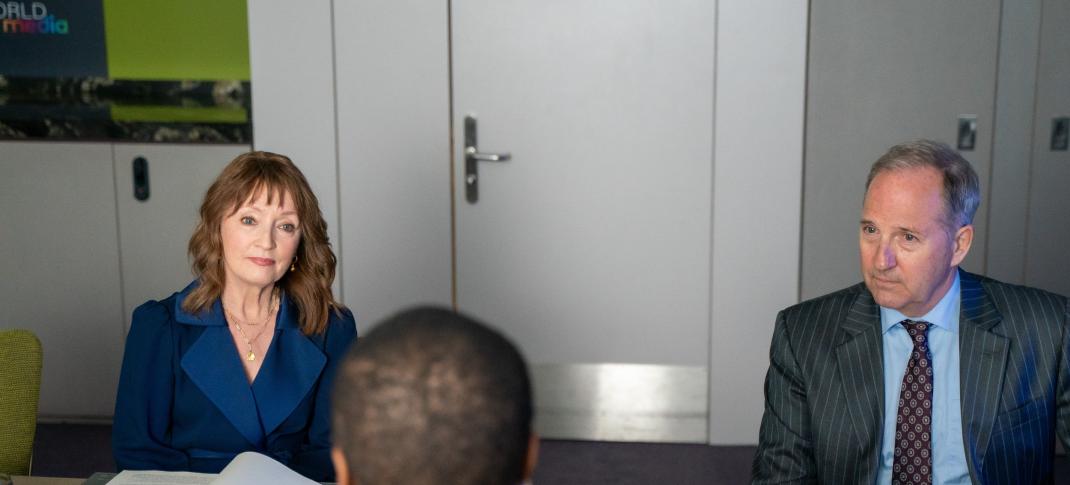 The third episode of Magpie Murders begins not in the present or the fictional past but in a flashback. Seven years earlier, Susan Ryeland and Alan Conway are in the midst of a vigorous disagreement. Alan has written a flashback scene about a young Atticus Pünd in a Nazi concentration camp, and Susan is arguing the horror of the Holocaust doesn't add anything to the story. It isn't why people buy his books. It's another reminder of how much Conway chafed against the tropes that brought him success
Back in the present day, Susan and Charles Clover are finally attending the long-awaited meeting with Citywide Media executives, which has become a discussion of how Conway's death may affect the acquisition. The head honcho is satisfied as long as the Atticus Pünd backlist and the new book are part of the deal. They push Susan to make a decision on the promotion ASAP.
Post-meeting, Susan describes her unproductive trip to Suffolk, while Charles reiterates Conway was drunk and belligerent at their dinner on Thursday night. He also recalls that a waiter dropped a tray of food which briefly silenced the diners. Charles suggests she accompany him to Alan's funeral; par for the course, Susan wasn't invited.
Pünd and Fraser, meanwhile, are in a churchyard in Saxby-on-Avon where Sir Magnus will soon be buried. Mary Blakiston's grave is nearby; the digger says everyone knew her because she was a busybody. Atticus notices another gravestone next to Mary's, that of a child named Sam.
The detective's next stop is the garage where Robert Blakiston works. Initially, the young man is ill-mannered towards Pünd but softens once his fiancé, Joy, appears. Robert explains his mother worshipped Magnus. After their dad left, they moved into the lodge house at Pye Hall — Robert, his mother, and his brother Sam who later died in a tragic accident. Robert adds Sir Magnus was like a father to him, helping with his schooling, employment, and lodging.
Robert describes his difficult relationship with his mother; however, he denies threatening her before she died. Joy claims Mary had been kind to her in the past, but once the couple announced their engagement, her racist feelings were revealed. Mary said she wouldn't have her future generations tainted and warned Robert the marriage would not go ahead.
Andreas makes dinner as Susan muses on all the people she and Alan shared connections with long before she became his editor (Alan's ex-wife Melissa, Katie, and Andreas). Talk turns to Crete, where Susan is unpleasantly surprised at how fast plans are progressing. Andreas is leaving his teaching job at the end of the term, his cousin secured a loan to buy the property. Susan argues it isn't her world, but Andreas counters the timing is perfect; they'll learn the business together. Though they're at an impasse, Andreas seemingly has decided to go, with or without Susan.
Frustrated, Susan finds herself confronted with Pünd, and the conversation leads to her defending her love of books, specifically the reassurance of mysteries. When she asks him to reveal the Magpie killer, he suggests she take events in the order they occurred – Mary Blakiston's death, her funeral, and finally, the questionable burglary.
Speaking of burglaries, Pünd notices a silver brooch in the window of Jack Whiteley's (Karl Collins) antique shop. When he asks to see the Roman piece on display, Jack claims it's already been sold and declines to give Atticus any further information. His wife Gemma (Sutara Gayle) appears, volunteering that it came from a flea market. Pünd calmly departs, but the Whiteleys are unnerved by the famous detective sniffing around their shady establishment.
Fraser and Pünd circle back to Pye Hall, where they question the gardener, Brent (Ian Lloyd Anderson). He could be described as a disgruntled employee. He was the one to discover Mary at the bottom of the stairs. He described Mary and Sir Magnus as lovey-dovey, but not in a romantic way. However, Brent dished that Lord Pye had a roving eye for pretty, young servants, including the former governess, Miss Darnley, who left Pye Hall in the family way.
As for his whereabouts on the nights of the theft and Sir Magnus's murder, Brent stated he wasn't around for either event. The gardener let slip that Pye blamed him for the burglary and said, in anger, that he wanted Brent gone.  
Stream Now
Magpie Murders
A mystery author dies and a search for a missing chapter in his new book leads to murder.
Image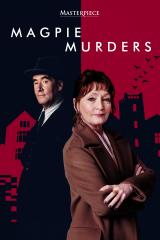 Susan's irritation with her imaginary detective grows when Pünd suggests the murderer in the book is not her concern but rather, who killed Conway. Atticus asks what Alan's state of mind was when he delivered the book to Charles. When Susan responds that he was drunk at a restaurant, Pünd suggests she should start there. At Alan's fancy club, Susan asks to speak to the waiter who dropped the plates on Thursday night. An aspiring writer, Lee Jaffery (Paul Tylak), tells Susan that he was so shocked to see the man who plagiarized his book, Magpie Murders, he dropped the plates on the spot.
Alan was a guest tutor at a writing course Lee had attended. Lee said Alan only read the first chapter, but he filled the famous writer in on the entire plot, and Alan took lots of notes. Susan agrees to read the book and asks who Lee sent his chapters to at Clover Books. He gives her the name Jemima. (We soon learn that Jemima has suddenly left for another job.)
Susan tells Charles about Lee Jaffrey and how Alan stole many aspects of Magpie Murders from the amateur writer, including the title. She realizes Lee must have known where Alan lived because he mentioned Suffolk. Charles confirms he received an email from Jemima but doesn't see her departure as particularly suspect.
At home, Susan pours a glass of wine and calls Andreas. He ignores her call, so she leaves a message apologizing for their falling out over the Crete situation. Later she gets a video call from Katie breaking the news that their dad has suffered a stroke and is desperate to see her. Still angry that he walked out on them as children, Susan shunned her father for thirty years. When Katie suggests it would provide Susan with some closure, she gets flustered and ends the call. Pünd suddenly appears, pontificating on the pain of infidelity and how betrayal can be deadly.
There's a fierce row between Lady Frances and Sir Magnus. She's had enough of his dirty affairs and the humiliation she's endured. When he belittles her, she slaps him and threatens to put a knife in him.
In the last moments of the episode, the audience is shown that Sir Magnus and Susan's father, Max Ryeland (Lorcan Cranitch) are dual characters, bringing yet another interesting twist is the unreliable narration of the story within the mystery. 
---
By
for on October 30th, 2022
More to Love from Telly Visions