By
for on October 23rd, 2022
Fictional Detective and Editor Cross Paths in Episode 2 of 'Magpie Murders'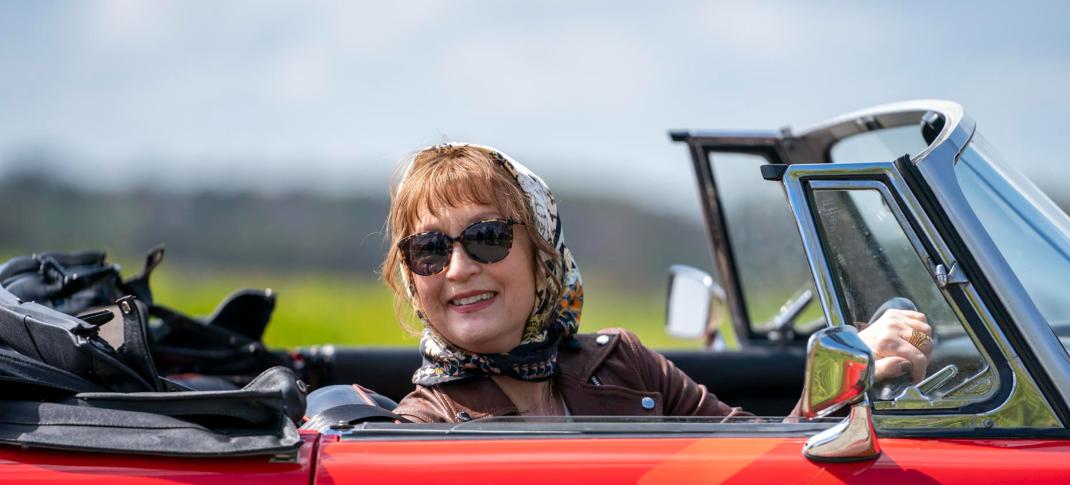 As this second installment of Magpie Murders begins, viewers are plunged right back into Alan Conway's final Atticus Pünd novel. We learn that a second death has occurred in Saxby-on-Avon at Pye Hall, and there's no doubt this one is murder.
The lord of the manor, Sir Magnus Pye (Lorcan Cranitch), has been decapitated by a sword displayed with a suit of armor in his grand foyer. (Like Alan Conway, Sir Magnus was not a popular fellow, so it's anyone's guess who might be the killer.) Atticus Pünd sees a newspaper article about the murder of the wealthy landowner and recalls that Joy Sanderling, a recent visitor to his office, was also from Saxby-on-Avon. He muses that two violent deaths in the same house just weeks apart are likely connected. He and his assistant, James Fraser, set off for Pye Hall to examine the pattern of these deaths and how they may be related.
In a clever plot device, Susan Ryeland crosses paths with Pünd on her way to Suffolk in her red open-top sports car. Susan's first stop is a visit to Alan's solicitor, Sajid Khan, to discuss the day he found his client dead at the foot of the tower. He tells her he was there to change Alan's will but knew nothing of his health or the location of the manuscript. Khan suggests she try Conway's partner, James Taylor, to see if he will grant her access to Alan's house, Abbey Grange.
Pünd and James arrive at Pye Hall, where they encounter cheerful copper Detective Chubb (Daniel Mays), an admirer of Pünd's work. They discuss Mary Blakiston; when Atticus suggests her death may be suspicious, Chubb insists she fell down the steps while vacuuming. On the other hand, Sir Magnus's death is undoubtedly a homicide; sometime between Mary Blakiston's death and the return of Sir Magnus and his wife, Lady Frances (Dorothy Atkinson), from their holiday abroad, Pye Hall was burgled. Sir Magnus's priceless collection of Roman coins and jewelry is missing, and the perpetually unpleasant Lord Pye pins the blame on his gardener for not being more vigilant.
As Chubb describes the relationship between Sir Magnus and Mary as warm and supportive, Pünd walks about the hall, choreographing how the murder played out. To Chubb's surprise, Atticus concludes that the victim knew his killer because he must have been walking them to the door when he was attacked. In the study, Chubb tells Pünd Lady Francis discovered Sir Magnus's body when she returned home at 10:45. The safe was open, but nothing appeared stolen., but there was a threatening letter, typed and unsigned. Pünd points out it's in a handwritten envelope (The opposite of Conway's letter to Clover).
Chubb, Pünd, and James enter Lady Frances's room just as she and her son Frederick (Nathan Clarke) are chatting. Pünd questions the irritated widow, finding no tears, just annoyance. She was in London that evening; it never occurred to her that Mary and her husband's deaths were connected, and, by the way, she would describe the housekeeper as being obsessed with her husband.
Susan shows up at Abbey Grange, where James seems blasé about Alan's death and admits to starting his relationship with Alan as a rent boy. Conway did leave his estate to James, but with a new will on the way, would he kill to keep his inheritance? After an unsettling and perhaps intentionally intimidating trip to the site of Alan's great fall, James escorts Susan to Conway's study to look for a Magpie draft. Their search only yields empty drawers, blank notebooks, and a wiped hard drive. James advises Susan to talk to Conway's sister, Claire Jenkins. On her way down the drive, Susan notices some tire tracks off the side of the house. While two magpies look on, Pünd also watches Susan from the house.
Pünd turns to continue his questioning of Lady Frances. Her marriage was not happy; she didn't marry Magnus for love. She sneers at the suggestion anyone besides her husband would have the combination to the safe. When shown the menacing letter they found on the victim's desk, Frances says they've received several letters like this one. She attributes them to an uproar in the village over Magnus's plans to turn Dingle Dell meadow into a housing development and points her finger at her sister-in-law, Clarissa Pye.
Following Frances's lead, Pünd gets Clarissa's side of the story on Dingle Dell. She told her brother his construction project would be an act of vandalism against the village's vital natural habitat. Miss Pye also shares she and Magnus were twins born just minutes apart, but the entire estate went to him for being born first.
Mirroring Pünd's investigation, Susan makes Claire Jenkins her final stop of the day. Alan's sister lies, claiming she never saw the Magpie Murders manuscript. (Though we know she read it, she and Clarissa Pye are one and the same.) Claire believes her brother was an unhappy man who resented the character who had made him wealthy and successful. His health crisis may have been the final straw that led him to suicide.
Susan runs into Detective Locke as she leaves, who bristles at seeing her in the village, and threatens her with obstruction charges. Ryeland explains she is trying to track down the vital missing chapter of Alan's book. The officer admits that he knows Claire from her previous job with the police department and that he had met Conway in the past. It suddenly dawns on Susan that Detective Chubb and Locke are also one and the same, irritating the officer even further. He warns Susan to find the lost pages and stay out of his way.
Back at her sister's house for the evening, Susan calls Andreas to fill him in. As they end the call, we see Andreas in Mr. Khan's office. Apparently, he also somehow profited from Alan's death, and Susan knows nothing about it.
Stream Now
Magpie Murders
A mystery author dies and a search for a missing chapter in his new book leads to murder.
Image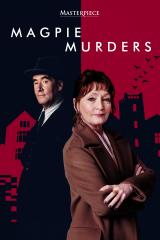 Over dinner, Katie (Claire Rushbrook) accuses Susan, her once inseparable sibling, of being elusive about her life. Evidently, there is also a rift between Susan and her father, who is now quite unwell. It's also mentioned that Katie knew Alan while still teaching; she says he was unpopular with the students.
That night, Susan dreams of Atticus Pünd. He appears in her room to discuss Conway's suspicious demise. He sets out three possibilities: Alan's death could have been an accident, suicide, or murder. The fictional detective suggests she re-read the "suicide note" more closely, keeping in mind how people close to Alan felt about him.
Susan mulls over all she has learned on her drive back to London. She bursts into Charles Clover's office, announcing Alan was murdered. They peruse Conway's letter together, with Susan clarifying that the book was finished, not his life. She's convinced someone that Alan "disguised" in his story took the last chapter because it revealed a secret about them. "The answer," declares Susan, "is in the book."
---
By
for on October 23rd, 2022