By
for on April 23rd, 2020
British Actresses You Should Know: Lesley Manville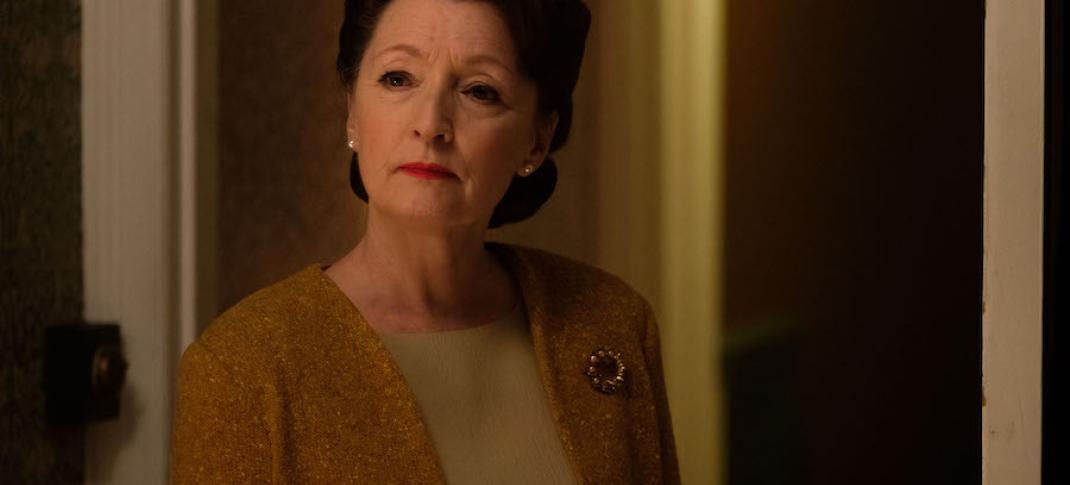 Lesley Manville is a British actress who's been working for decades, ever since she got her start on the soap Emmerdale back in the 1970s. That she only got her first Academy Award nomination in 2018 feels almost criminal, but it's wonderful that such a talented performer is finally starting to get her due.
(Basically: She's amazing, and we all should say so.)
A remarkably talented character actress, Manville has been in everything from romantic comedies to serious dramas, period pieces to contemporary sitcoms. Though she has a particular talent for playing waspish aristocrats, she is skilled at imbuing even the most messy and unlikeable of characters with sympathetic undertones. (Looking at you, Lydia Quigley.)
Here are just a few of Manville's best and most notable roles from the past few years.
Another Year. This 2010 comedy-drama is written and directed by Mike Leigh, known for such films as Vera Drake, All or Nothing and Peterloo. Jim Broadbent and Ruth Sheen star as married couple Tom and Gerri, and the story follows them over the course of the four seasons of a year, as well as their struggling group of friends.
Manville plays Gerri's friend Mary, who works as a health center receptionist and is recently divorced. Though she tells everyone she's happy and looking for a new relationship, she drinks too much and appears depressed. Her character's arc over the course of the film is not a particularly happy one, but Manville's performance is stellar.
North and South. A classic of the period drama genre, North and South is adapted from Elizabeth Gaskell's 19th century novel and originally aired in 2004.
It follows the story of Margaret Hale, a young woman from southern England who must move to the North w   hen her father decides to leave the clergy. There, Margaret meets cotton mill owner John Thornton, with whom she immediately clashes over his background and treatment of the workers who work for him. The show explores themes of gender, social justice and class alongside the inevitable swoon-worthy central romance between the two.
Manville plays Margaret's mother Maria, whose illness plays a central part in the story.
Cranford. The story of a quaint village and the absurdities of everyday life in a small Northern English town, Cranford is perfect comfort viewing. As modernity creeps ever closer to their town, talk of a new railway has residents nervous and the arrival of a handsome young doctor from London causes something of a stir. (As do his cutting-edge treatment methods.)
Manville is part of a truly all-star ensemble of formidable British actresses that includes everyone from Judi Dench to Eileen Atkins to Imelda Staunton, Julie McKenzie, Francesca Annis and more. She plays Mrs. Rose, the housekeeper of new Cranford arrival Dr. Harrison, who sets her romantic sights on her employer, with awkward and uncomfortable results.
River. Stellan Skarsgard stars in this creepy procedural about a brilliant police detective – the titular D.I. John River – struggling with a variety of personal demons. What sets this series apart from the roughly half dozen other series with a similar premise is that River's problems physically manifest themselves into the story. Suffering from guilt after the killing of his partner (played by Nicola Walker), River starts physically seeing her as a regular hallucination during the investigation into his death. (Or a ghost, if you're inclined to see it that way.) 
Manville plays River's superior officer, DCI Chrissie Reid, with whom he has a rather tense relationship. She's an alcoholic with four kids and a perpetually stoned husband, and the role provides plenty of meat for Manville to dig into. She was nominated for a BAFTA for Best Supporting Actress for the role in 2016.    
Phantom Thread. Manville was nominated for a 2018 Academy Award for Best Supporting Actress for her role in director Paul Thomas Anderson's Phantom Thread, a film that follows the story of an intense and unforgiving couture dressmaker named Reynolds Woodcock played by Daniel Day Lewis. Manville plays Woodcock's sister and business partner, whose job it is to keep the House of Woodcock running and make sure her famously temperamental brother is under control.
A tremendously subtle and self-possessed performance, Manville's Cyril is the quietly beating center around which the rest of the story turns. Not because she herself is a genius, but because she knows how to manage one, and occasionally that can make all the difference.
Mum. This subtle heartfelt British sitcom tells the story of fiftysomething Cathy, and her struggle to move on in the wake of her husband's death. The series begins with his funeral in January and each subsequent episode in its first two seasons is named after a calendar month in a year to mark the passage of time. It's third and final installment takes place over the span of a week.
Manville stars as Cathy opposite a cast that includes Peter Mullan, Sam Swainsbury, Lisa McGrillis, Dorothy Atkinson, Ross Boatman and more. The series delves into many of the societal expectations surrounding women, particularly as they navigate issues of loss and family. Plus, Cathy's sweet, slow build will-they-won't-they relationship with family friend Michael is charming as heck.
Harlots. The story of two rival brothels in 18th century London, Harlots is likely the best period drama you've never seen. With an all-star cast of fabulous actresses that includes not only Manville but Samantha Morton, Jessica Brown Findlay and Liv Tyler, the show boldly tells the sort of complex stories about sexuality, class, diversity and gender that few series of its ilk would ever attempt.
Manville plays the domineering, generally awful Lydia Quigley, madam of a posh house who services upscale clients by keeping their secrets as often as satisfying their physical appetites. Lydia is an awful person, but she's a survivor, and she attempts to help her girls learn do the same, by giving them an education, lessons in deportment, and access to influential men. (For a price from everybody, of course.) Her history with rival bawd Margaret Wells drives much of the story, as does her complex affection for eldest Wells daughter, Charlotte.
Ordinary Love. Manville and Liam Neeson star in this complex movie about marriage, love and what it really means to promise one another for better or for worse. The subtle pun in the film's title is that there's nothing ordinary about love, and the act of choosing to share one's life with another is, in fact, quite extraordinary.
Manville and Neeson play Joan and Tom, a long-time married couple who must navigate the shocking and terrifying world of a cancer diagnosis. As Joan's tests grown more invasive and her prognosis appears increasingly grim, their relationship suffers cracks and setbacks as they both try to process her condition in different ways. It's a difficult, dramatic and strangely cathartic story and Manville's performance is the center around which the whole thing turns.  
World on Fire. In this World War II epic, the story spans five different cities and half a dozen lead characters, aiming to tell the story of the war's impact on the lives of ordinary people around the world. It succeeds admirably in this task, largely because it's so focused on a handful of complex and layered women – precisely the sort of characters who are so frequently shunted to the side in war sagas. (Or there only to serve as love interests or victims of violence.)
Manville plays one of these fascinating female characters – Robina Chase, Harry's wealthy, snide and deeply emotionally repressed mother. Robina, who raised Harry on her own after his father died tragically, wants nothing more for her son than for him to be socially successful. Harry, as most of you have probably already guessed, is generally a failure in this regard, and when he brings home a Polish refugee from his posting in Warsaw, Robina's life is set to drastically change.
Do you have a favorite Lesley Manville performance? Let's discuss in the comments.
---
By
for on April 23rd, 2020
More to Love from Telly Visions