By
for on February 8th, 2018
'Luther' Season 5 Starts Filming, Will Bring Back Major Character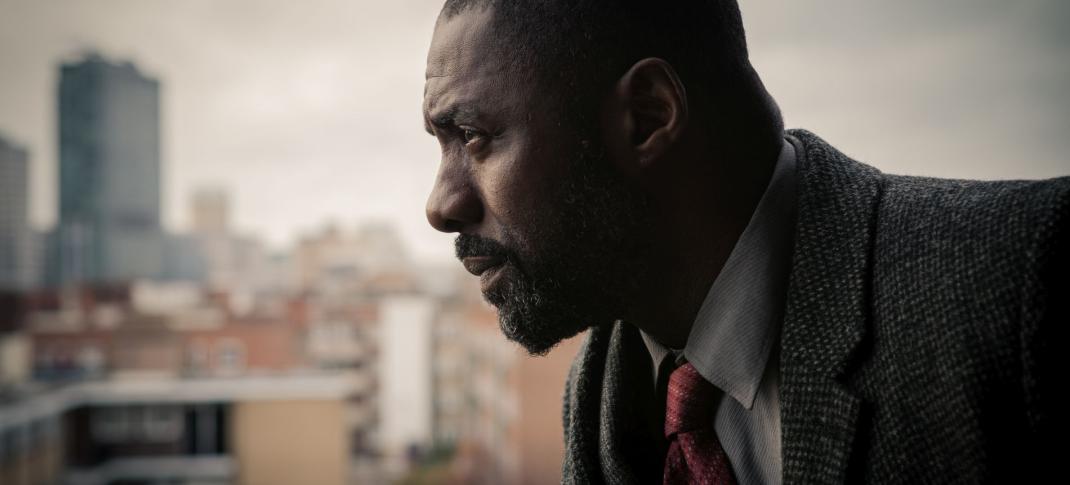 ​Idris Elba is officially "back in the coat" for Luther Season 5. It doesn't seem to matter how far Elba's star rises in Hollywood, with awards fare like Beasts of No Nation and Molly's Game on one side, and commercial box office smashes like Thor: Ragnarok and Star Trek Beyond on the other. In the end, he always comes home to Luther.
The series has had a couple of false endings, first in 2013 after Season 3, and then after a mini Season 4 in 2015. But Elba has now taken on an assistant producer role, and the show has found audiences in the U.S and Australia in reruns. Season 5, here we come.
It's good to be back in London, back in the coat. #Luther @BBCOne pic.twitter.com/4CkLyrJebj

— Idris Elba (@idriselba) January 11, 2018
The new season will return to the length of Seasons 2 and 3 with four episodes. (The original run of Luther in 2010 was six episodes; Season 4 was merely bite-sized, with only two.) Filming on Season 5 kicked off on January 11th of this year. In the past, there's been about a nine-month turnaround from the start of filming to the premiere date of the series on BBC One (and then another, smaller gap to get the show to the states). So if this series follows that pattern, we could be looking at a premiere sometime around the 2018 holiday season. 
So what brings Luther back to the streets of London, and what horrendous baddies is he hunting down now? And more importantly, who will be joining him on the chase? Here's the synopsis:
When the moonless shadows of London give birth to a new nightmare, DCI John Luther must once again confront the depths of human depravity. As a series of monstrous killings becomes ever more audacious, Luther and new recruit D.S. Catherine Halliday are confounded by a tangle of leads and misdirection that seems designed to protect an unspeakable horror. But even as the case brings him closer than ever to the nature of true evil, a reluctant Luther must also face the ghosts of his own past. Striding back into the line of fire, he must choose who to protect… and who to sacrifice. Whatever his next move, it will have devastating consequences for those around him — and change John Luther forever.
Luther having a new recruit suggests that last season's partner DS Emma Lane (Downton Abbey's Rose Leslie) won't be back for Season 5. Instead, his sidekick is DS Catherine Halliday, played by Wunmi Mosaku. She's probably most recognizable to American audiences for her turn as DC Teri Darego in the Channel 4 production The End of the F***ing World, which is streaming here on Netflix.
This also marks the first time that Luther will be paired up with a fellow black actor on screen. One of the subplots throughout the Luther series is the racism he sometimes has to put up with from colleagues (usually the terrible ones.) Having him mentor someone who is dealing with the same thing and, moreover, is also dealing with sexism to boot, will make for a new and interesting dynamic.
Announcing: Idris Elba (@idriselba) returns to his iconic role as DI John Luther for the fifth installment of #Luther, created by Emmy-nominated writer Neil Cross.
Details >> https://t.co/gSbfATD0s3 pic.twitter.com/rfF7ReBip5

— BBC America (@BBCAMERICA) January 11, 2018
While Rose Leslie might not be returning, there are some characters coming back from Season 4, with Patrick Malahide confirmed to reprise his role as George Cornelius, and Michael Smiley once again appearing as Benny 'Deadhead' Silver. Writer Neil Cross once again penned all four episodes, and director Jamie Payne (The Alienist, The White Princess) is behind the camera for all four episodes.
Cross said in a statement to the BBC:
We missed John Luther. We missed some old friends. And we wanted to make the biggest, scariest, darkest, most thrilling series of Luther there's ever been. So that's what we've come back to do.
Speaking of monsters and old friends, there's one thing that Luther's been missing. The real question for Season 5....what happened to Alice Morgan? Luther keeps trying to move on from the serial killer that haunted DCI Luther ever since they met in Season 1, but every season without her is a season wasted. Rose Leslie tried her best to fill in that chemistry gap in Season 4 when actress Ruth Wilson's schedule prevented her from coming back, as she was busy starring in Showtime's The Affair. But The Affair finished filming in 2017, and will not pick back up to film Season 5 (assuming there is one) until the fall of this year.
So...what are the chances of Morgan's return? Yes, the show tried to claim she was dead, killed off-screen by Megan (played by Laura Haddock). But that was off-screen. And when you kill someone off not on-screen? That usually gives everyone a good chance to bring them back from the not-actually-dead. Which is why perhaps it's not that big a surprise that  Wilson was spotted on set this week and in one of her favorite positions: pointing a gun at Luther's head.
Alice Morgan is BACK! pic.twitter.com/2nLLKPOBCH

— Purrbot (@PurrbotKitty) February 1, 2018
Now that's a season of Luther I can get behind.
We'll keep our eyes peeled for a trailer and a release date for both BBC One and here in the states. 
---
By
for on February 8th, 2018