By
for on December 16th, 2022
'Litvinenko' Is a Crime Drama About the Aftermath of Assassination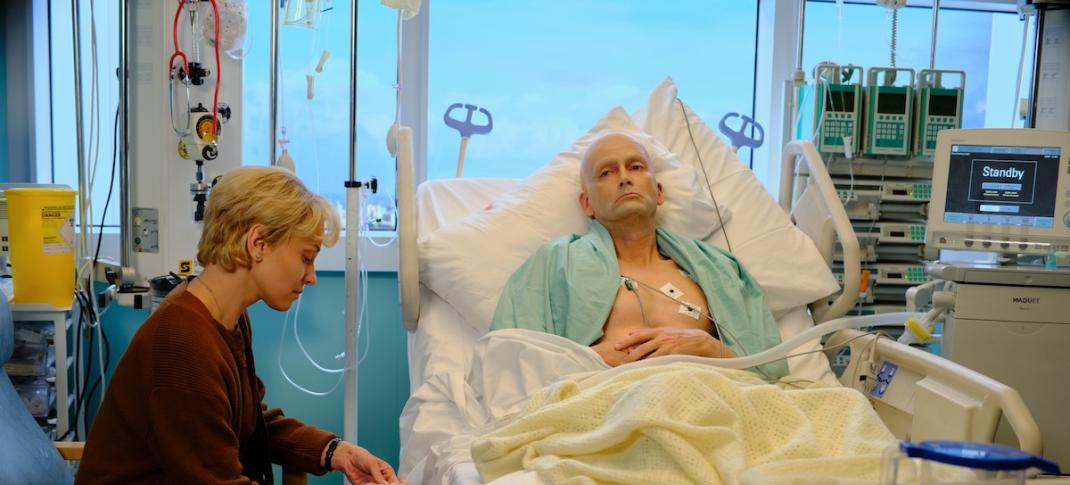 Many people are probably passingly familiar with the story of British-naturalised Russian defector Alexander Valterovich Litvinenko, who was allegedly killed by radiation poisoning by the Russian government. Fewer are probably aware of the horrifically gruesome and painful way he died, the extended fallout from his alleged assassination, or the British investigation into whether or not Vladimir Putin was involved in his death. 
Sundance Now drama Litvinenko aims to change all that, turning the infamous international poisoning scandal into something akin to a traditional crime procedural, focusing heavily on the Scotland Yard officers who worked tirelessly to prove that not only was Litvinenko murdered, he was killed by agents of the Russian government. 
The real Litvinenko was a former FSB agent who fled Russia with his family to the U.K. in 2000 after publicly accusing his superiors of orchestrating the murder of a powerful oligarch. In November of 2006, Litvinenko was poisoned and hospitalized, passing away later that month as the first confirmed victim of lethal polonium-210-induced acute radiation syndrome. (Polonium-210 is highly radioactive and, therefore, extremely toxic. One microgram is more than enough to kill the average adult human.) His public deathbed accusations that Russian President Vladimir Putin was behind his poisoning kicked off a media firestorm and a decade-long investigation. 
The news that former Doctor Who star David Tennant had been cast as the infamous Russian dissident came out at about the same time it was announced that Sherlock star Benedict Cumberbatch would play the same role in the upcoming drama Londongrad. Fans everywhere were intrigued by the idea of two such powerhouses (and popular!) actors taking on the same part in relative proximity to one another. 
Therefore, it may surprise viewers how little of a factor Tennant is in this series. Granted, he fully commits to the part, wasting away in a hospital bed, voice rasping and gasping as he tries to explain the circumstances behind his own murder before his time runs out. But Litvinenko begins with his poisoning, and the series' titular character is dead before the credits roll in the first episode. (I suppose this is a spoiler on some level, but given that Sundance Now hasn't exactly been subtle about the fact that this is a story about the aftermath of Litvinenko's poisoning, that does require him to die.)
What's perhaps even more surprising, however, is how interesting and propulsive the story remains in Litvinenko's absence and how compelling it is watching both his widow Marina (Margarita Levieva) and a pair of hardworking British detectives (Daniel Ryan and Barry Sloane) fight tirelessly to prove the truth of his poisoning claims and attempt to get justice for his death.
From the genuine fear of exposure to the radiation in Litvinenko's deteriorating body to Scotland Yard's determined trek through a variety of London locations, tracking traces of polonium in public settings, there's a surprising amount of genuine tension to be found throughout. After all, the idea that something we can't see could be that deadly is pretty harrowing, and concerns of self-preservation quite rightly come up against the idea that the truth must be served no matter the cost. (The part that got me was the threat inherent in even doing an autopsy on Litvinenko's body, which had essentially liquified internally, along with the fact that his corpse was so radioactive it had to be buried in a lead coffin.)
But as procedural investigations go, this one is more compelling than most---perhaps it's the frightening visuals of investigators taping themselves into hazmat suits to investigate restaurants where Litvinenko had tea or the dogged determination of staffers scouring CTV footage to figure out whether several suspected assassins had the sort of access to the necessary materials to carry out the poisoning. Still, it's clear from the beginning how much sheer manpower was needed to not only find out the truth but to try and keep the public at large safe. 
(Though, I can't imagine being one of those tea shop customers getting a call that they might have also used the teapot that once held such a deadly substance inside.) 
Equally upsetting is the way that many people in positions of power dragged their feet on this investigation, more concerned with optics and diplomatic issues than the fact that a human being (and U.K. citizen!) was murdered so brutally. This frustration goes double for the multiple Russian state actors who knowingly and repeatedly work to obfuscate or even outright lie about what may or may not have happened.
But the state of the world is such that the best outcome we can hope for is one where even the most strident condemnations come with caveats, that even statements asserting that the FSB was "probably" behind Litvinenko's death and that Vladimir Putin "likely" had to approve the order all come with caveats attached. Is that the justice Marina deserved? Probably not. But it's something, the first step of sorts, and it mattered then, and it still matters now, and that is no small thing. 
Litvinenko is now streaming on Sundance Now.
---
By
for on December 16th, 2022
More to Love from Telly Visions