By
for on October 21st, 2021
'Good Omens' Season 2 Begins Filming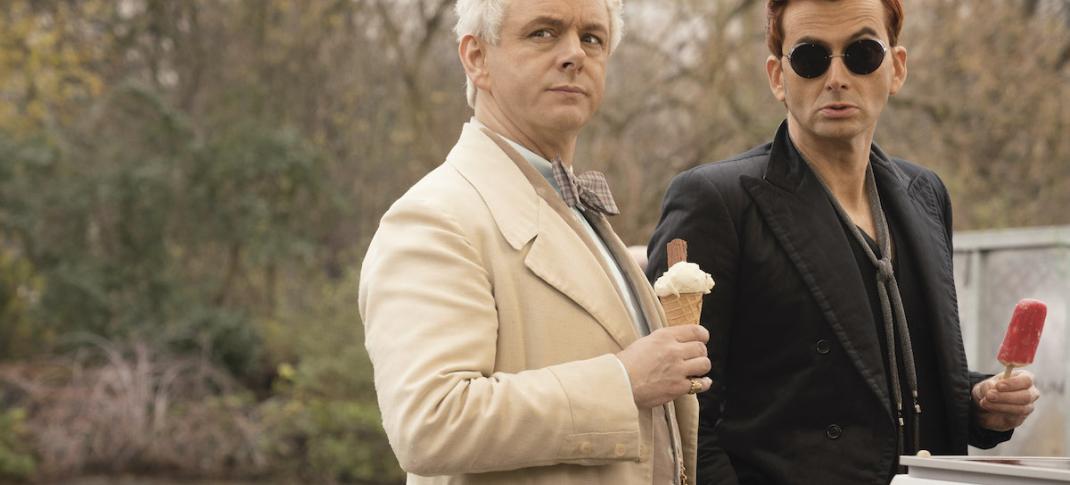 Filming has officially begun on the highly anticipated season of Good Omens. The Amazon Prime series stars David Tennant and Michael Sheen as the caustic demon Crowley and the bookish angel Aziraphale and its first season was one of the streamer's most popular 2019 offerings.
Based on the novel Good Omens: The Nice and Accurate Prophecies of Agnes Nutter, Witch by Neil Gaiman and Terry Pratchett, the series follows the adventures of the hard-living demon and the fussy angel as they do their best to save the world from the Antichrist. Since the world has clearly survived enough for their story to get a sequel, you can probably guess that things turn out relatively okay at the end of the first season. (But man, is the journey to get there fun.) 
Now, thanks to the magic of social media, we've seen images of both Tennant and Sheen adopting the signature hairstyles of their respective characters, the surest sign we've had yet that Good Omens Season 2 production was about to begin in earnest. 
They're back. @neilhimself pic.twitter.com/uUZ4VboHMz

— Douglas Mackinnon (@drmuig) October 19, 2021
The start of filming was confirmed by Gaiman himself, who shared an image of the Season 1 quote that apparently decorates the studio exit door. 
I do not know who painted this quote from Good Omens Season 1 on the studio exit door. I do not want to know. I just love that as I left today after our first day of shooting this was waiting, to welcome us back to the outside world. pic.twitter.com/LazjyaQzdi

— Neil Gaiman (@neilhimself) October 18, 2021
What the story of Good Omens Season 2 will involve is, at the moment, anyone's guess. The show was originally conceptualized as a limited series and used most of the material from the beloved 1990 novel upon which it is based. But, since its lead characters are celestial beings, its story is something that could certainly go on for some time to come. 
And Gaiman himself has long said that he and his co-author Pratchett discussed at some length what a sequel set in this universe could involve. Some of those ideas were incorporated into the series' first season - the existence of Jon Hamm's officious angel Gabriel, for example - but others will be likely included in its second.
But all we know right now is that Season 2 will apparently find Aziraphale and Crowley still happy living among mortals in London's SoHo neighborhood when an unexpected messenger presents a surprising mystery. Dun dun dun...
There's no official premiere date for Good Omens Season 2 as yet but it seems likely that it will debut at some point in early to mid-2022. Season 1 is currently streaming on Amazon Prime. 
---
By
for on October 21st, 2021
More to Love from Telly Visions