By
for on November 7th, 2022
Aidan Turner Tries His Best But You've Seen This Predictable 'Suspect' Before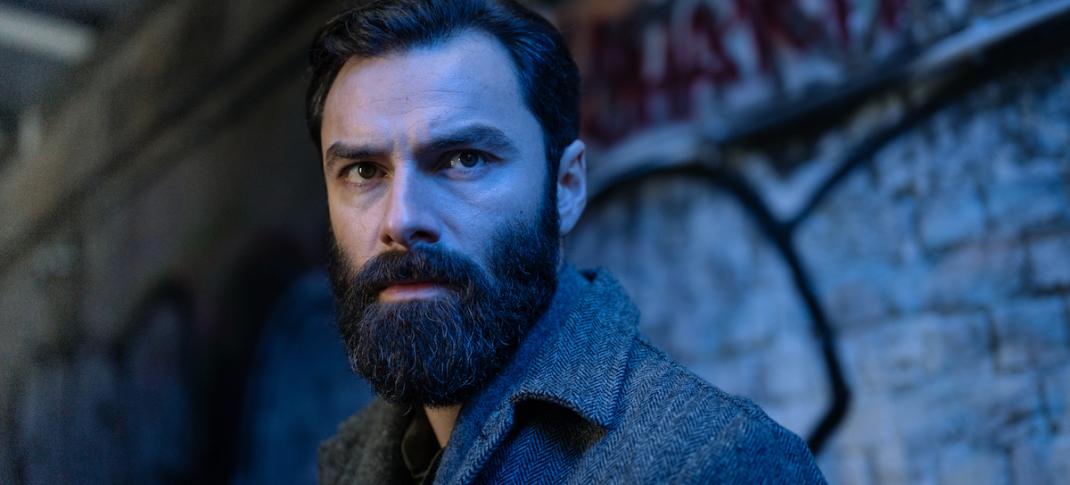 Aidan Turner proved repeatedly during his time on the period drama Poldark that he could make the most stoic, closed-off leading man both appealing and sympathetic. Now that he's finally left Nampara behind, he seems to be keen to branch out a bit as an actor, taking on a variety of diverse and wildly different roles in shows like The CW's Leonardo, in which Turner plays an artistically tortured, emotionally stunted Leonardo da Vinci, and the new crime thriller The Suspect, in which he plays a questionably sane shrink who may or may not be a violent murderer but at least has some seriously luxurious facial hair. 
(Questions I have that this show will never answer: How does he have time for this apparent level of beard maintenance, given the amount of dumb and/or shady activities he has to fit into his day?)
Turner is an appealing and capable actor, and he deserves better roles than this. I don't know if it's that he played a dwarf for Peter Jackson or if he has a handsome, kind face, but how does this man keep getting cast as some variety of potential murderer when there's no one on the planet which appears to be able to look less like a killer?
The Suspect, at its heart, hinges on whether Turner's character, a London psychologist named Joe O'Loughlin, can have brutally killed a former patient of his (and possibly raped her). But the show isn't particularly even-handed in presenting his likely guilt. You'll spend most of the show wondering why its main character seems so determined to make himself a suspect in a crime, apparently at all costs. 
The series begins as Joe's fifteen minutes of internet fame does: A video of him talking a suicidal patient off a ledge and saving his life goes viral, and somehow (??!?) this event makes him the natural choice to consult on a murder investigation when the body of a young woman is found who's seemingly stabbed herself 21 times. This is but the first of the many completely illogical leaps and out-of-the-blue coincidences this story will forge to make this premise happen. But it's hardly the most ridiculous. 
The premise of The Suspect requires Joe to be both a plausible villain and a believable hero, and he's just not. The show's narrative is ridiculously convoluted, both in how Joe becomes involved in the murder investigation in the first place and the slow drip reveals of the various implausible connections between him and the victim (as well as another suspect) that follow.
It also never feels as though The Suspect considers Joe an actual "suspect," or expects its audience to believe he's guilty, yet it is determined to hint he somehow might be. It ultimately crafts a lead character who's utterly morally bankrupt, a terrible husband, and an awful doctor, whose recent Parkinson's diagnosis is deployed as a cheap crutch to explain the worst aspects of his reckless and/or impulsive behavior. (Occasionally, he has a tremor in one hand, a sure sign that he's stressed or nervous, and the laziest sort of character tic!) Maybe Joe's not a murderer (huzzah?), but he's not a good person and not someone any of us should be rooting for.
Joe's behavior makes no sense. He is constantly lying to police with wild cover stories for innocuous, occasionally embarrassing, activities, repeatedly breaking laws around patient safety and confidentiality, and behaving in a way no real person would ever consider. (I lost it when he randomly called the cops, who had already told him he was their prime suspect, to ask whether chloroform traces were found on the body like a completely normal and not at all murder-y person!) He also spends a lot of time looking inexplicably shady because if he doesn't, there's no plot. If he's not a killer, then he's an A-list creep. Great! 
Unfortunately, Joe isn't the only character that's hard done by in this story. The police investigating his potential involvement is equally one note. Grizzled detective DI Vince Ruiz (Shaun Parkes) is a man whose entire personality repeatedly reminds us he has been investigating murderers for a long time. He is, therefore, suspicious of everyone and everything. (There's a moment where he suggests they should investigate whether Joe set the fire that killed his mother when he was nine that had me cackling, and I'm pretty sure it wasn't supposed to be funny.) The younger DS Riya Devil (Anjli Mohindra) is working on her first murder case and is predictably disbelieving and naive. The show is happy to allow her to look like an idiot throughout.
Joe's wife, Julianne (Camilla Beeput), has almost no agency and seems to exist to react to various things that people tell her are going on. Joe's BFF Jack (Adam James) is also his neurologist (that's...weird, right?) and a scuzzy jerk to boot. Patient Bobby Moran (Bobby Schofield) has an entirely separate (and secret) second life that isn't any more interesting than his primary one. And there's a random hot plumber named DJ (Tom McKay) who has more to do with the story than he initially appears to. (Otherwise, why is he announcing dire new plumbing disasters at the O'Loughlin home virtually every day?)
Sadly, none of these characters have anything close to what you might call layers or nuance or even any actual arcs to speak of, and they each slot into fairly prominent roles within the larger story. Most viewers that have spent any time watching procedurals of this ilk will guess most of The Suspect's twists well before they happen.
It's unfortunate because there's a version of this show that could have been so good. One that genuinely let Turner lean into the duality of the character he's playing and didn't make it quite so obvious so early on that, despite his many (many!) flaws, Joe is also a victim of a plot that's much bigger than he is. Maybe we all would have had a better time if The Suspect had tried to live up a bit more to its title. 
All five episodes of The Suspect are streaming on Sundance Now. 
---
By
for on November 7th, 2022
More to Love from Telly Visions